an idyllic ryokan by kengo kuma
Hoshino Resorts celebrates the opening of its twentieth property, the KAI Yufuin hotel with architecture by Kengo Kuma. The project takes shape as a hot spring ryokan — a small inn of a traditional Japanese style — which overlooks an array of cascading rice terraces and Mount Yufu beyond. Describing the idyllic place, the group writes that the sculpted landscape has been 'painted with nature's brush.'
The concept is a celebration of its site in Oita Prefecture, an area commonly associated with its rice terraces and whose name is even derived from words which mean 'grand rice field.' The hotel is located in Yufuin Onsen, which has one of the highest number of hot springs in all of Japan. Thus, KAI Yufuin incorporates both indoor and outdoor baths fed by the natural hot springs to be enjoyed throughout the year.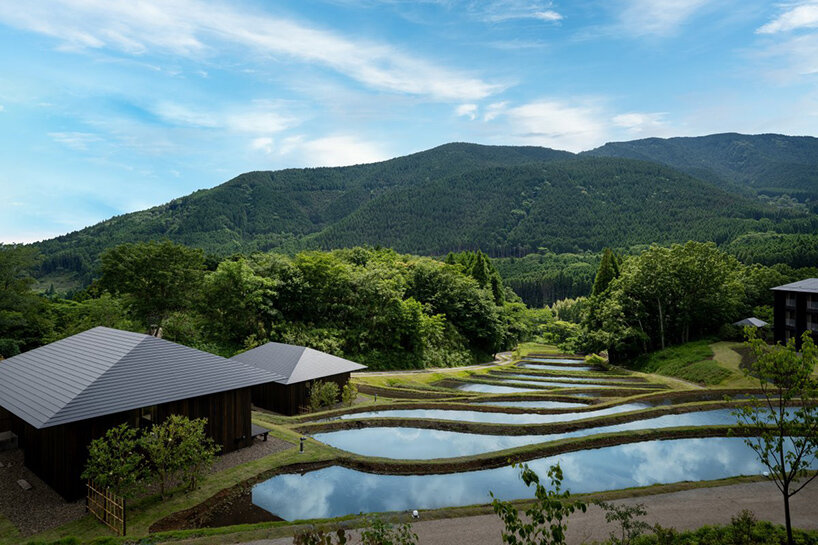 images courtesy Hoshino Resorts
immersed in the woods or scattered along the rice terraces 
Kengo Kuma & Associates organizes its newly completed KAI Yufuin hotel for Hoshino Resorts as a collection of small buildings scattered throughout the descending landscape. The architects fit the complex with forty-five guest rooms overall, either located in the main building or standing as independent suites. Two different styles of suite are offered. One type stands as an independent structure on the rice terraces, opening up to vast views of the sculpted landscape and mountains beyond. The second type faces the surrounding forest of sawtooth oaks and has its own private outdoor hot spring bath.
The two styles of suite offer a unique connection with the place and thus, different types of luxury. Both types are finished with tatami floors made from a rare, locally-grown shichitoi grass. The team notes: 'from the moment of entry into the rooms, the soft, natural scent of the grass can be enjoyed.'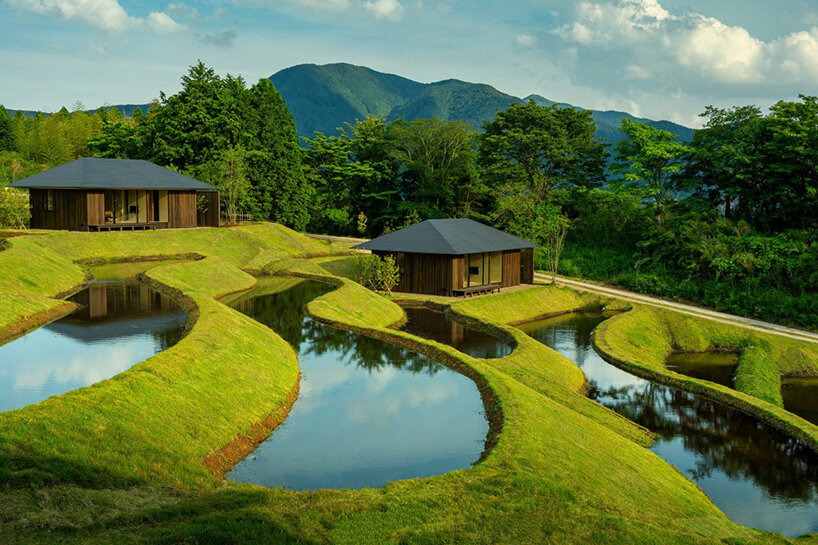 hoshino resorts celebrates the changing seasons
Kengo Kuma & Associates centers KAI Yufuin around a main Rice Terrace Deck, which opens broadly onto a sweeping view of the rice terraces. Hoshino Resorts emphasizes the connection with the changing seasons, which can be felt as the mirrored waters reflect their surroundings.
The team elaborates: 'Before rice planting in spring, the rice terraces are filled with water, where the clear blue sky and the surrounding landscape are reflected on its surface. After rice planting, the fresh green of young plants spreads, and in the summer, the grown rice moves with the wind, producing a refreshing tone.
'In autumn, the ears of rice grow in abundance, turning rice terraces into gold. The landscape of rice terraces with rice straws after harvest is a familiar scene of Yufuin in winter.'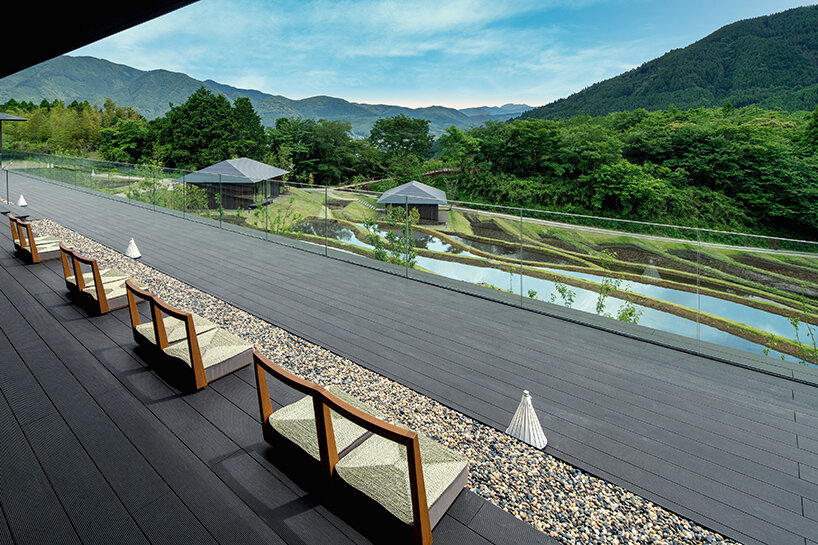 Upon the completion of the KAI Yufuin hotel, Kengo Kuma comments: 'The location of KAI Yufuin reminds me of a farming village in Yufuin, and in a sense, the site is like Yufuin's original landscape. The main feature of this accommodation is the landscape of the beautiful rice terraces. It is designed so that this feature can be felt from anywhere onsite. Through this main feature, I think it will make one feel as if they have entered a completely different world.
'Since the sheer beauty of nature can be felt from the rice terraces, it is sometimes said that rice terraces is more than a Japanese garden. Seasons' rhythm can be felt from the rice terraces, which makes people emotionally moved. By letting people feel the four seasons through the rice terraces, I believe there will be greater satisfaction than that of Japanese gardens.'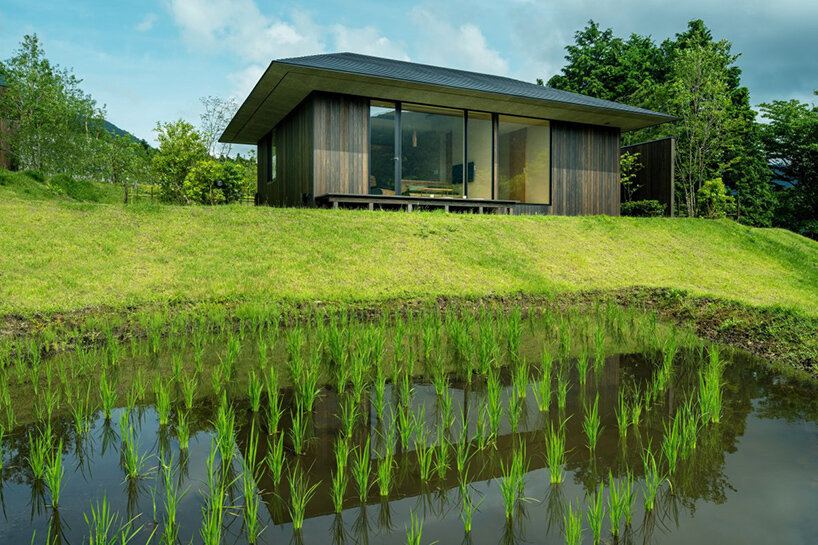 the ever-changing terraces reflect the passing seasons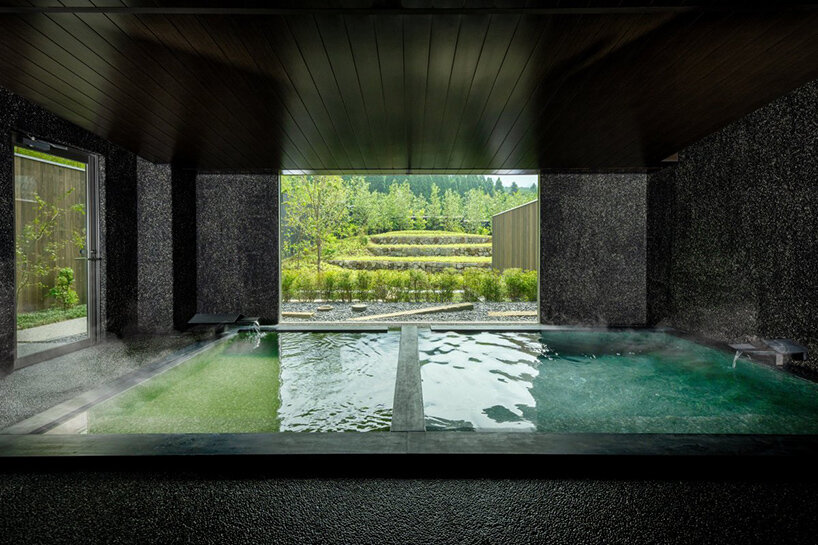 the KAI Yufuin hotel incorporates both indoor and outdoor hot spring baths