If Kim Kardashian has proved anything over the years, it's that she can regularly turn heads through her array of eye-catching sartorial selections.
And the TV personality, 41, stayed true to form on Tuesday, when she stepped out on the streets of Paris wearing a black Balenciaga bodysuit that included tour dates for a fictional band called Speedhunters printed on her posterior.
The front of the bodysuit, which was created by the Balenciaga's creative director Demna Gvasalia for its Fall/Winter 2018 collection, included an image of the fictional band.
A host of towns and cities across various countries in Europe were included among the dates, which i-D magazine previously reported actually represents the birthdays and birthplaces of Balenciaga's staff.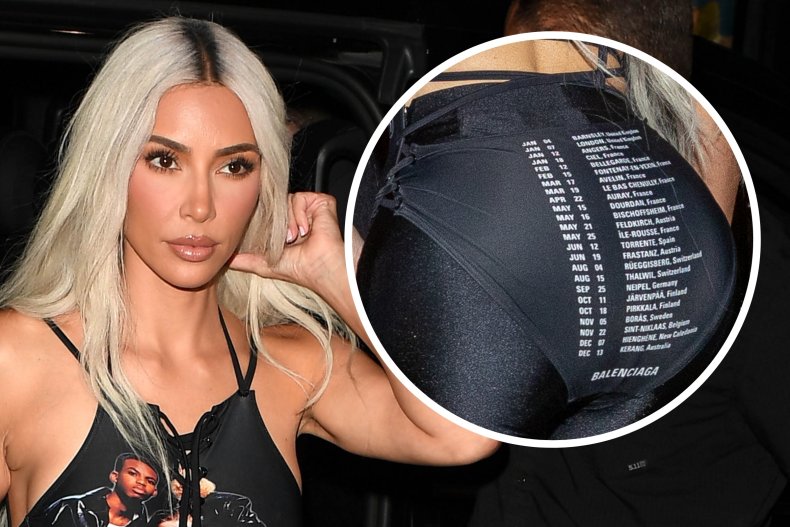 Kardashian teamed her backless bodysuit with the Parisian maison's black Pantaleggings and a black fluffy handbag as she attended events for Paris' Haute Couture Week with her 9-year-old daughter, North West, in tow.
Images of the eye-catching look soon circulated on social media, where some fans celebrated their locales making the list of fictitious tour dates emblazoned on Kardashian's posterior.
However, a number of others appeared to be underwhelmed with the entrepreneur's statement, with some suggesting that she should be placed under a fashion conservatorship, giving control of her clothing choices to somebody else.
"Kim. From a place of nothing but sincerity. That's enough with this foolishness," wrote one person on a Keeping Up with the Kardashians subreddit.
"She needs a fashion conservator," said another person, prompting the response: "Maybe we should start a petition for her to get one."
Meanwhile, another commented: "I'm having a viscerally negative reaction to this outfit. I was holding my phone out to my husband like 'Look at this! Look! This woman is stunningly beautiful and she is being done dirty by her stylist!!!'….he was like 'Chill….but also, yeah. That's a shame.'"
Despite the criticisms, it would appear that Kardashian spent the day living her best couture life, as video footage emerged of her walking the runway alongside a selection of famous models in a Balenciaga presentation.
Kardashian has made bold Balenciaga fashion statements in the past, wearing head to toe caution tape as she went to one of the fashion house's shows during Paris Fashion Week back in March.
The billionaire mother of four also controversially wore one of Marilyn Monroe's most iconic gowns on the red carpet of the star-studded Mat Gala in May.
In March, Kardashian spoke with Vogue about how she has weathered the barrage of criticism thrown at her in the years since she rose to fame.
"I used to be so affected by so many things," she told the publication. "[I remember] the whole experience of being pregnant in the spotlight, how nasty people were to me in the press for gaining weight while pregnant, [but] you get to a place where you realize it doesn't matter.
"It took me until recently to reach that point, but you do figure it out. [Eventually] you get to this place where you don't care, even though there are all these messages about you. It can be hard to take the high road and avoid correcting the narrative."
However, Kardashian is still working hard to impress one of her most important critics—her daughter North, the eldest of the four children she shares with ex-husband Kanye West.
"North is very opinionated when it comes to what I'm wearing," Skims co-founder Kardashian said. "She'll always complain when I'm wearing too much black.
"I showed up at her school on Valentine's Day wearing head-to-toe pink, and she got so excited she ran over and hugged me. [Of course] she opened my coat, saw the black lining, and says 'Mom, you're still wearing black.'"