I wrote about this free service a couple of years ago, but wanted to write about it once again, as I continue to find it to be extremely valuable (full disclosure — I just find this service to be useful, and don't even know anyone who works at the company).
The value of "Open Hotel Alert"
As anyone who collects hotel points knows, finding hotel reward nights is typically easier than finding saver level award flights. While airlines have plenty of capacity controls, hotel loyalty programs generally don't have blackout dates, meaning you can typically redeem points as long as a standard room is available for sale.
This really isn't that restrictive, though I also know that I've found myself in countless situations where I wanted to redeem points at a hotel, only to find they didn't have availability. Maybe they only had premium rooms, or maybe the hotel was sold out completely.
We've also seen many hotels restrict the number of "standard" rooms greatly, to limit the number of rooms people can redeem points for. Just take a look at availability at the Waldorf Astoria Maldives and Waldorf Astoria Los Cabos Pedregal, for example.
The thing is, award rooms typically open up closer to the arrival date, as people cancel. You just have to be really persistent. The good news is that there's a free site that can help with that.
Open Hotel Alert will alert you when a room opens up at a hotel. You can be notified either if any room opens up at a hotel, or you can be notified if a specific room opens up at a hotel. While this is also intended for revenue stays, for us the best use will probably be on award stay.
Use Open Hotel Alert to monitor for standard rooms
Say you want to redeem points at the Park Hyatt Paris over a period where a standard room currently isn't showing. For example, I picked dates where a "1 King Bed Deluxe" and "2 Twin Beds Deluxe" are the most basic room types, as those don't qualify as standard rooms.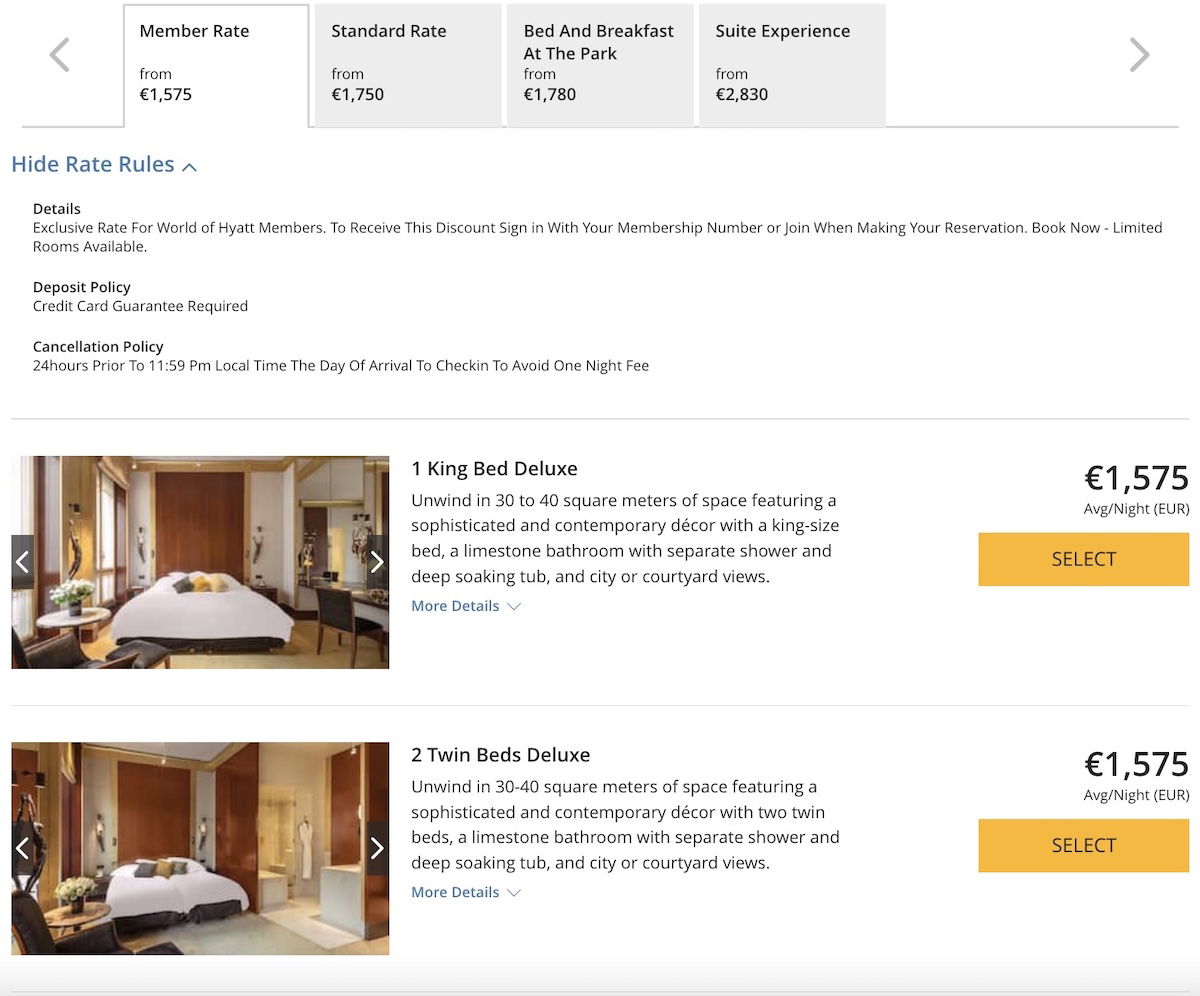 If you wanted to redeem points at the Park Hyatt Paris, you'd need for there to be a "Park Room King" or a "2 Twin Beds" room.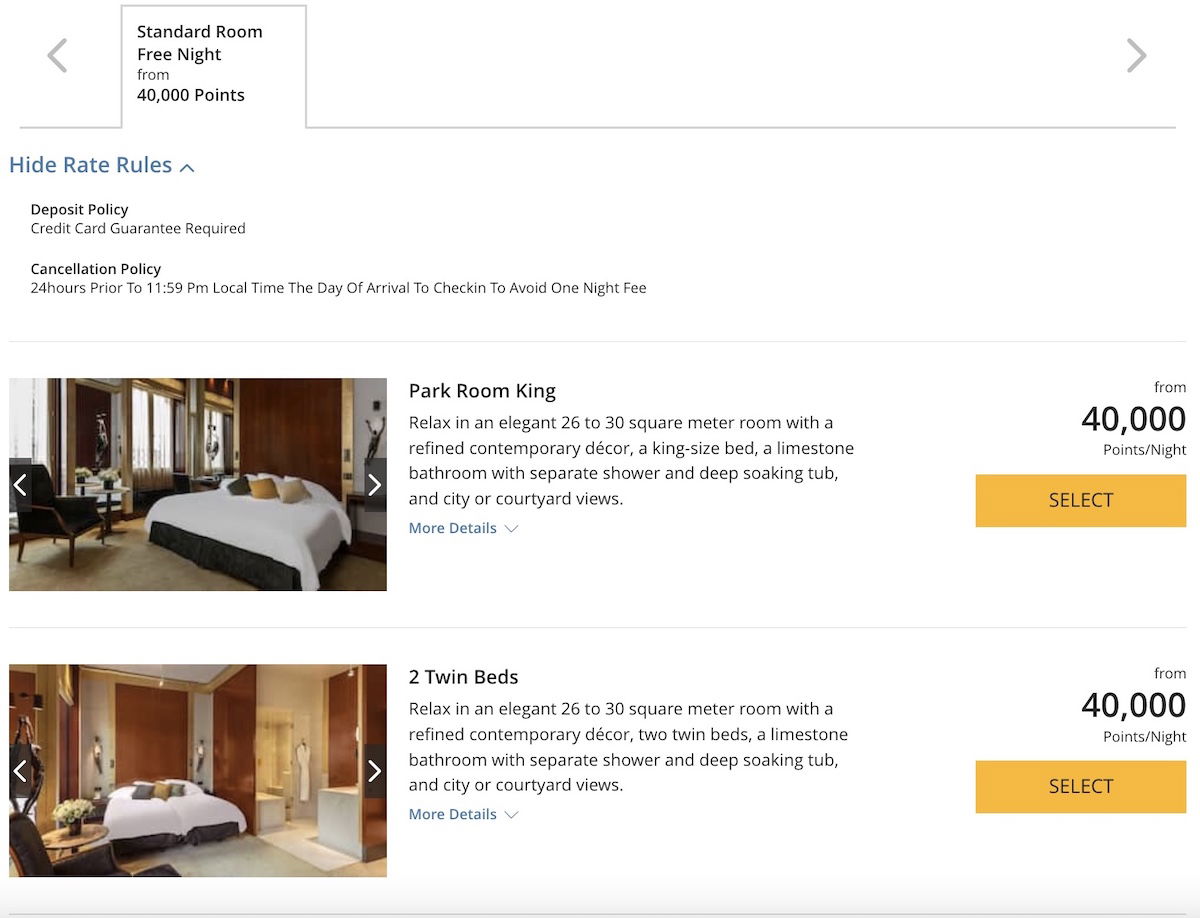 That's where Open Hotel Alert can help. You can select the hotel, and then select your check-in and check-out date.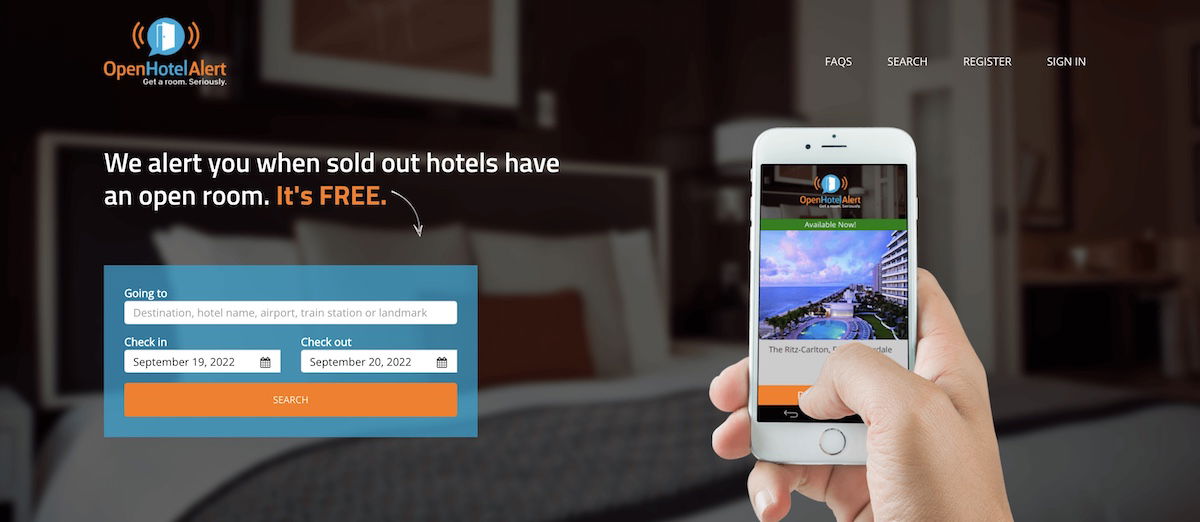 It will display availability for the room types that are available, and will offer to alert you for the room types that aren't available. If a room isn't available, click any of the "Alert Me" buttons.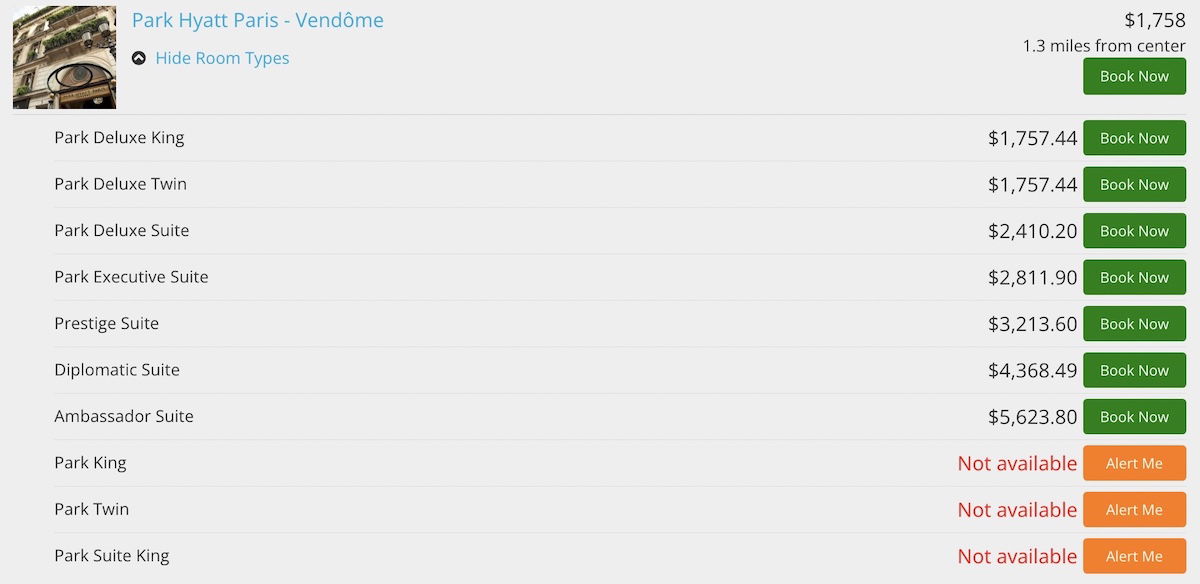 Then you'll be able to select which room type you want to be alerted about. Just provide your phone number and/or email address, and you'll receive a text and/or email when that room type opens up.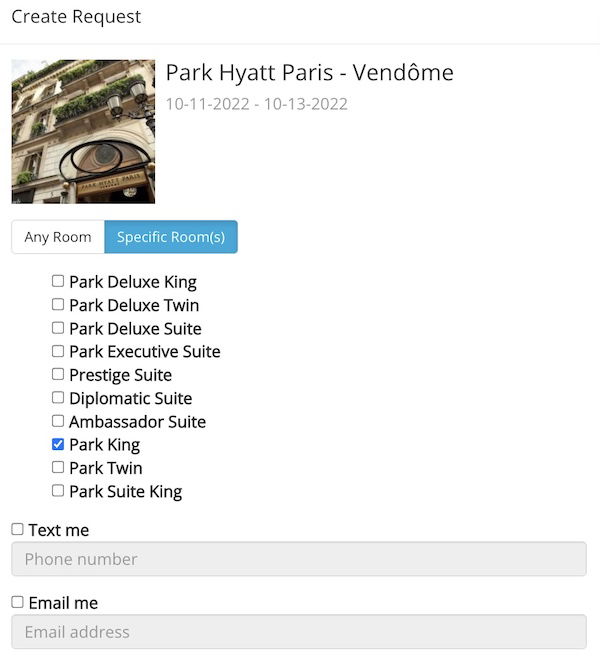 Use Open Hotel Alert to monitor for Hyatt suite upgrades
While this is great for standard rooms, it can also be valuable for Hyatt suite upgrades. With the Hyatt Milestone Rewards program, World of Hyatt members (and especially Globalists) can earn confirmed suite upgrades. These can be used to confirm a suite for a stay of up to seven nights at the time of booking, subject to availability.
For example, I've had several Hyatt hotel bookings over the years where I locked in a standard room with points, but there wasn't a standard suite available. I then set an alert with Open Hotel Alert, and more often than not I eventually get notified of availability, and can then confirm an upgrade.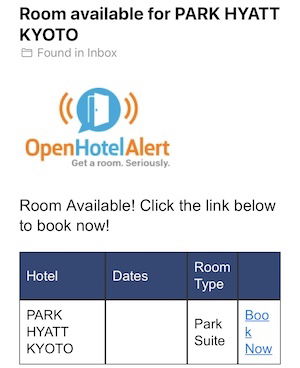 What is Open Hotel Alert's business model?
In case you're curious how this is possible, here's how Open Hotel Alert explains its business model:
This is a wonderful service. How can it be free?

We are able to provide our service at no cost to travelers because we earn a commission when travelers book rooms using our service.
Essentially if you do end up booking a hotel with cash, you can follow Open Hotel Alert's link to booking.com, and the company will get a commission.
Unfortunately the site won't be making any money off of those of us who are just trying to find award nights or upgrades. For that matter, there are downsides to booking hotels through third parties, in terms of benefits, rates, etc. Personally I think the better business model would be to charge for alerts, but I don't want to give the company any ideas. 😉
Bottom line
Over the years I've gotten a lot of value from Open Hotel Alert, as I've been able to lock in award nights and also confirm suite upgrades thanks to alerts received from the site. If you haven't yet used this site, it's definitely worth being aware of.
Has anyone used Open Hotel Alert, or a similar site?