On this trip I had just 24 hours in Dubai, so I decided to stay at the Dubai EDITION. The 275-room hotel opened in November 2021.
There were two reasons I decided to stay here. First of all, it was a good deal (as most hotels in Dubai are in summer). Second of all, I was kind of expecting the hotel to be a hot mess, and I figured OMAAT readers would enjoy that. I assumed that because of the drama related with the hotel's opening, where it was going to open under a different brand, because it wasn't up to EDITION brand standards initially.
Well, I'm happy to report that the Dubai EDITION greatly exceeded my (admittedly low) expectations. This is a solid hotel that offers good elite recognition. I'd say the main thing I didn't love is that the public areas feel a bit more clubby than I'd prefer — it almost feels more like a W than an EDITION.
Booking the Dubai EDITION
I paid 800 AED (~$218) for my one night at the Dubai EDITION. Best of all, I booked through the Marriott STARS program, which offered additional perks, including a $100 property credit and complimentary breakfast (which is valuable, since Bonvoy elite members don't otherwise receive free breakfast at EDITION).
As a point of comparison, the hotel would have cost a staggering 74,500 Bonvoy points if redeeming points. I value Bonvoy points at 0.7 cents each, meaning an award stay would have cost the equivalent of ~$522. Something seems very broken with award pricing, if that's the dynamic off-season pricing (especially since the hotel was nowhere close to full, so presumably Marriott's reimbursement rate would have been very low).
Dubai EDITION location
The EDITION is located in downtown Dubai. The hotel is about a 20 minute drive from Dubai International Airport (DXB), and just a short walk from the Dubai Mall and the Burj Khalifa. The streets around the hotel aren't necessarily ideal for walking, but I'd say it's still a pretty central location.
Everyone comes to Dubai for different things. Many treat Dubai as a beach destination, in which case this isn't the place to stay. I view Dubai more as being a cosmopolitan city and I appreciate easy access to good restaurants and the airport, so I like staying in DIFC, near the creek, or downtown.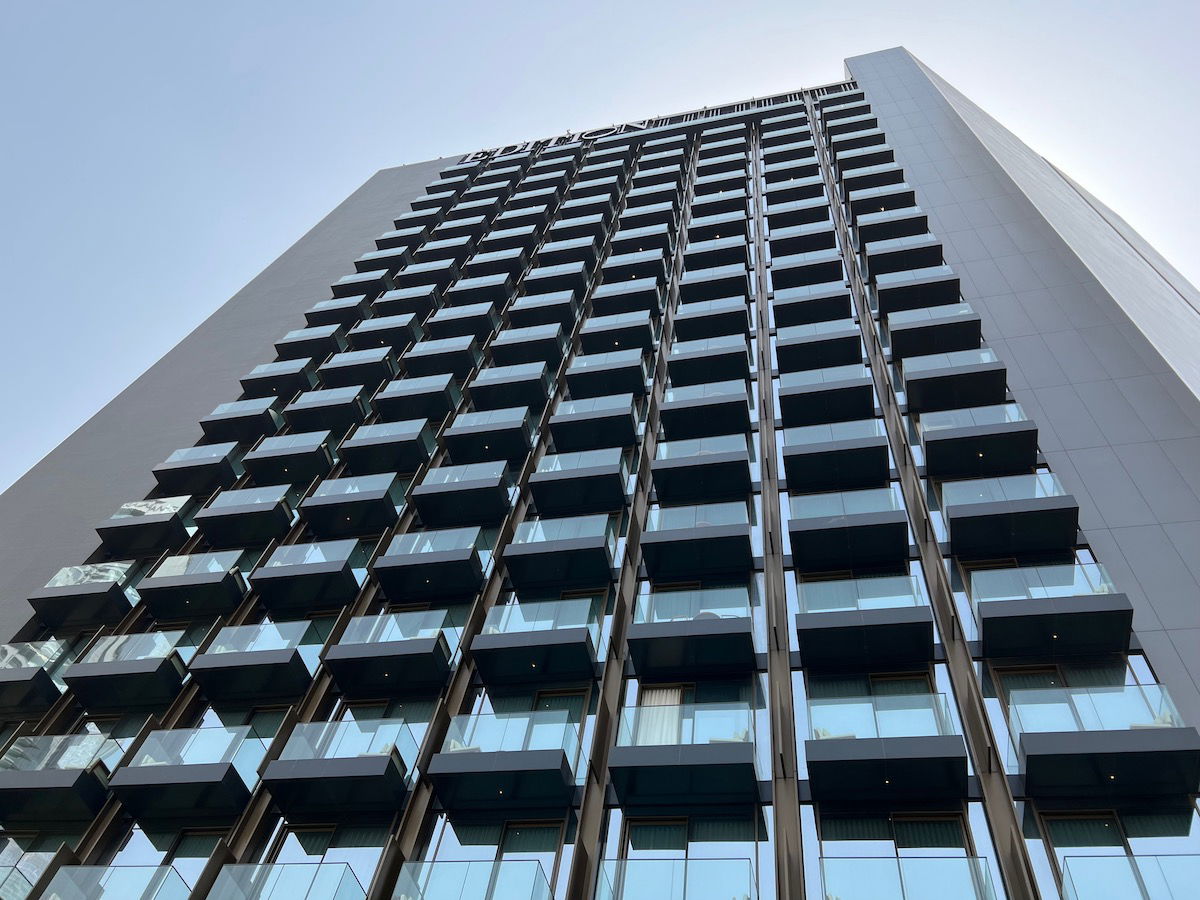 Dubai EDITION lobby & check-in
The Dubai EDITION has a rather striking lobby, with very high ceilings and a cool design. There's a spiral staircase that goes up several floors, which gives you a sense of just how high the ceilings here are. The lobby has plenty of seating, and in the evenings there are lots of candles on, which is the primary form of lighting in the lobby.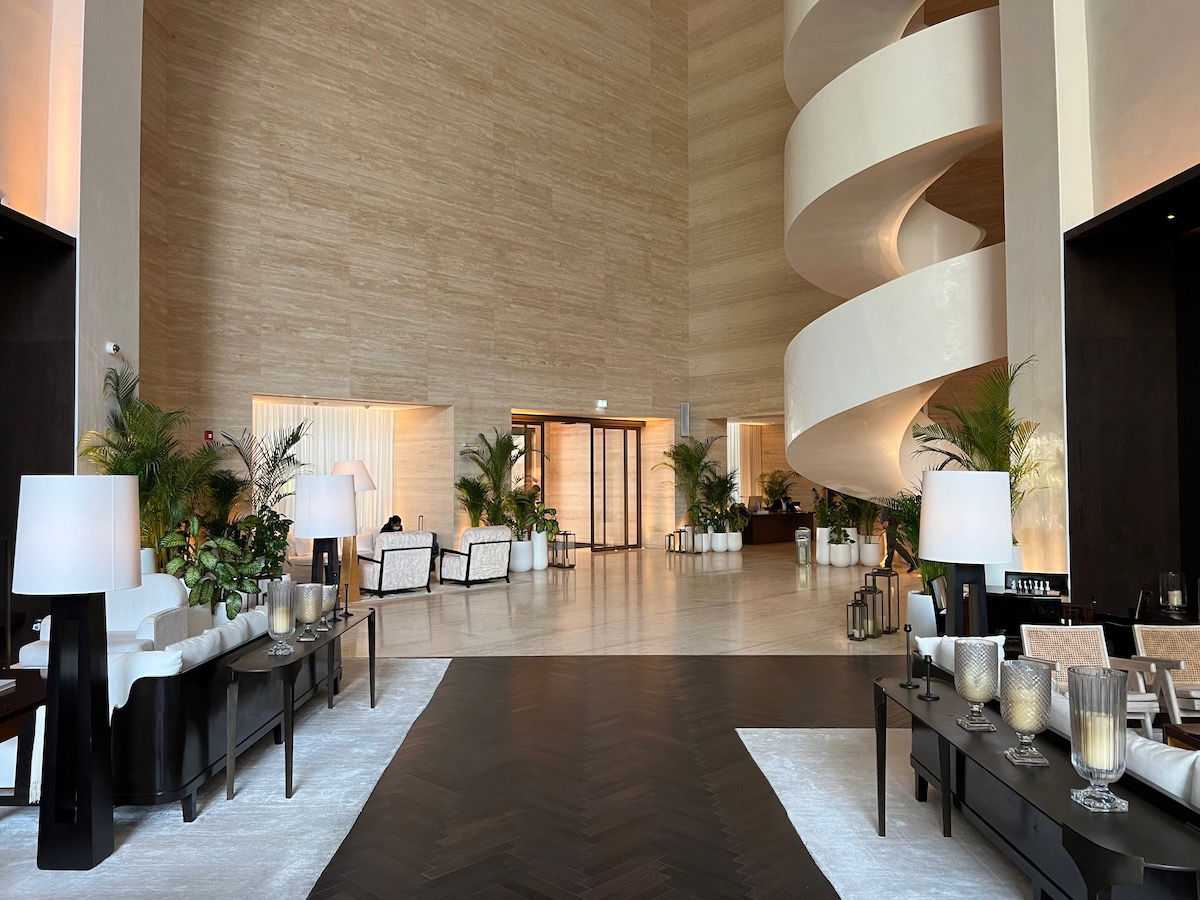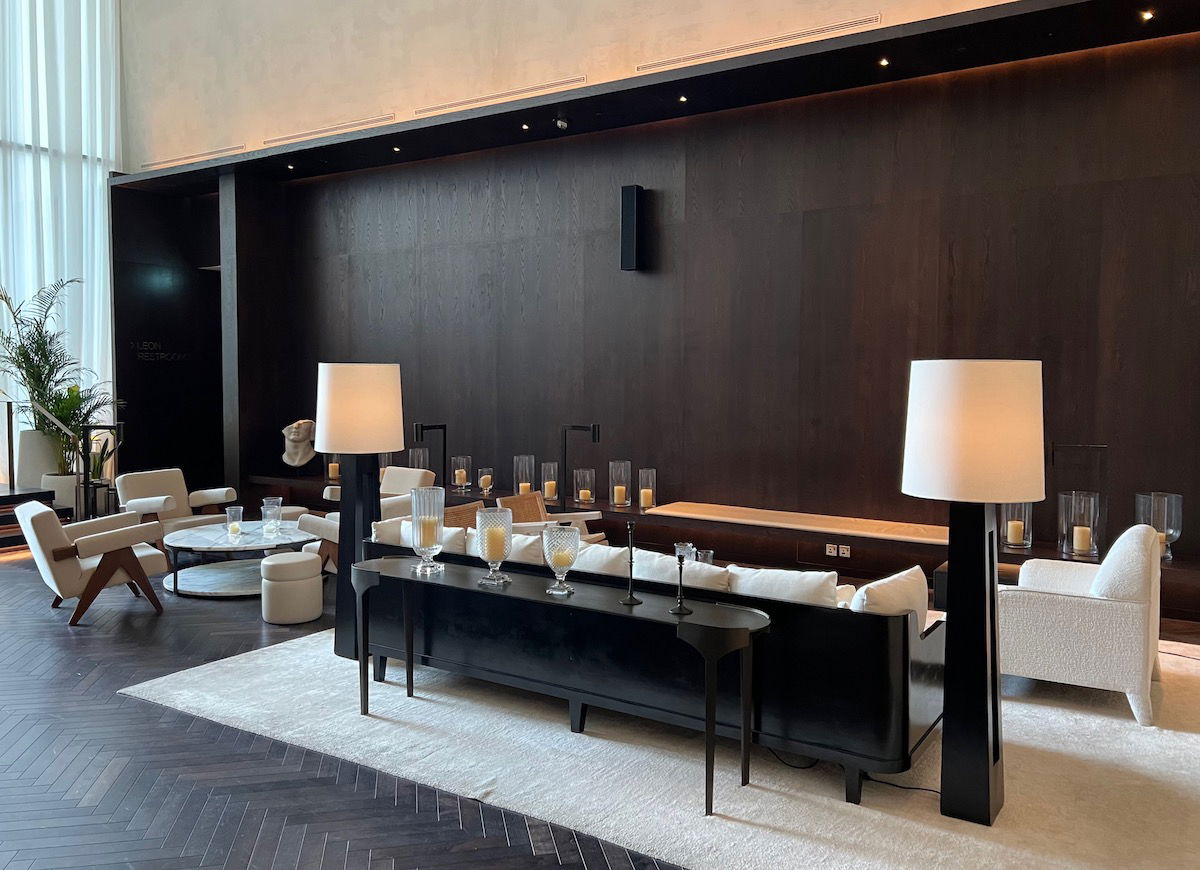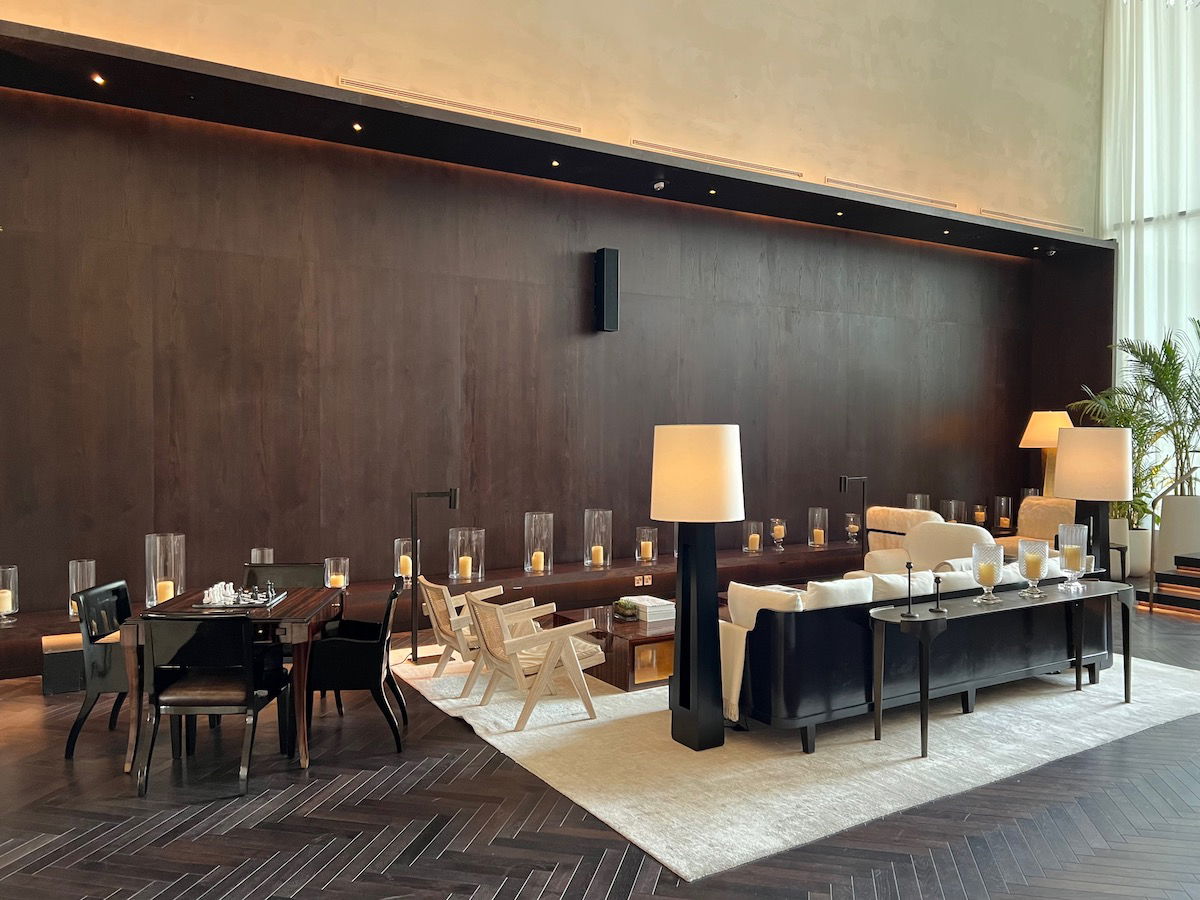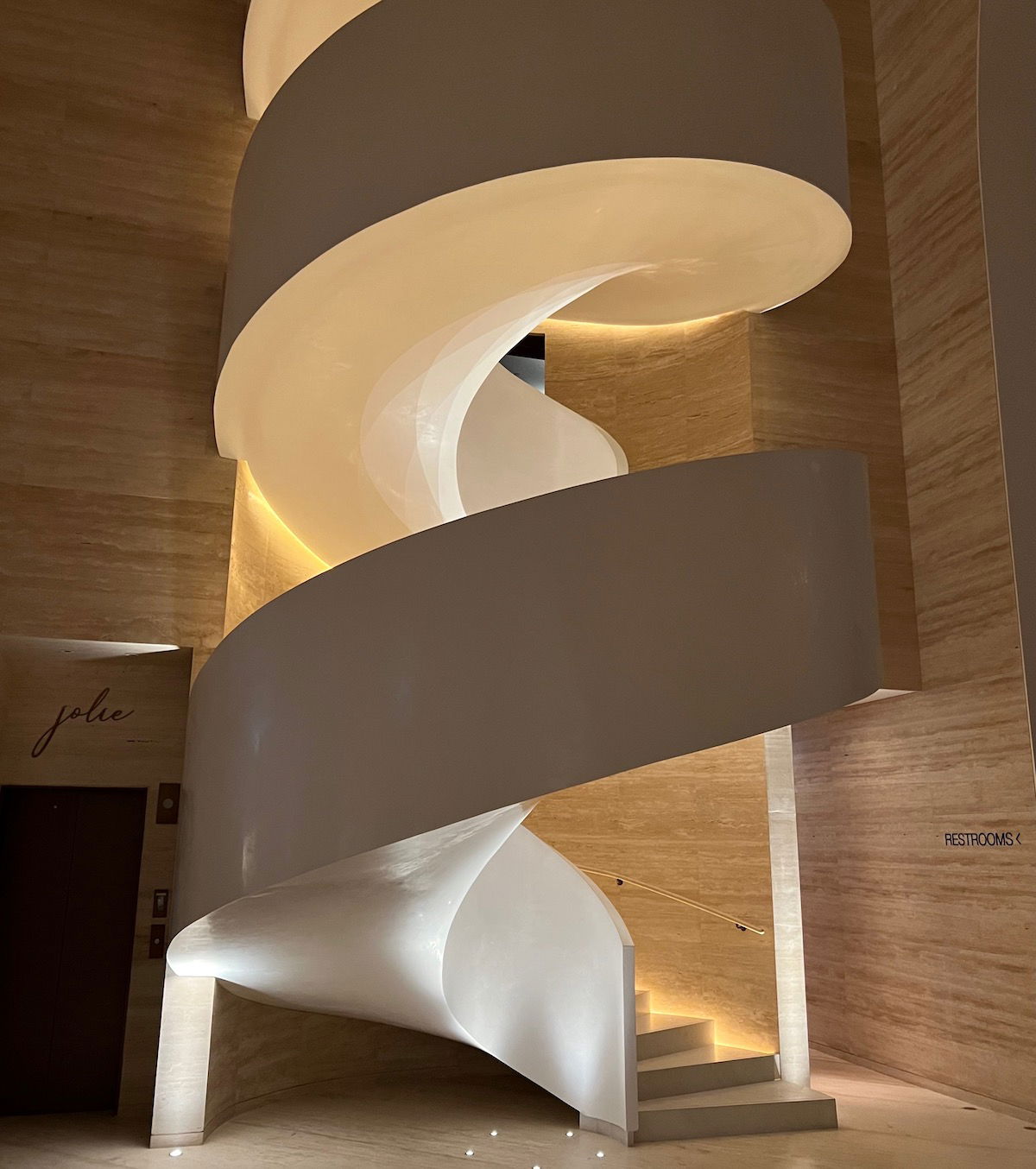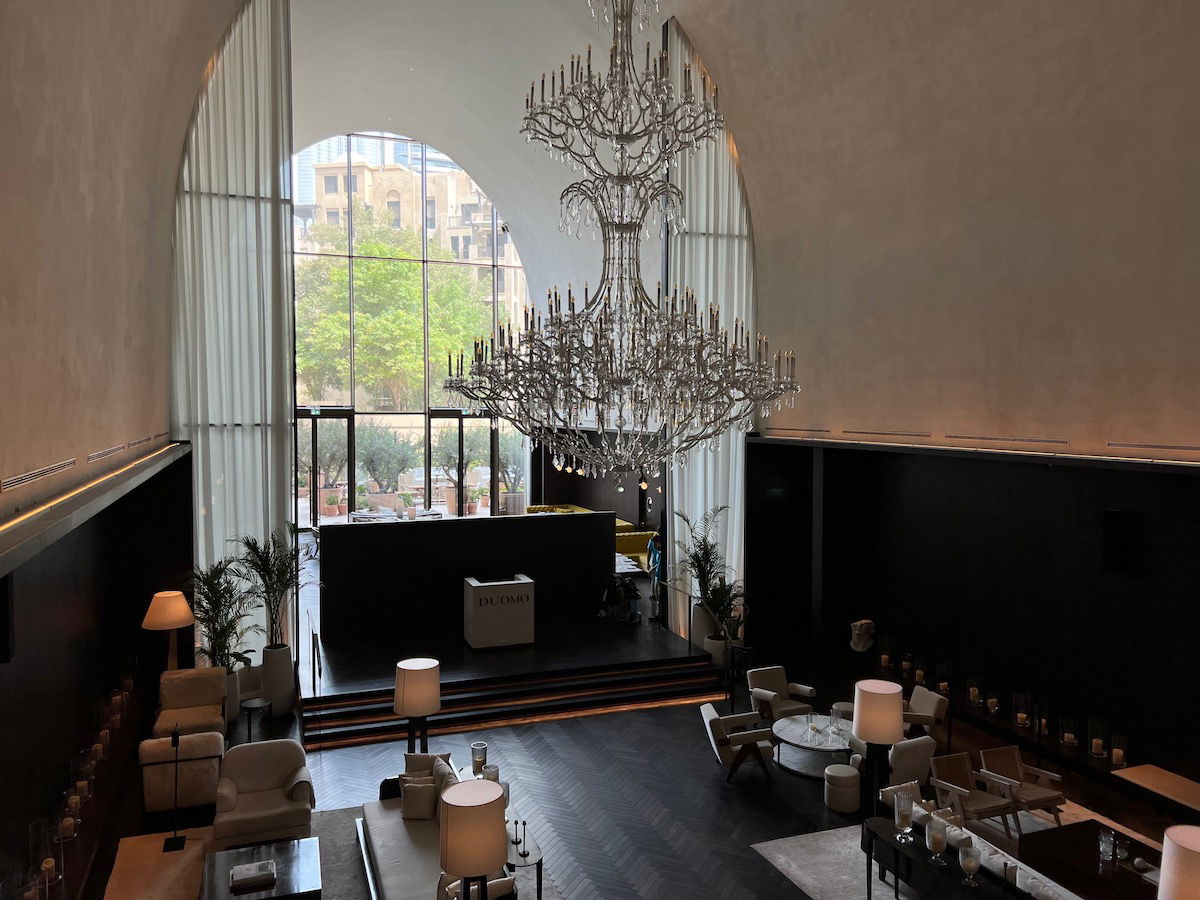 Reception was located inside the entrance and to the left. My arrivals experience was great — as I pulled up in a taxi, a bellman helped me with my bag and escorted me to check-in. The associate checking me in was friendly, and quickly called the guest relations manager, who greeted me.
She thanked me for being a Bonvoy Titanium member and for booking through the Marriott STARS program. She informed me that while the standard suite upgrade would be to a superior suite, on this occasion they'd upgrade me to a deluxe suite, since it was my first stay at the hotel.
It was nice to receive a proactive suite upgrade, since that doesn't happen all that often at Marriotts, even if a hotel isn't full. And before anyone thinks that I was getting special blogger treatment, Toby booked a stay here for the same night. He's also a Bonvoy Titanium member and booked just hours in advance, and received an identical upgrade and explanation.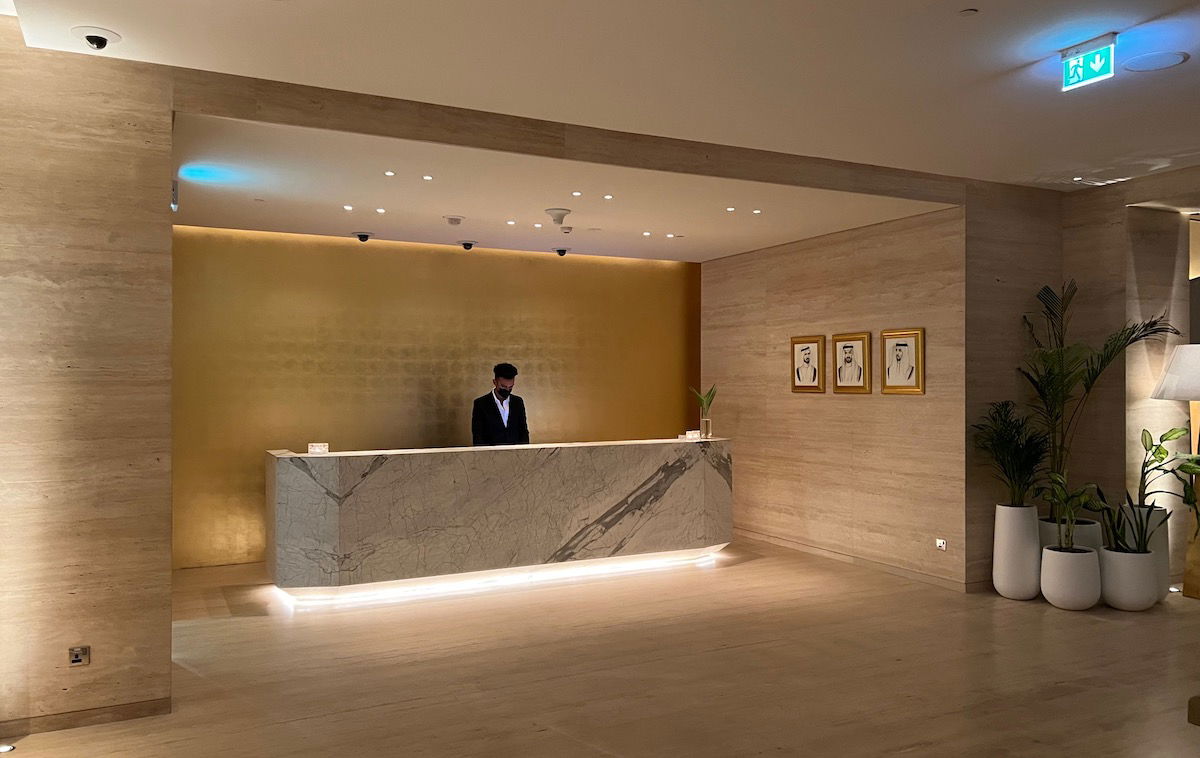 Soon enough I was issued a key for room 1918, my suite on the 19th floor (the hotel has 23 floors).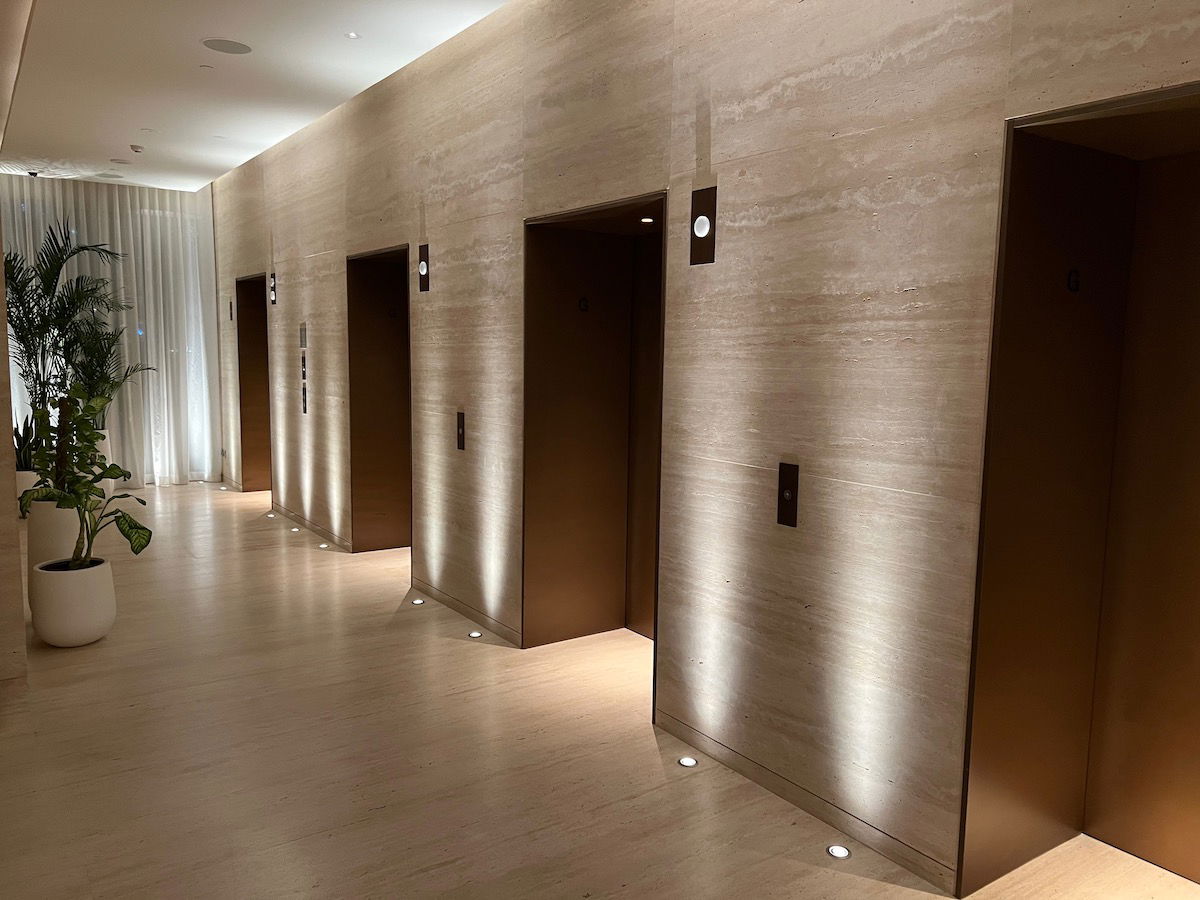 Dubai EDITION one bedroom suite
The Dubai EDITION has long and sleek hallways, and my room was located at the end of the hall on the left.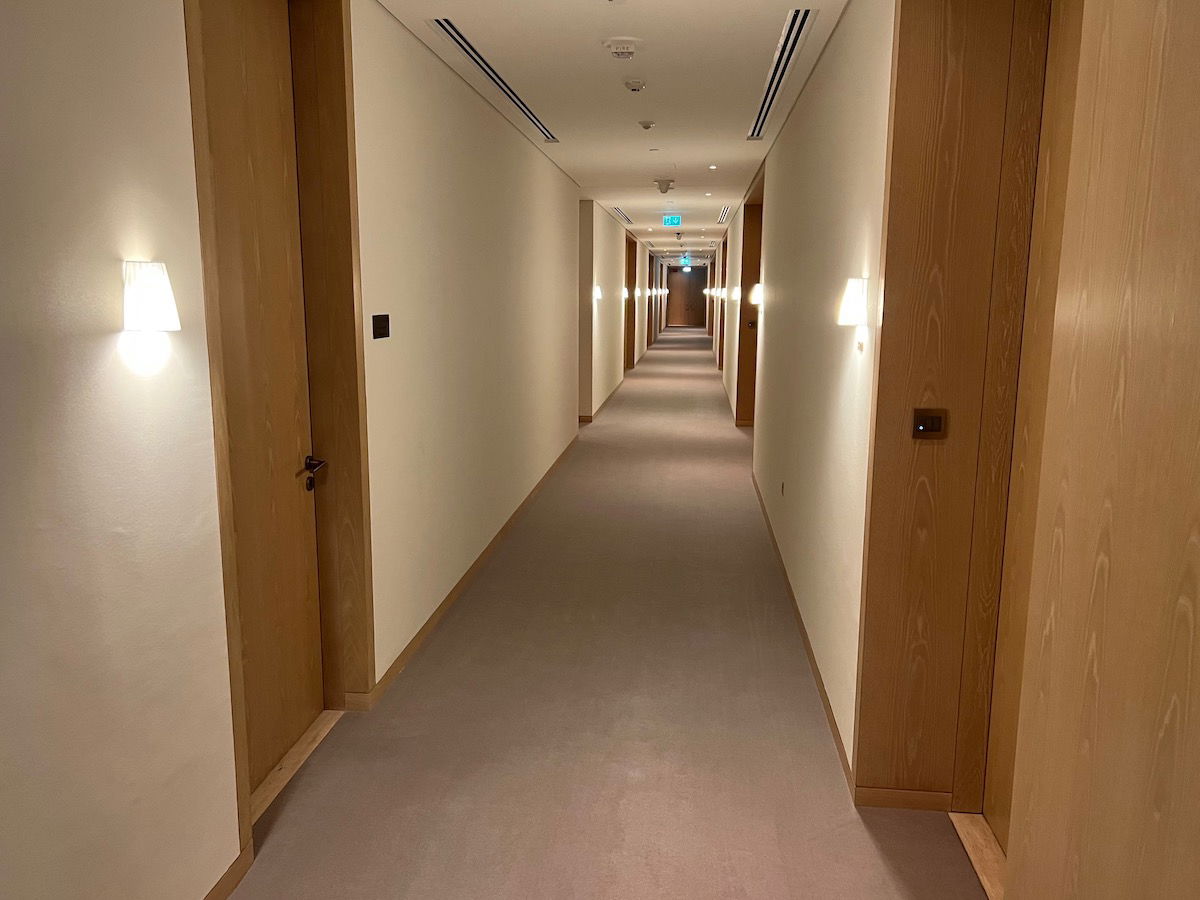 Deluxe suites are marketed as being 76 square meters (818 square feet), so they're very generously sized. The design was great, and exactly in line with the typical EDITION aesthetic. The suite had a large living room with a couch, two chairs, coffee table, TV, and a dining area with a booth and a bench.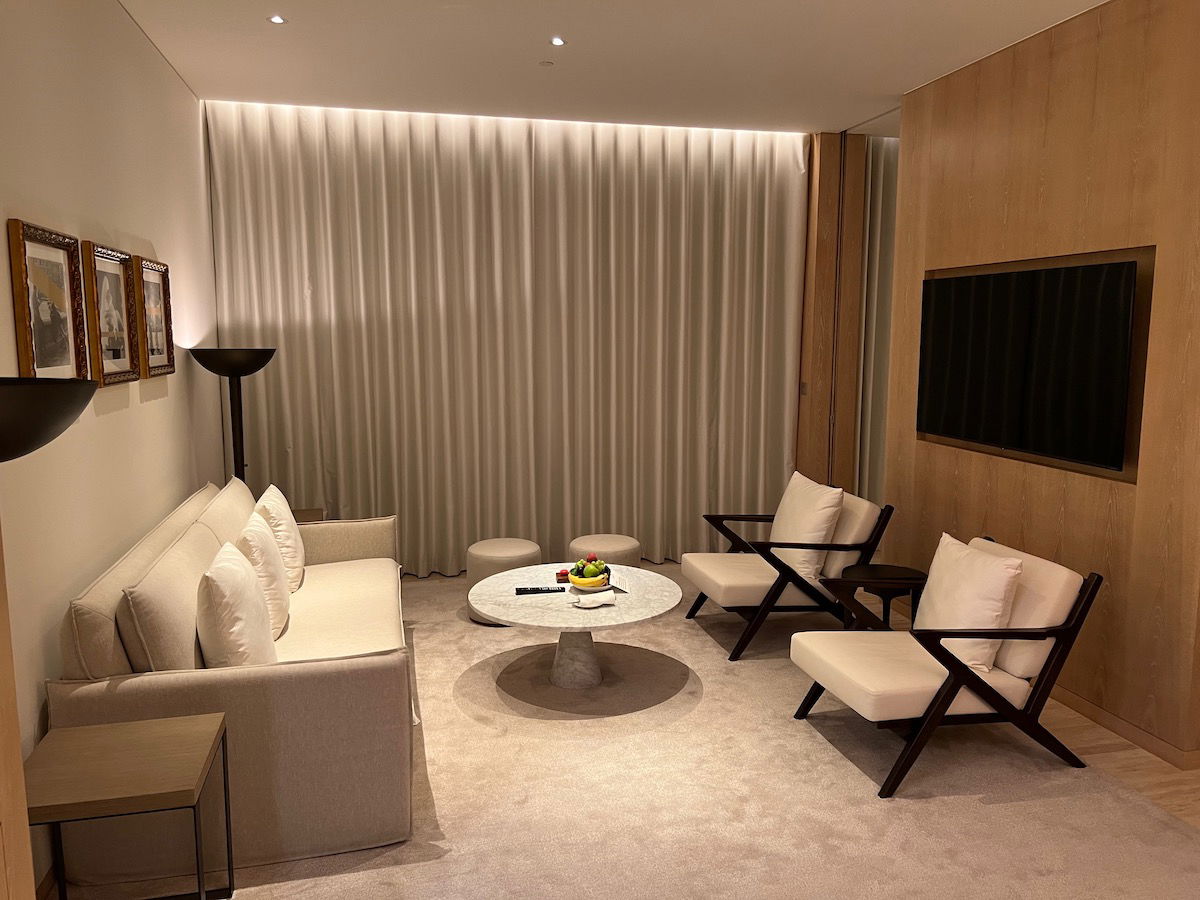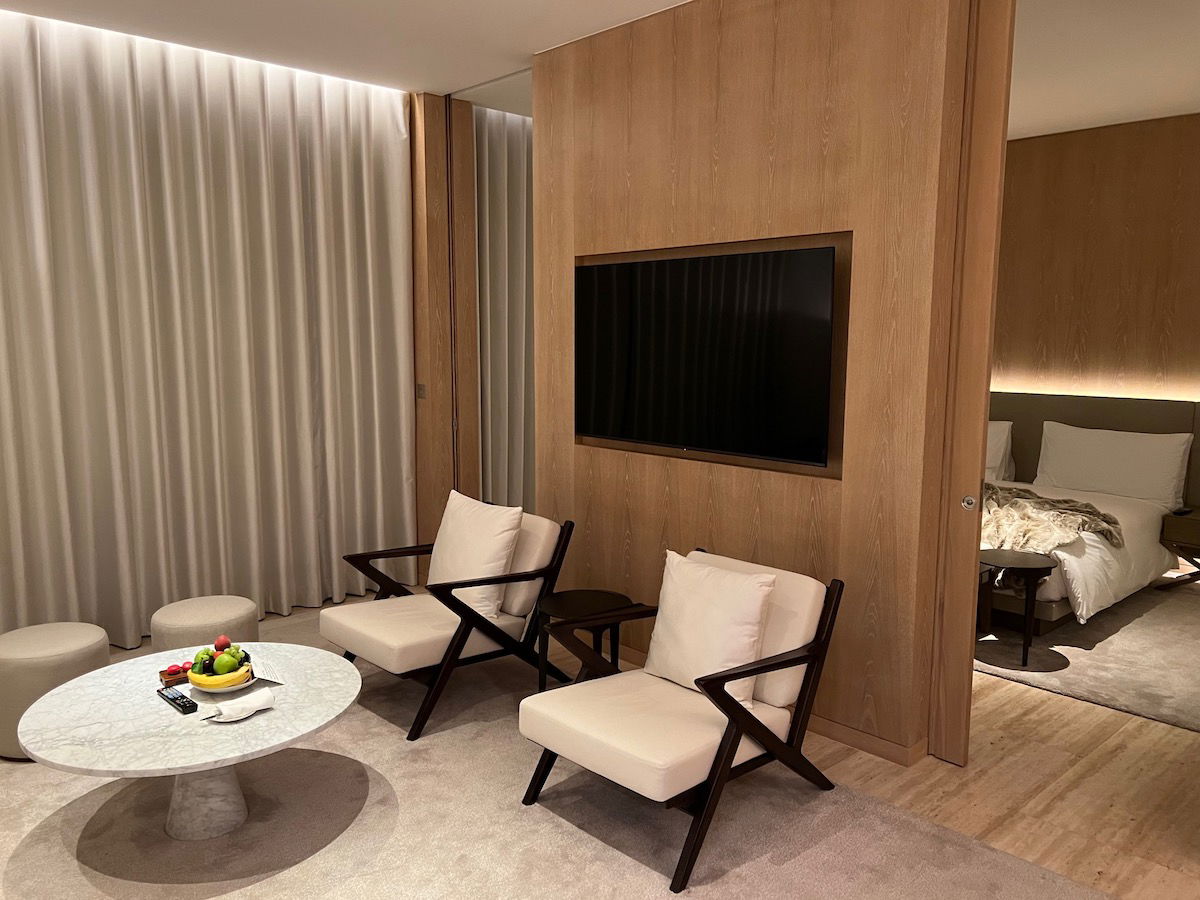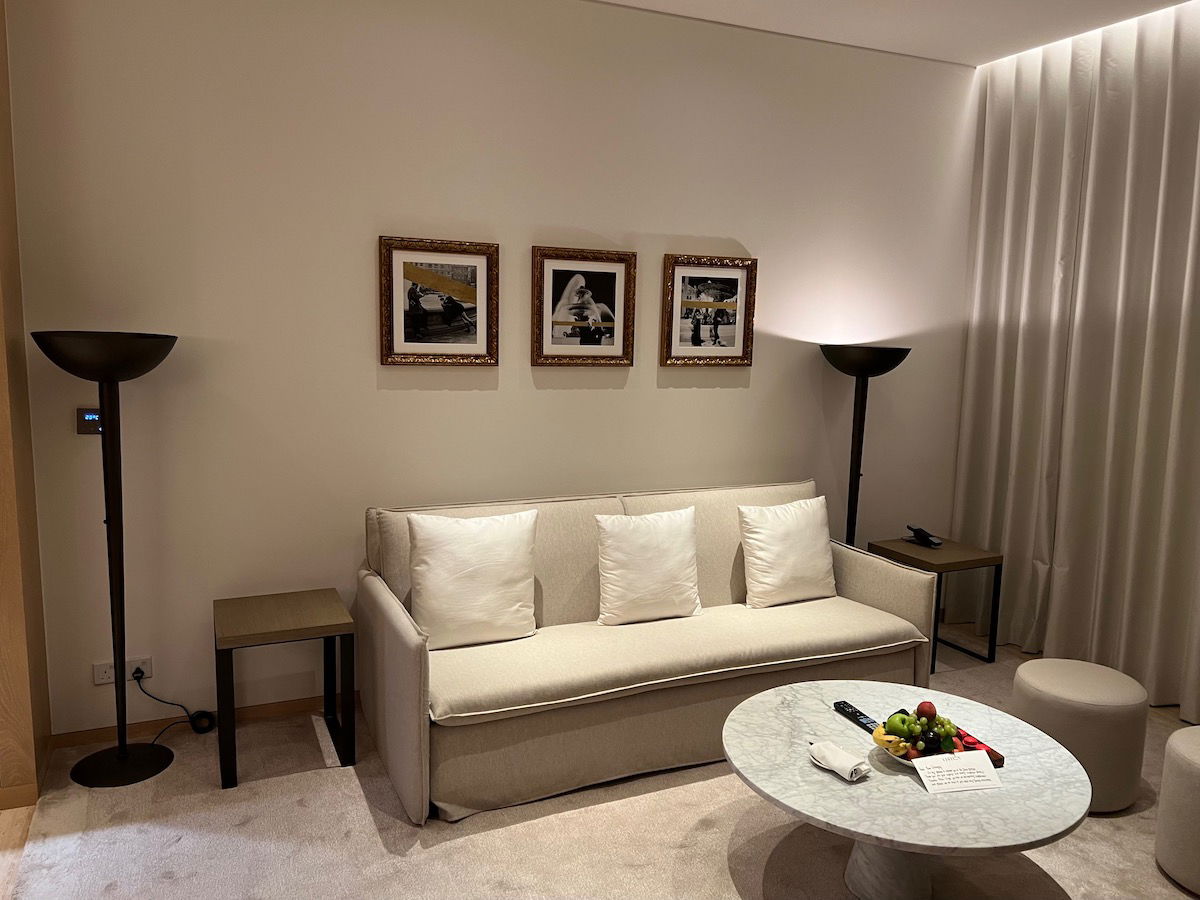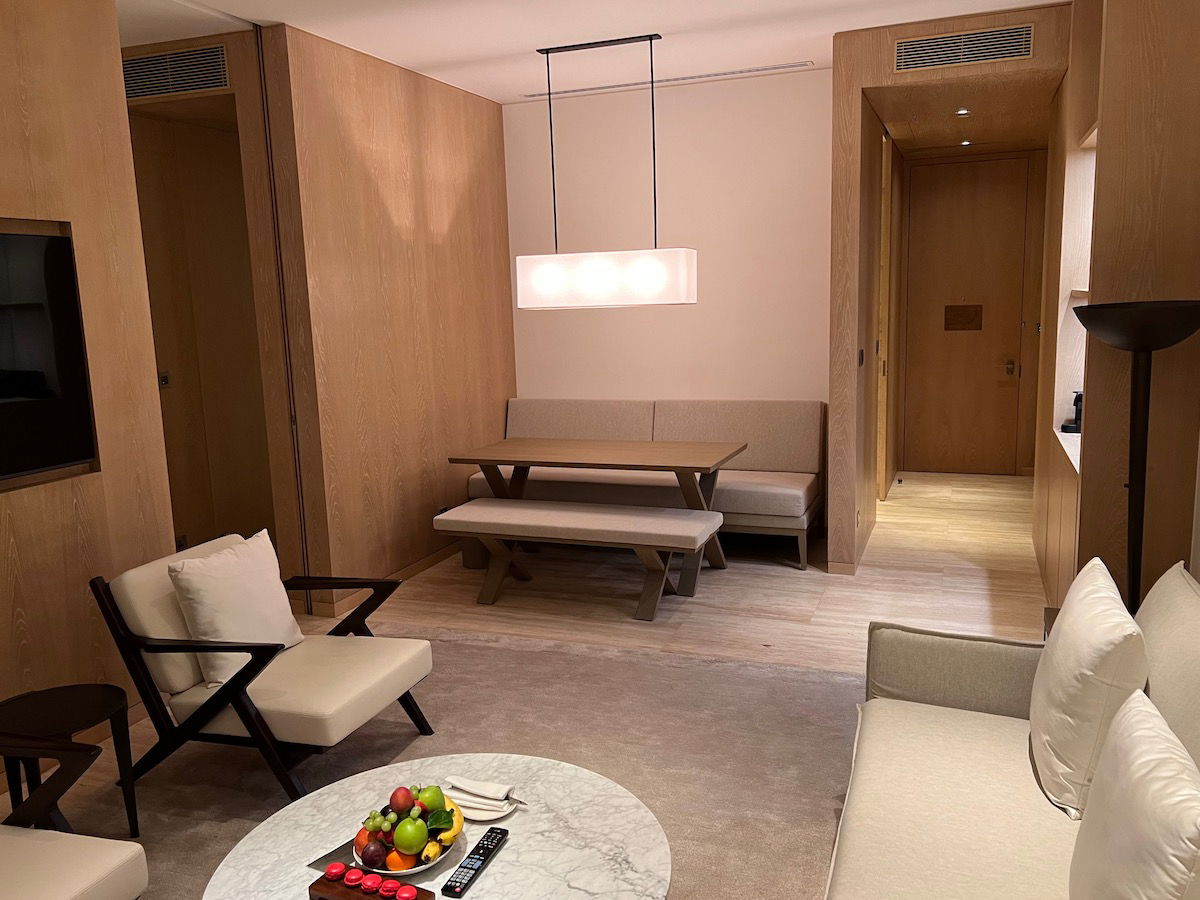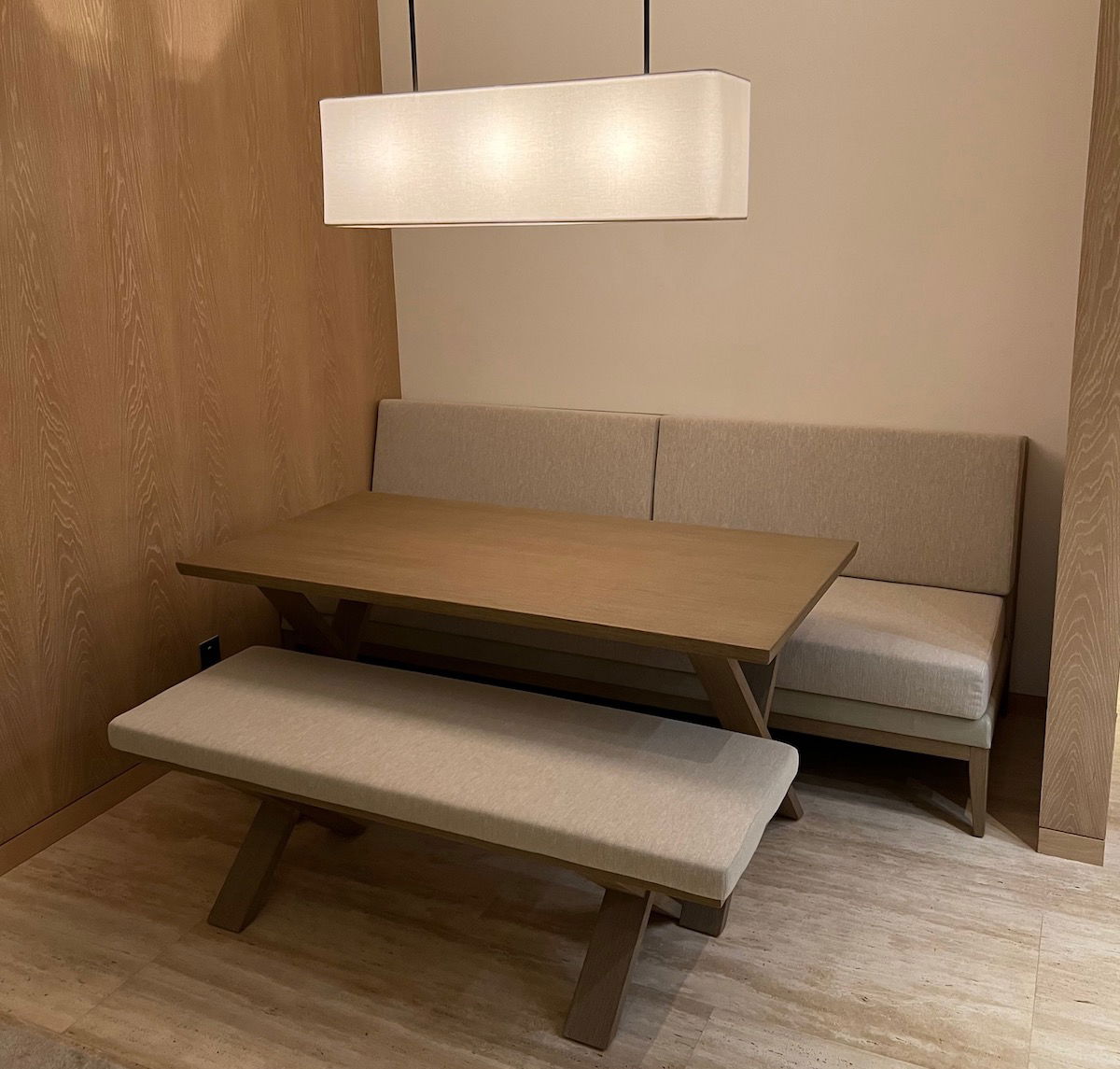 Waiting on the coffee table was a welcome amenity for having booked through the Marriott STARS program, which included a fruit plate and some macarons.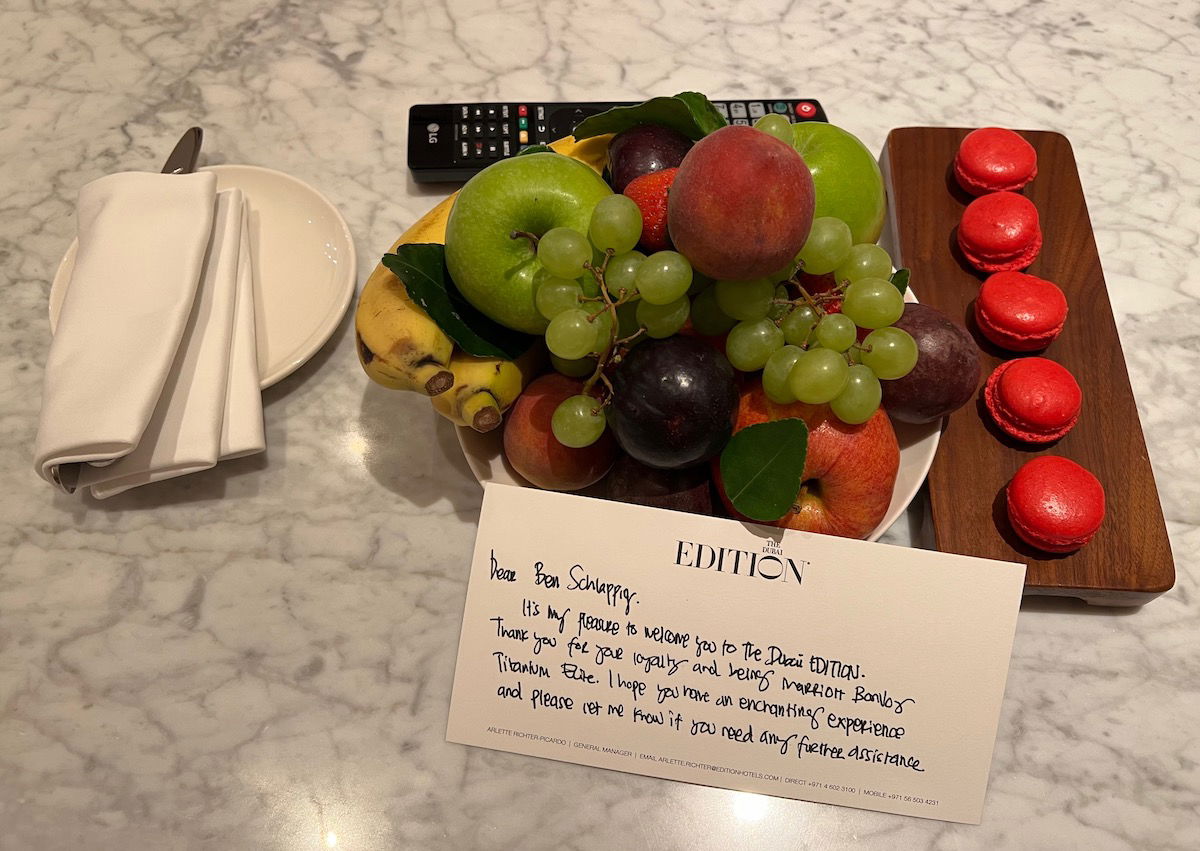 Back near the entrance was the minibar area, which had a coffee machine, a kettle, and a mini-fridge. There wasn't actually anything in the minibar.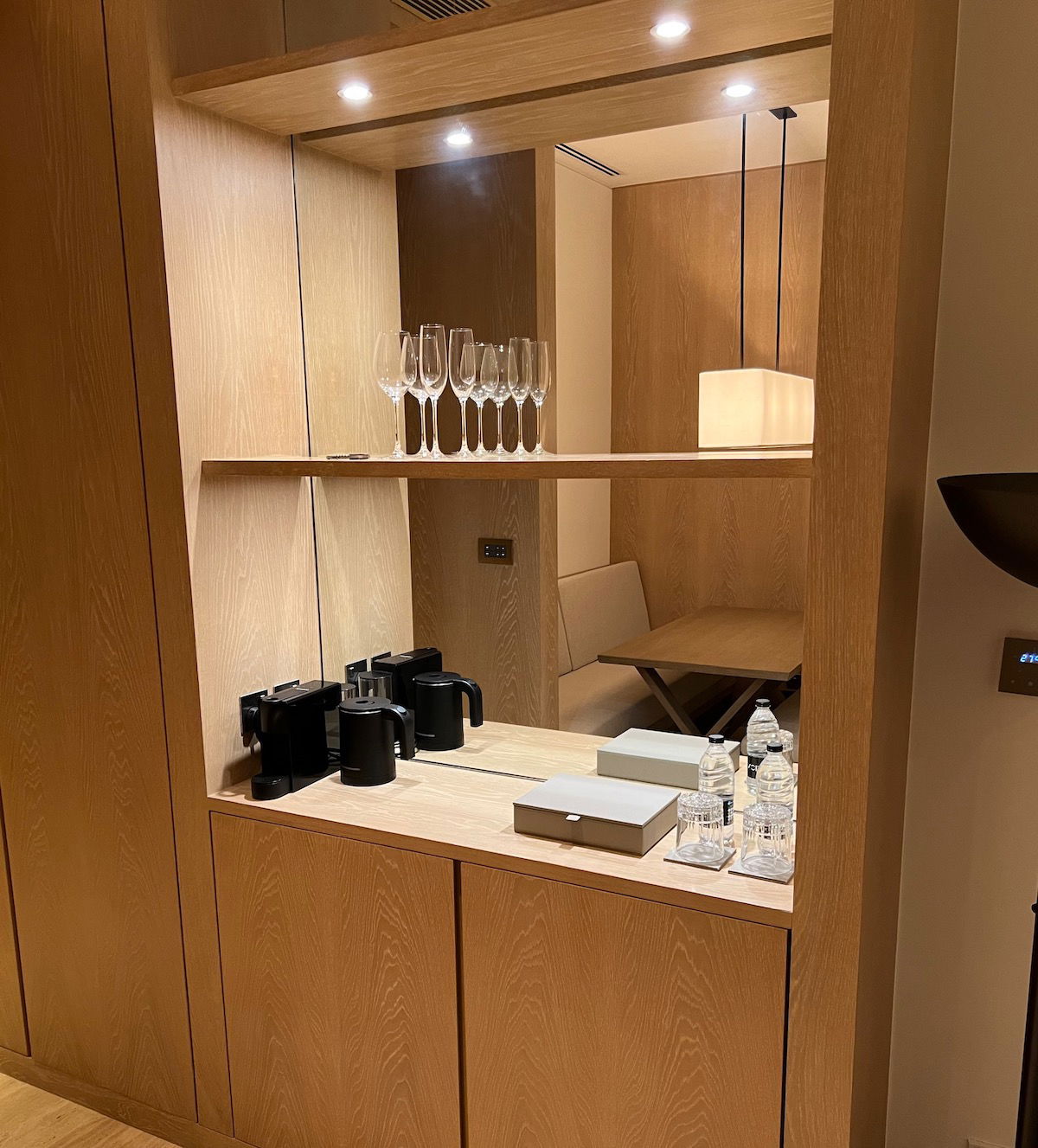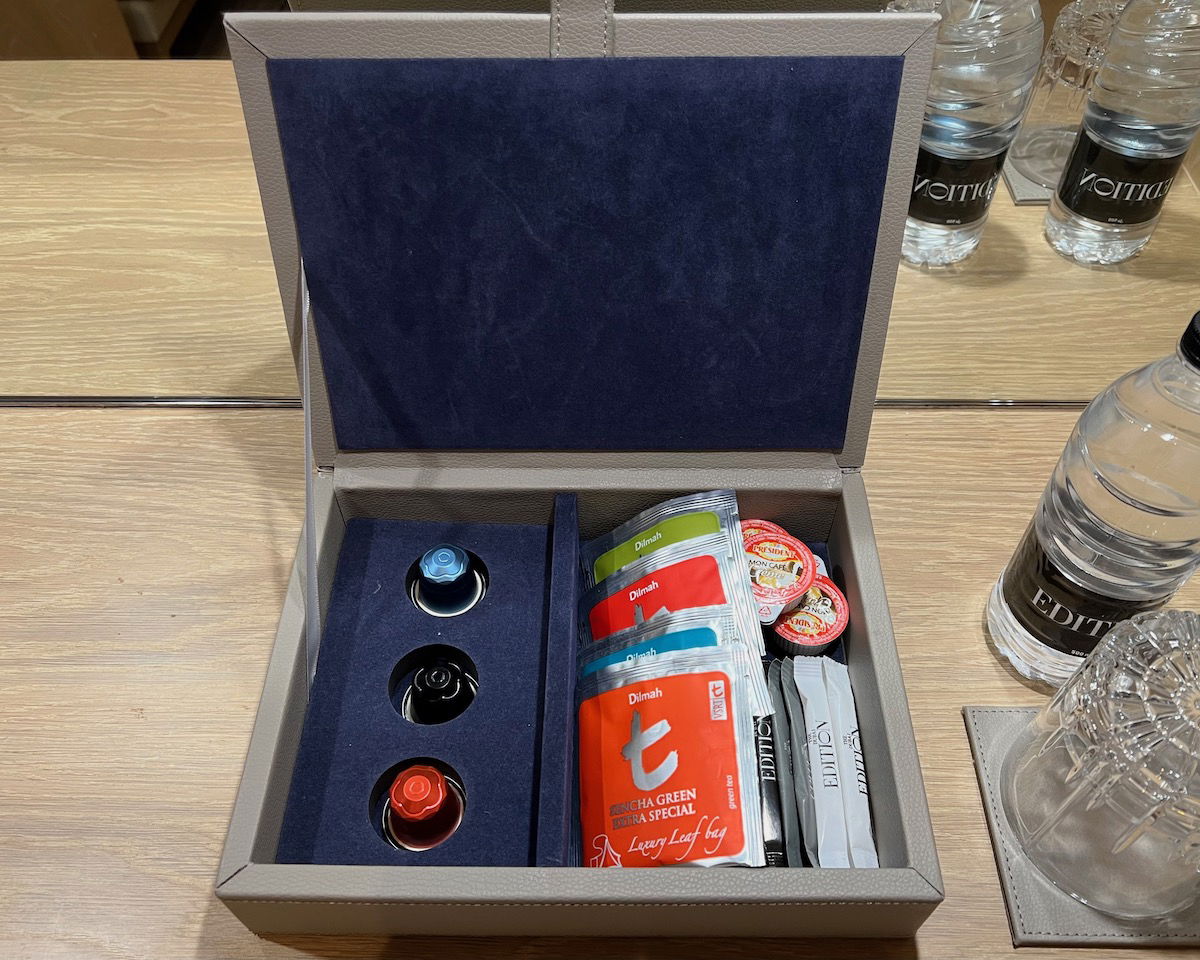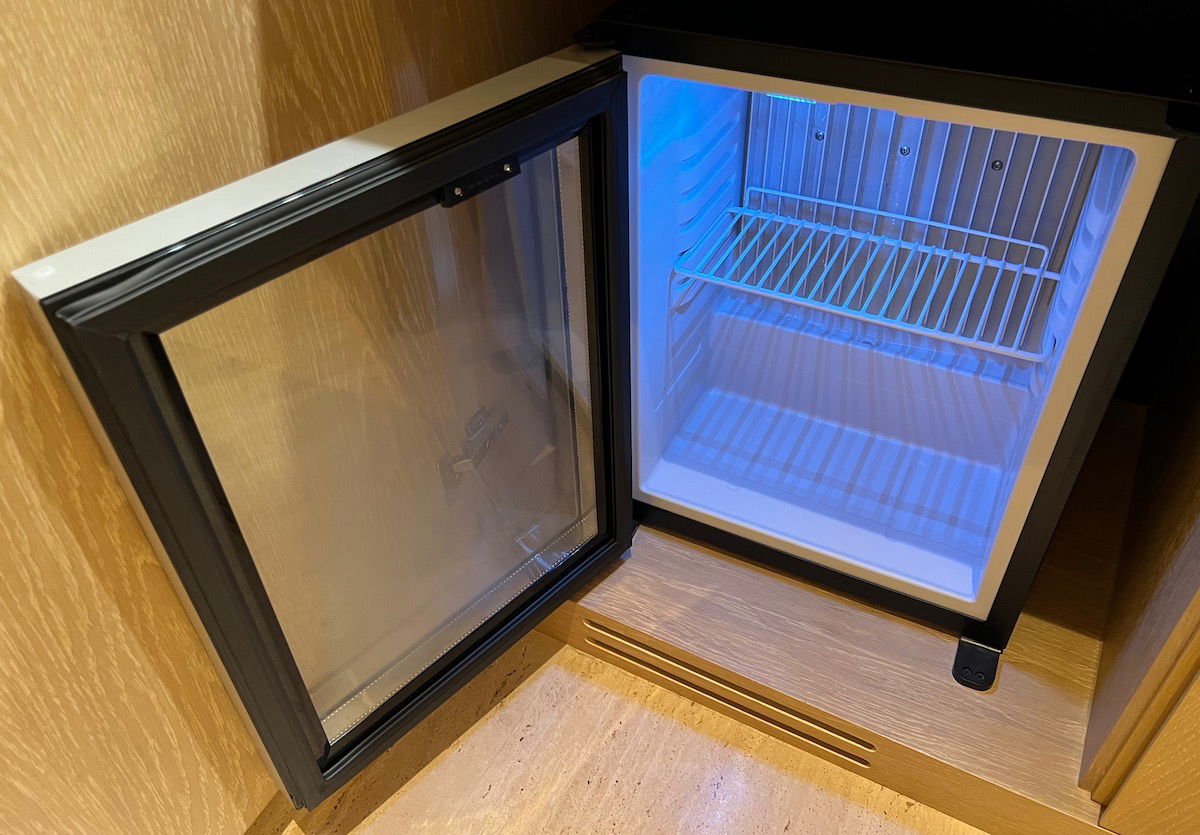 Then there was a half bath back near the entrance to the room.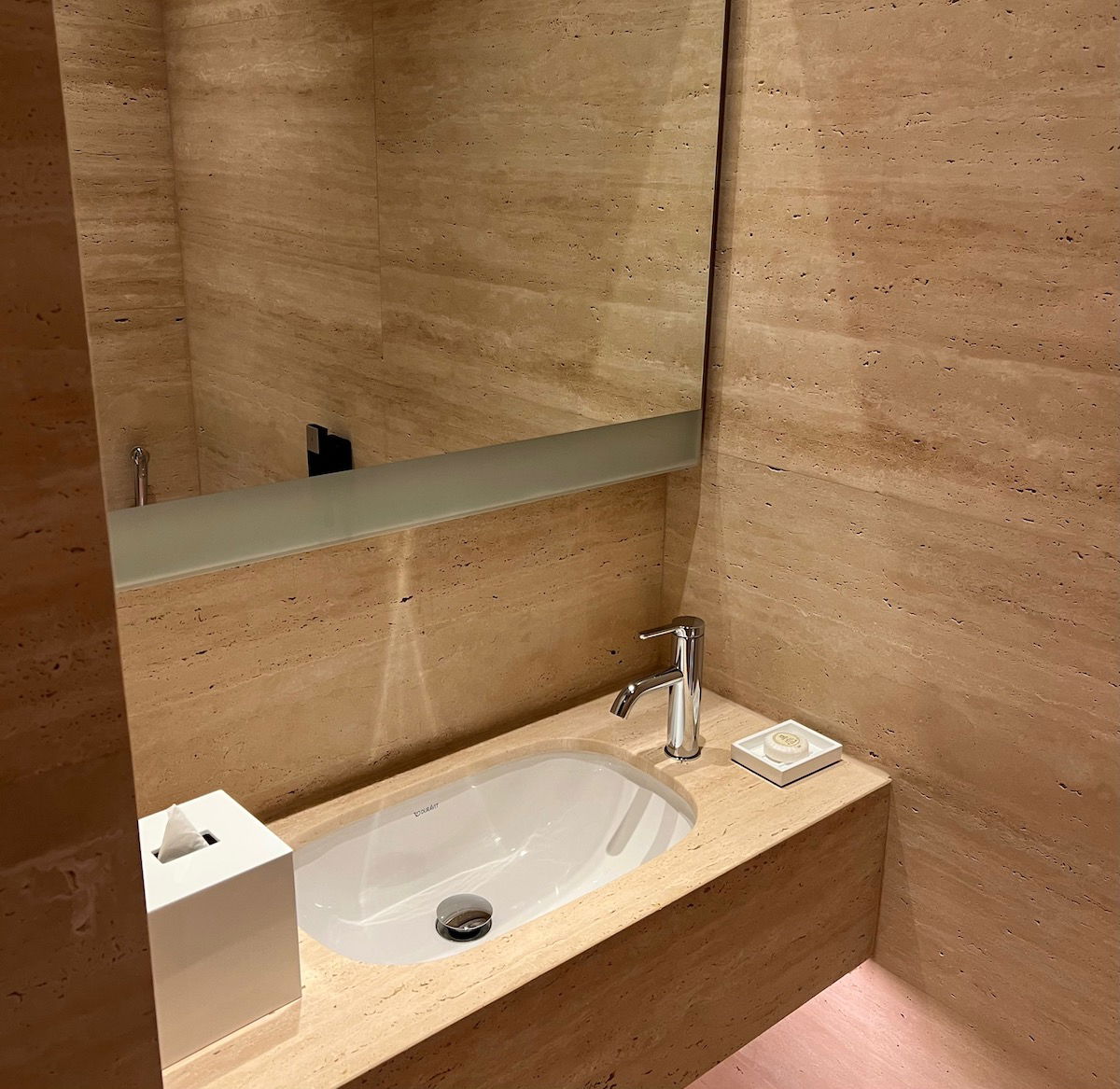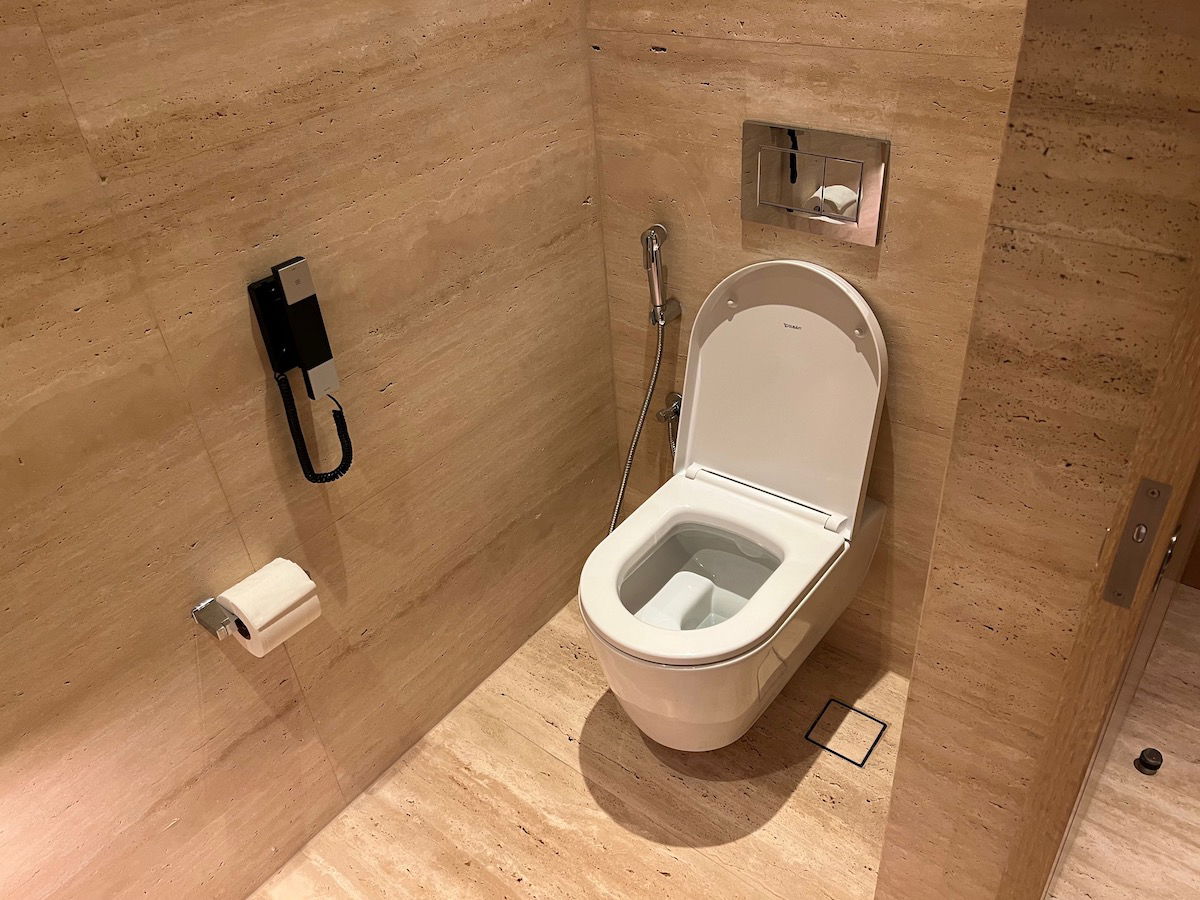 The bedroom was separated from the living room by two sliding doors (one on each side of the TV). There was a comfortable king size bed, and it had the typical EDITION decorative blanket, which personally I find kind of disgusting…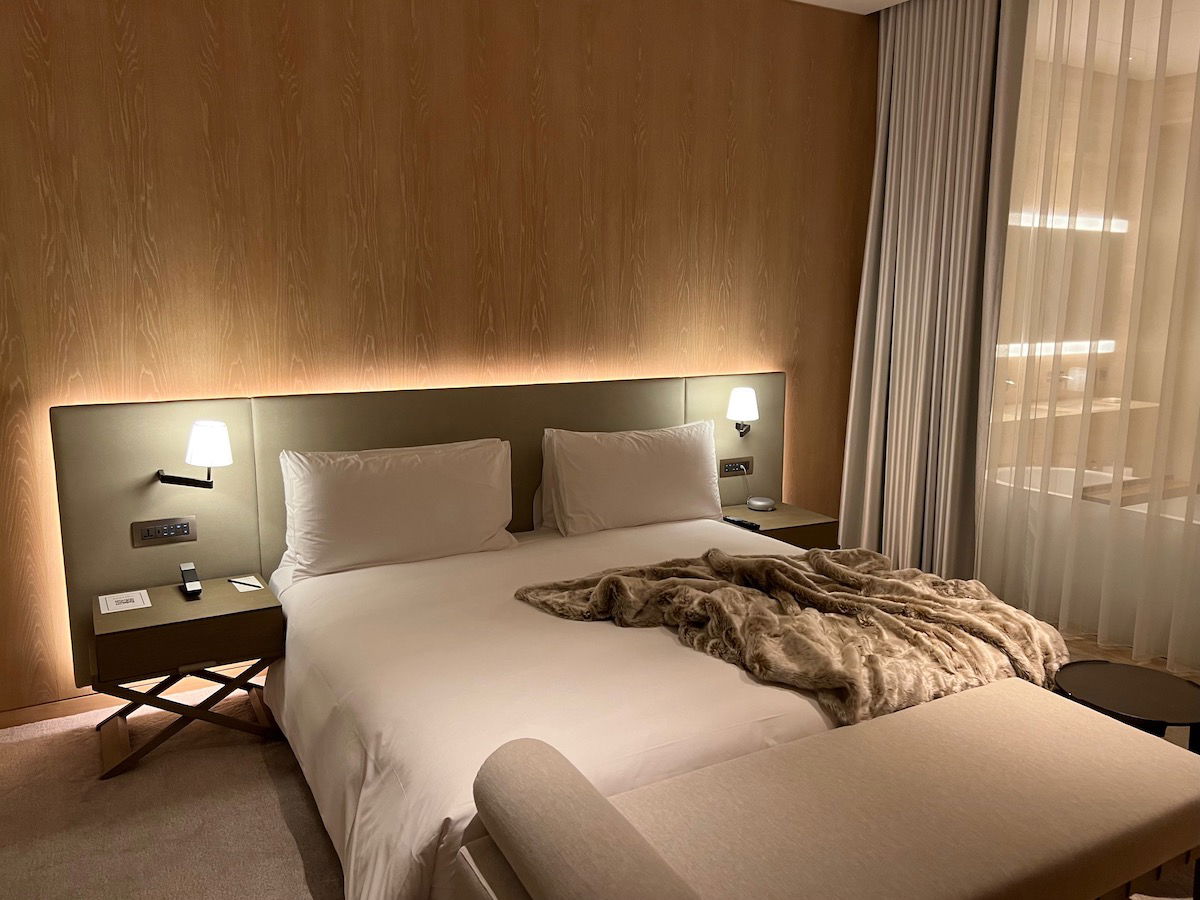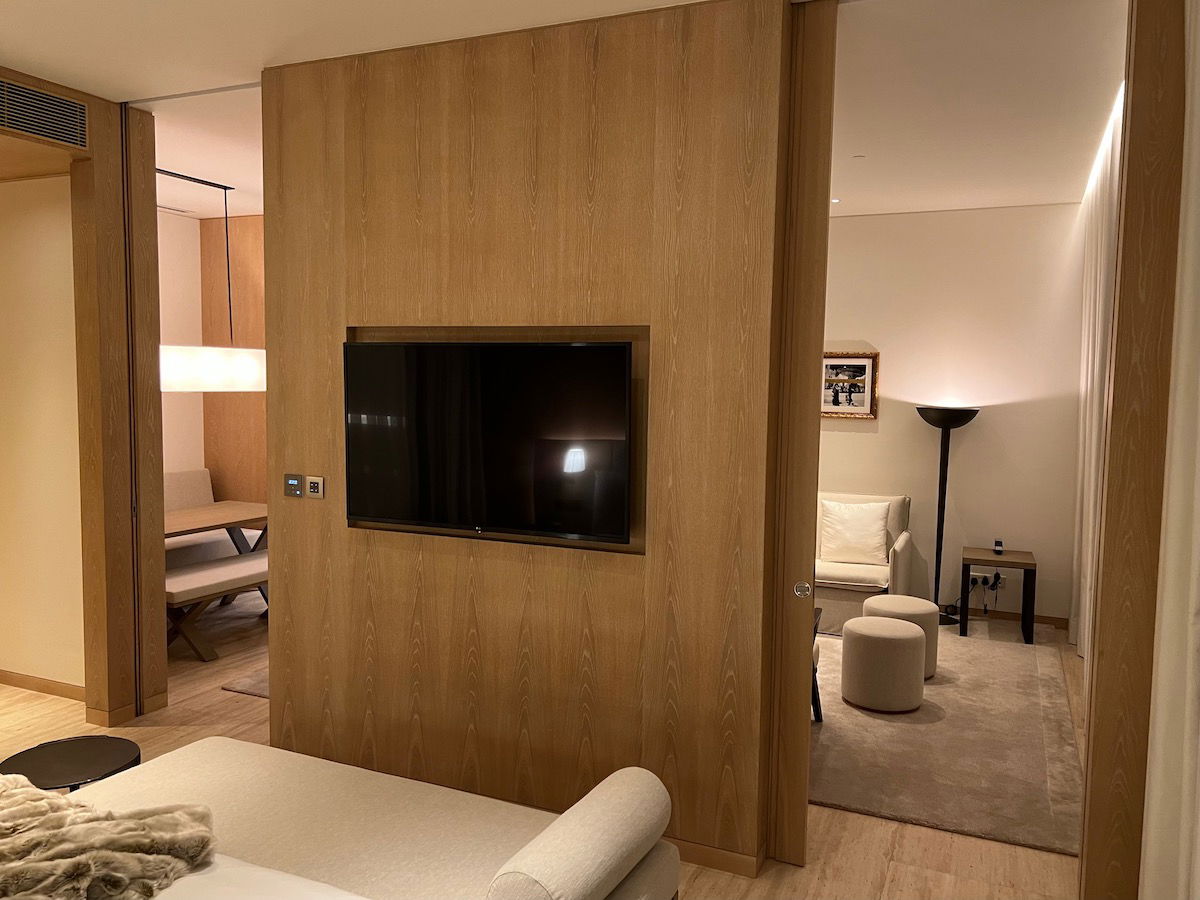 There was a floor-to-ceiling glass shield separating the bathroom from the bedroom, though there was a curtain that could be pulled for full privacy. The bathroom was large, and had double sinks, a soaking tub, a huge walk-in shower, and a toilet and bidet.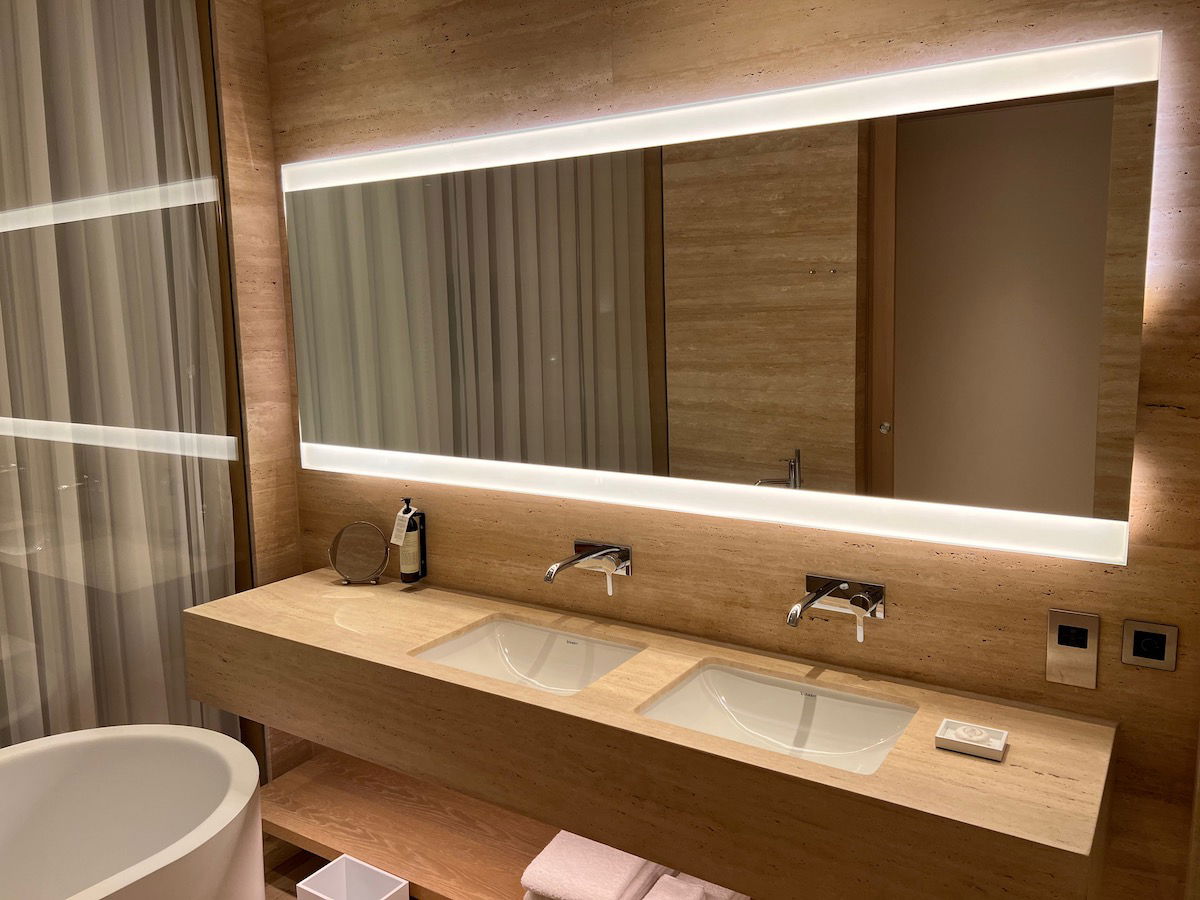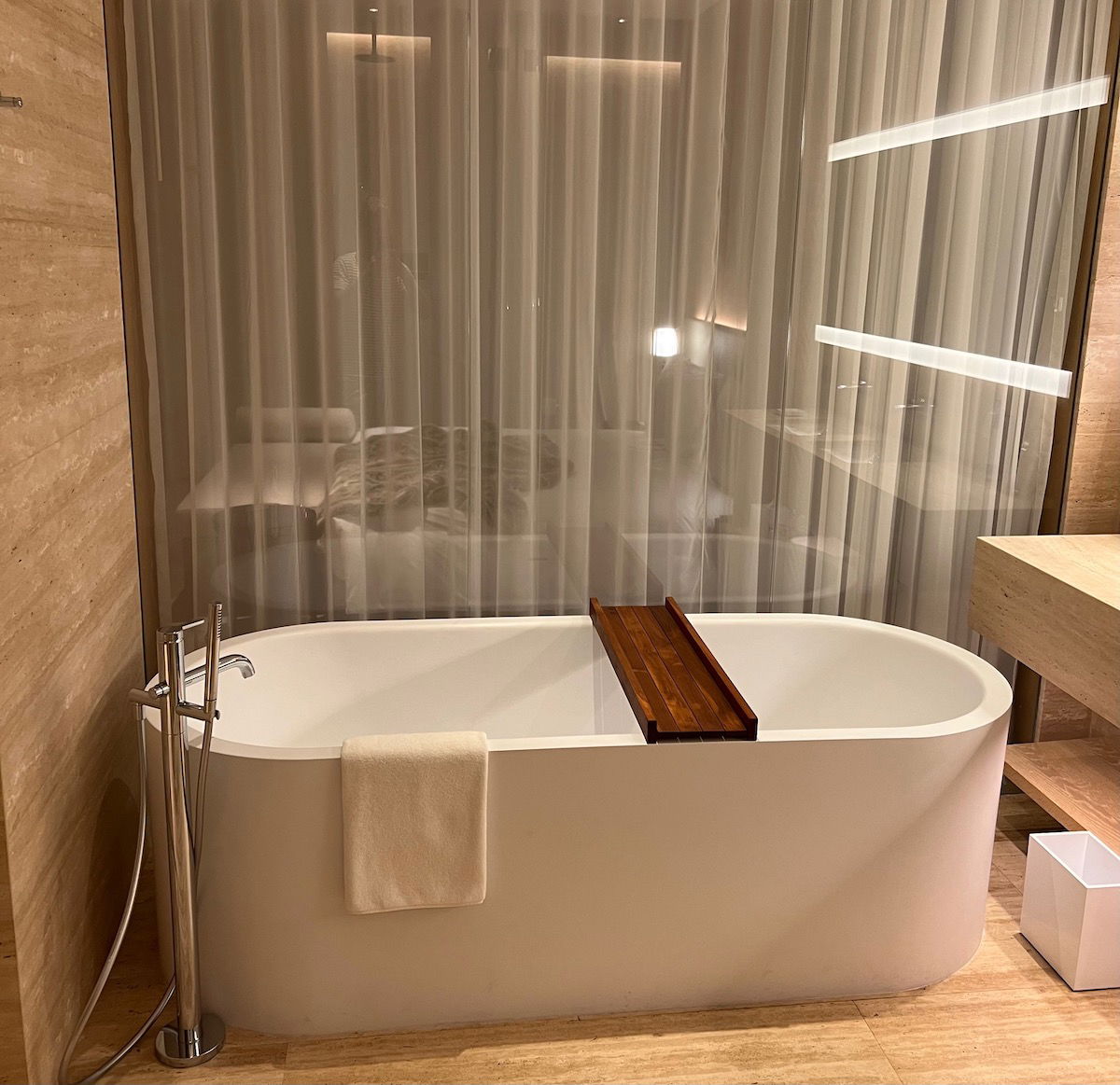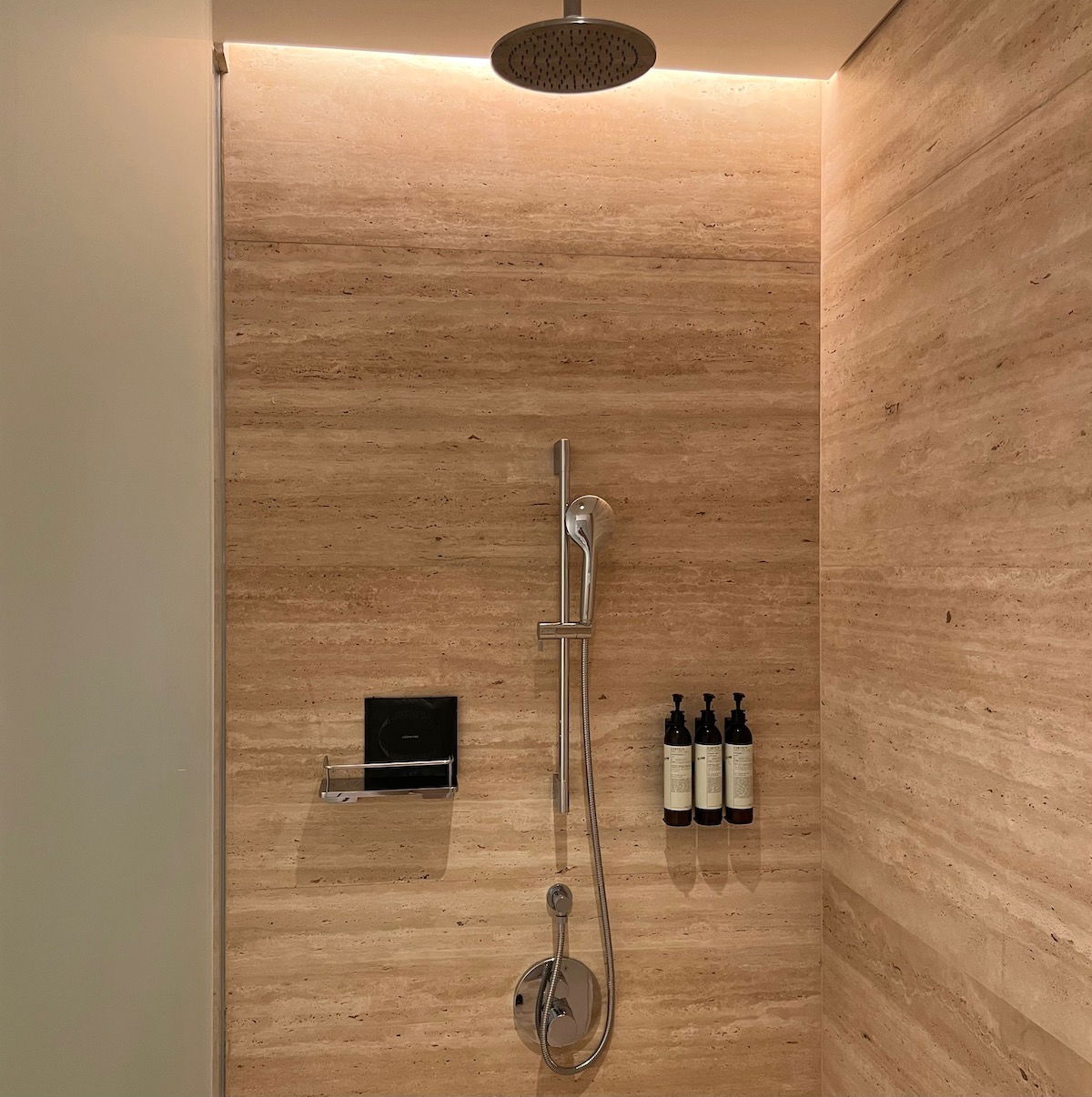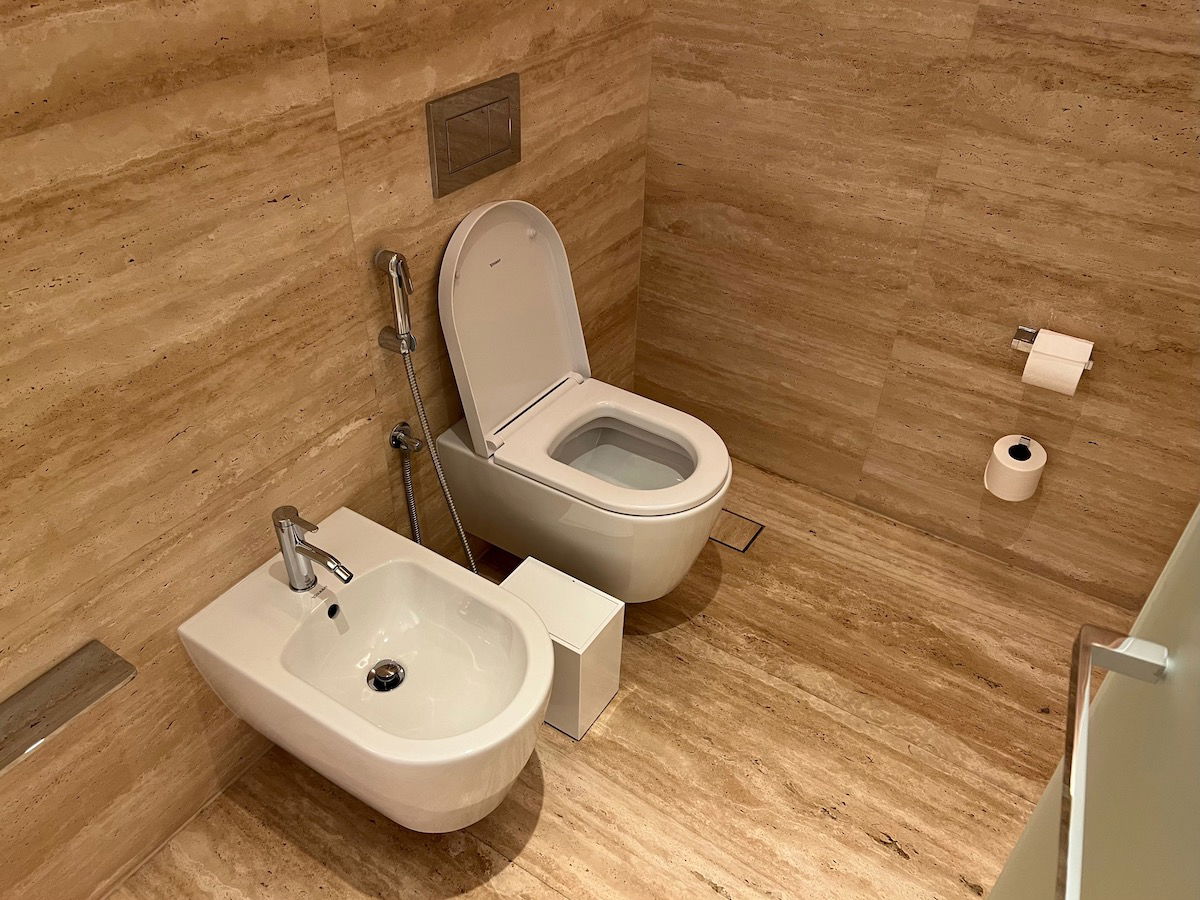 Toiletries were from Le Labo, and were in reusable containers. The containers were good about dispensing liquids, so I quite liked this setup.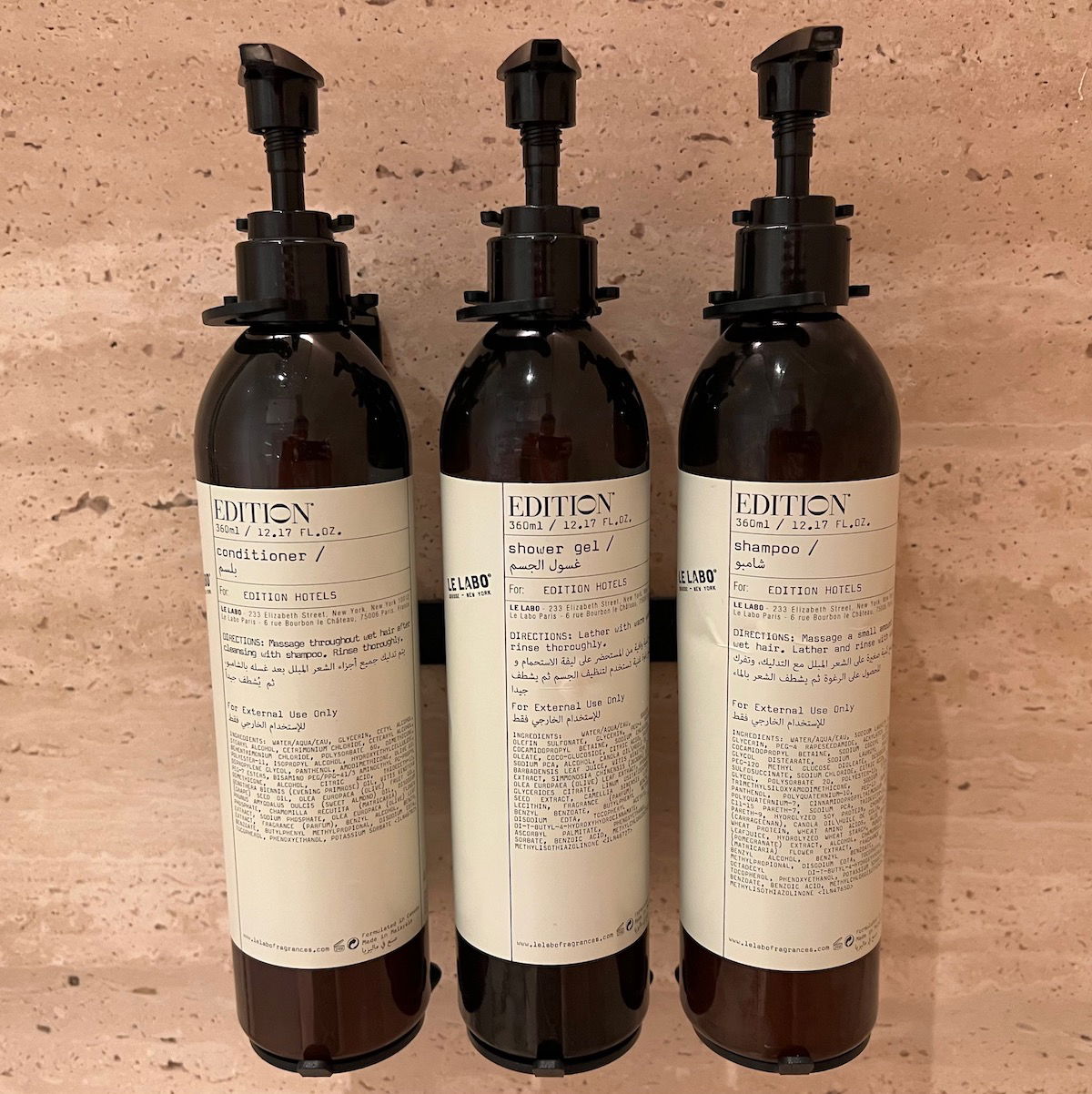 Near the bathroom was a further closet area.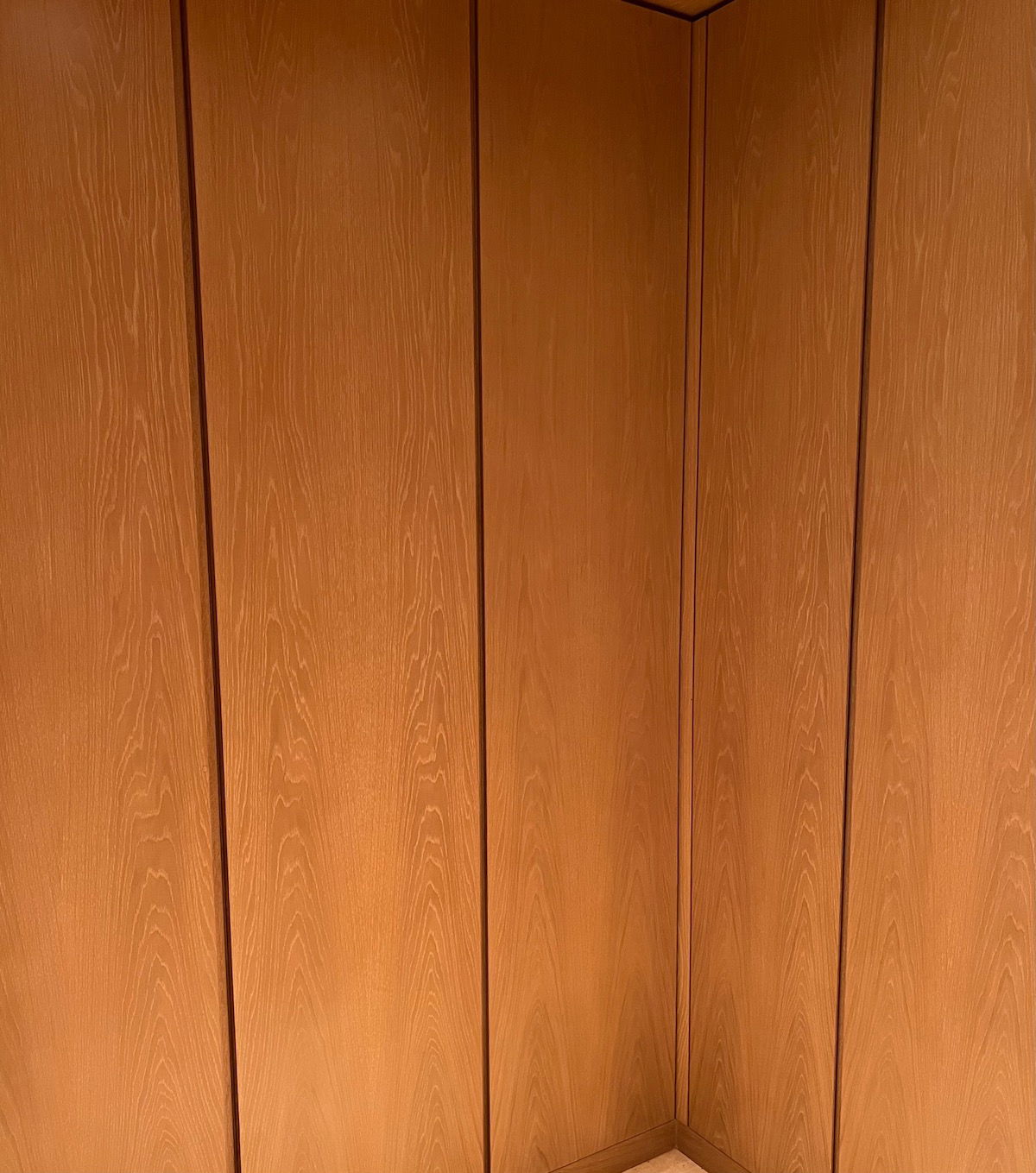 The suite had two separate balconies, one of which had a table with chairs.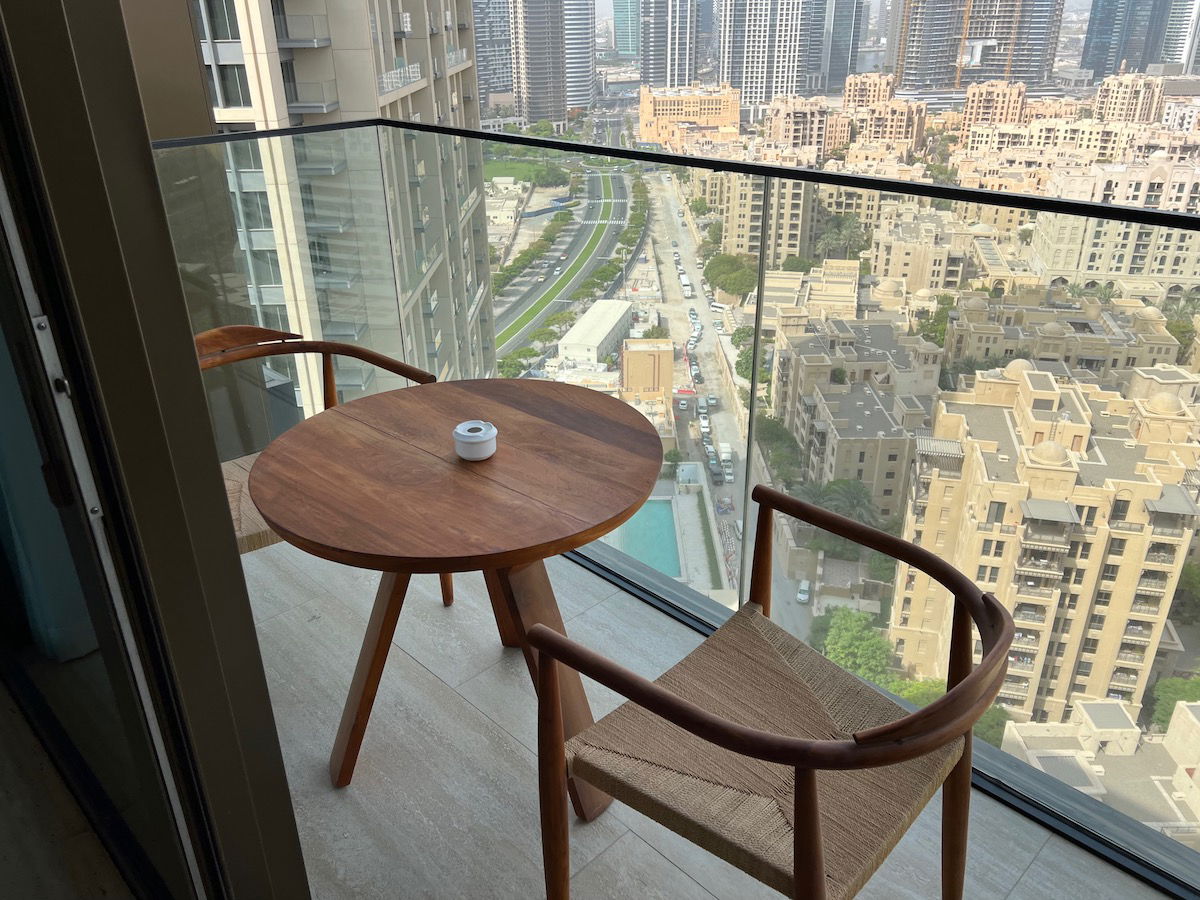 The view from the room was cool, as you could see the Dubai Mall and Burj Khalifa, though the Address Hotel does slightly obstruct the view.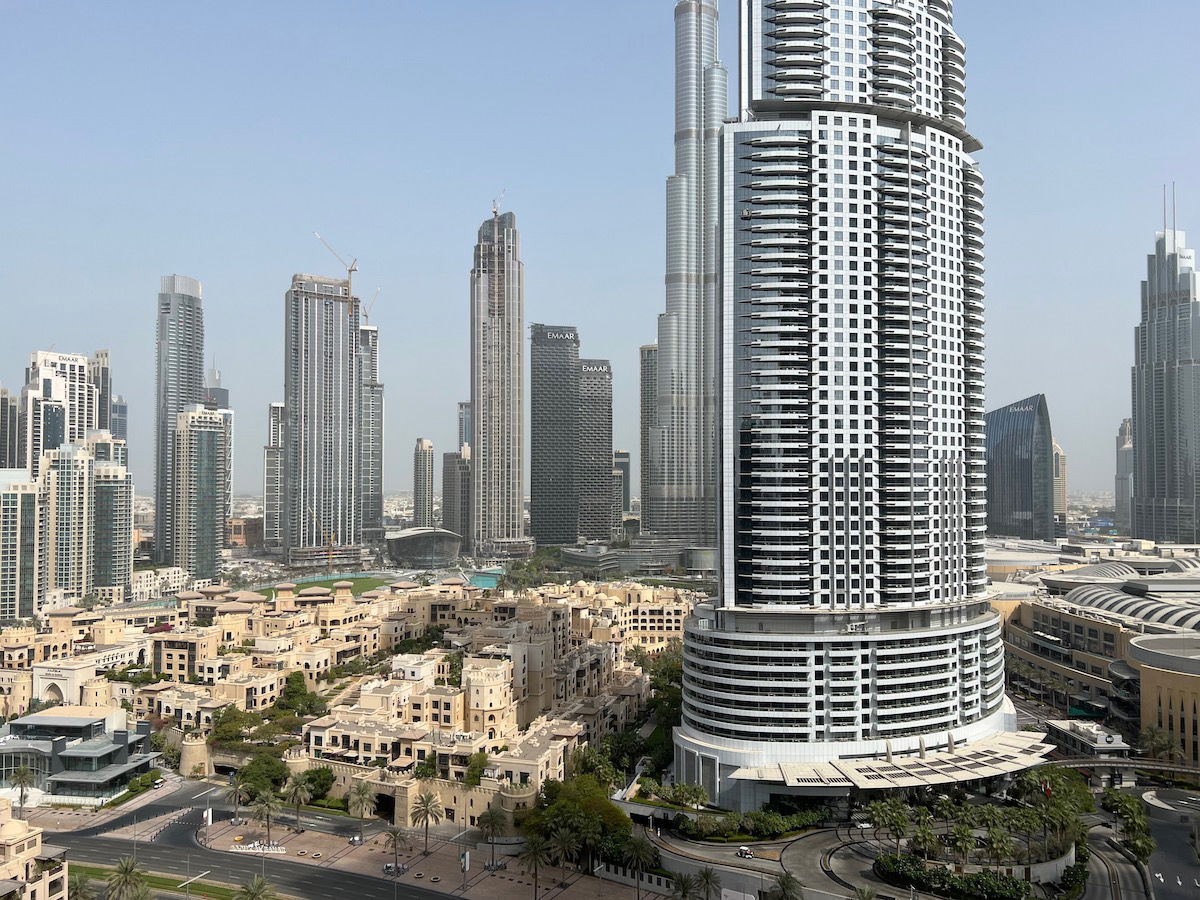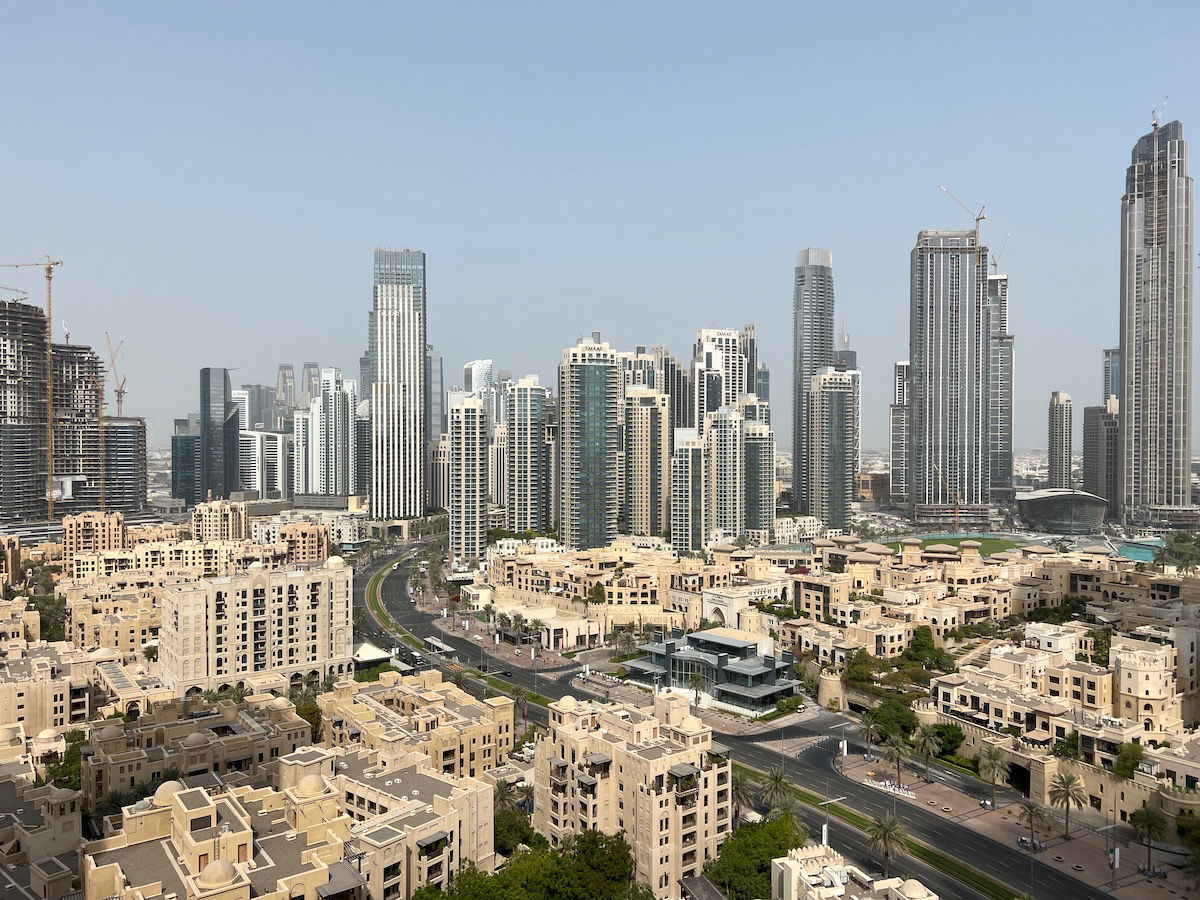 All-in-all, what a fantastic suite and great upgrade. The hotel scores perfect points when it comes to the rooms, which was a pleasant surprise.
Dubai EDITION spa & gym
The Dubai EDITION's spa and gym are both on the second floor. I didn't have a chance to use the spa on my one night stay, so all I can really report on is that it exists (oddly the hotel's website still claims that this is only "coming soon").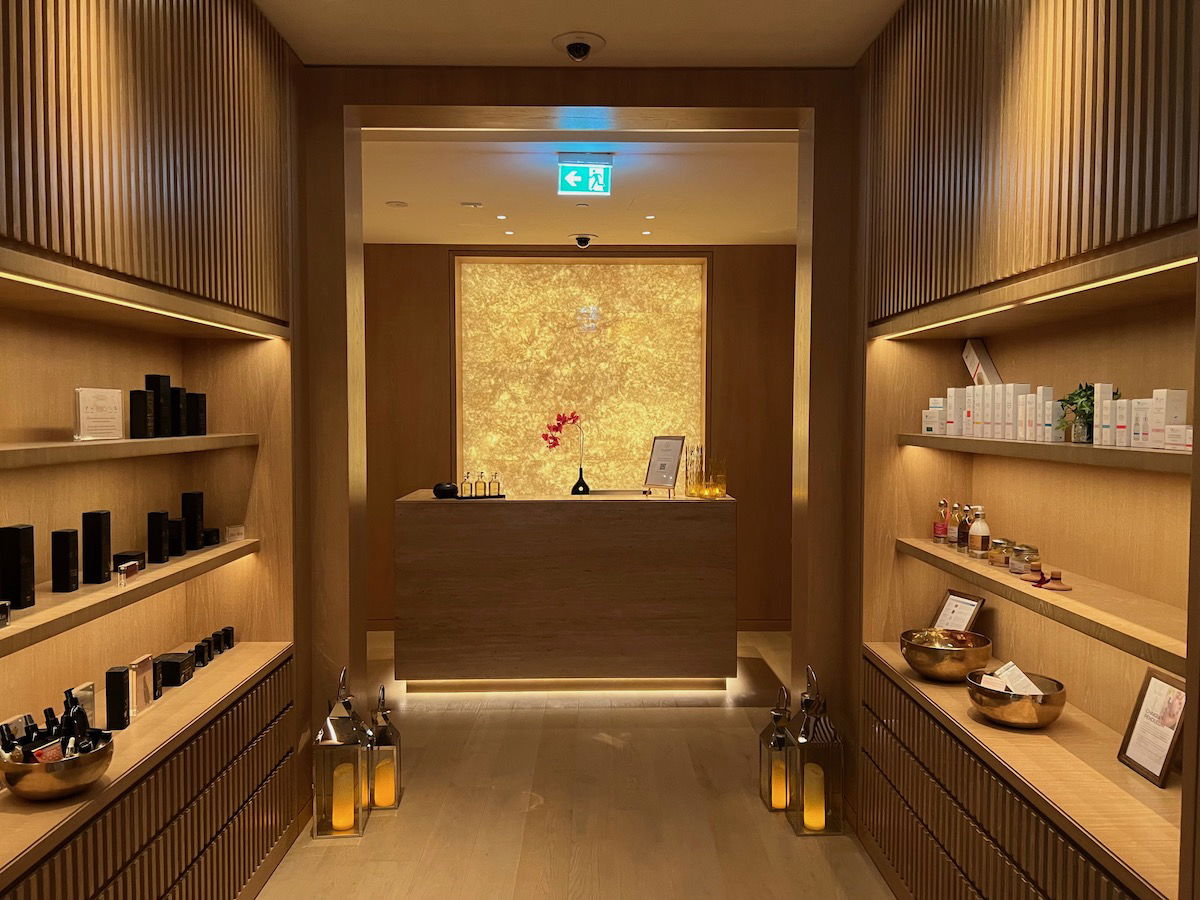 The hotel had an excellent 24/7 gym, with plenty of cardio and weight equipment.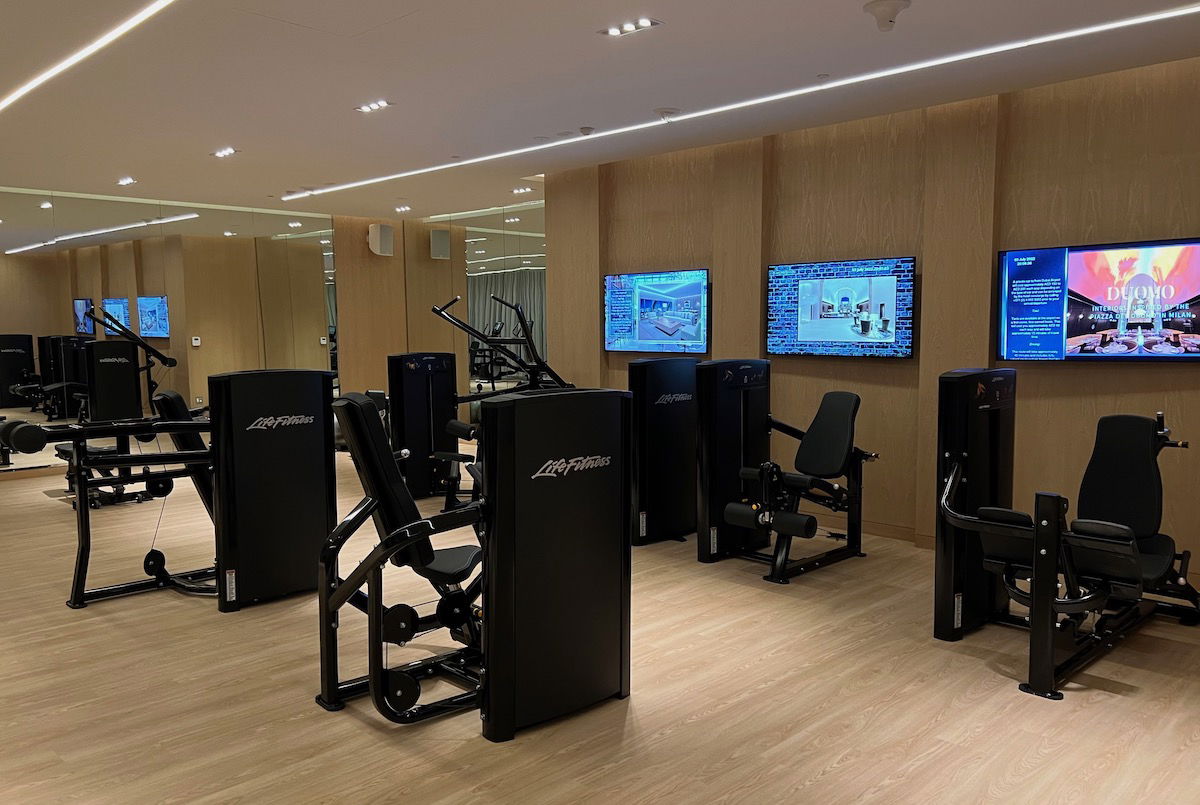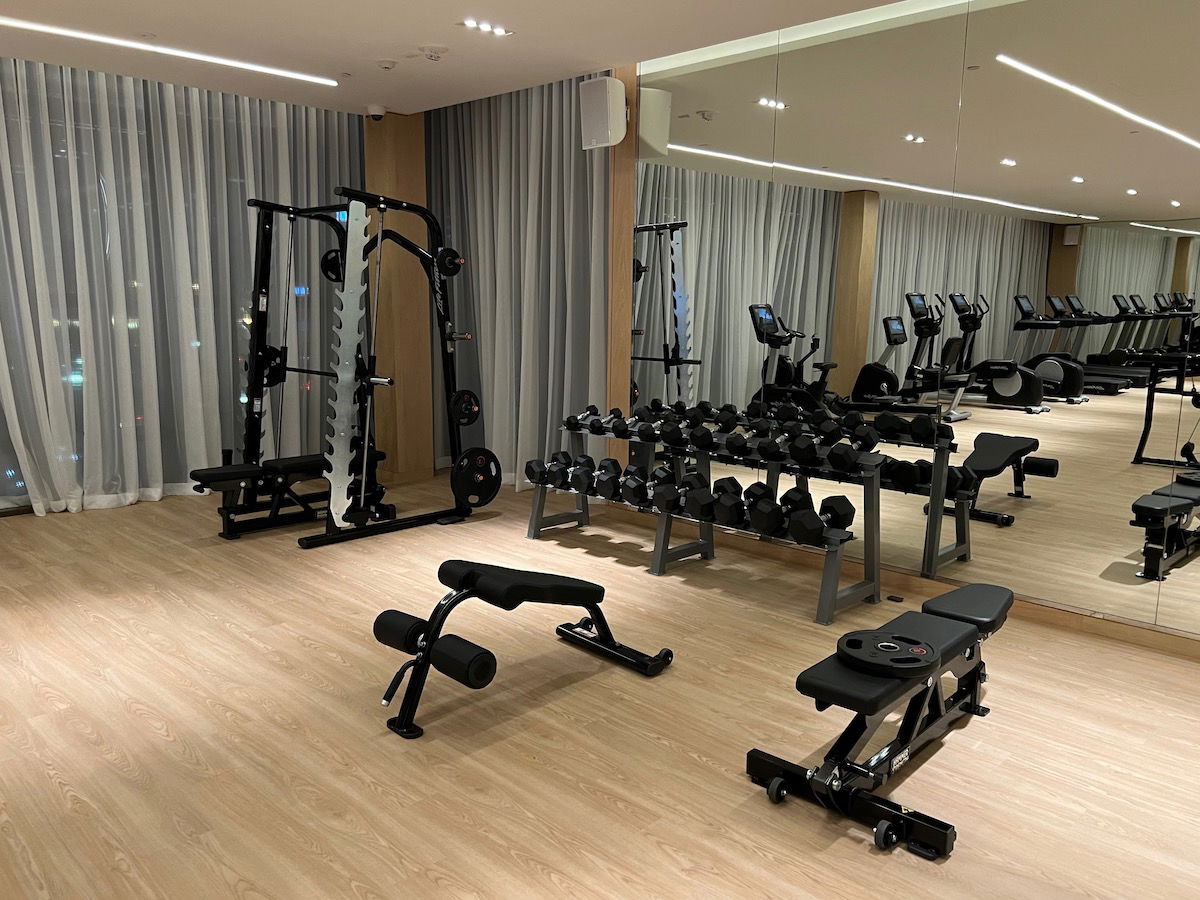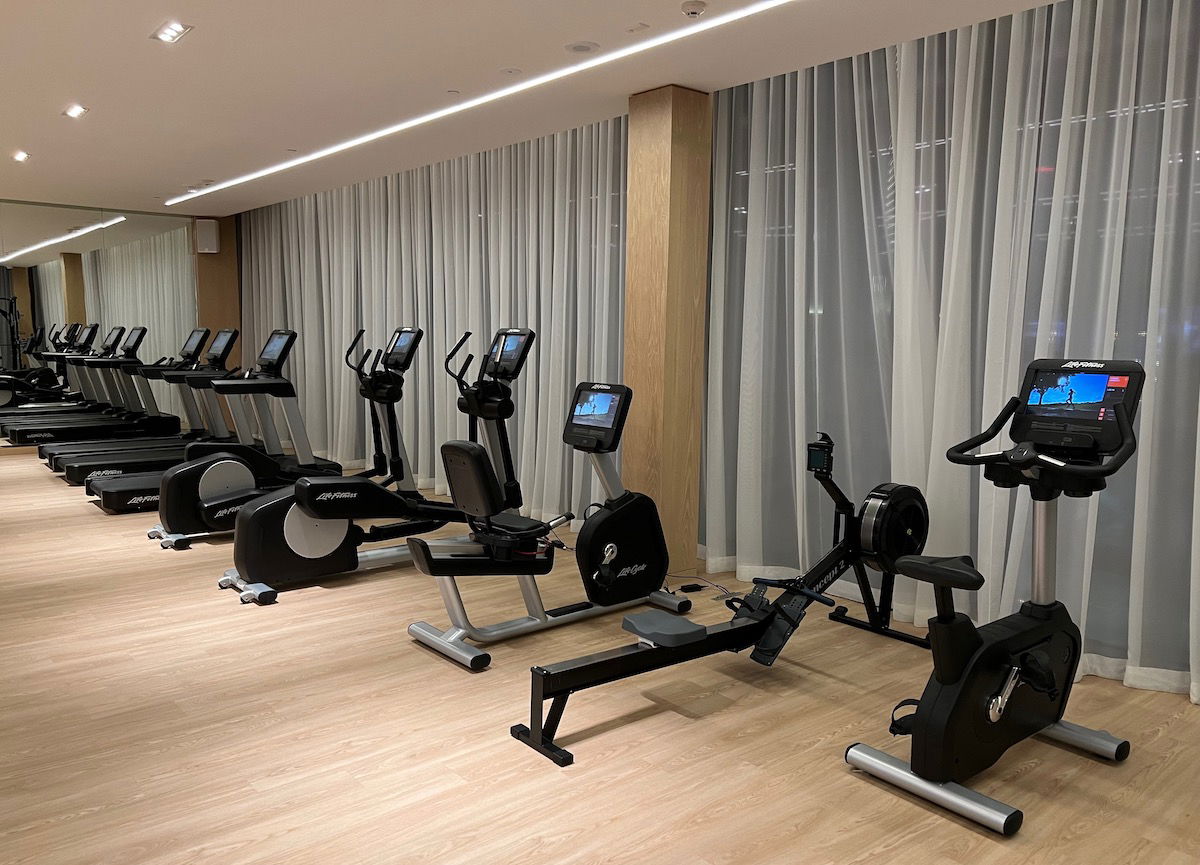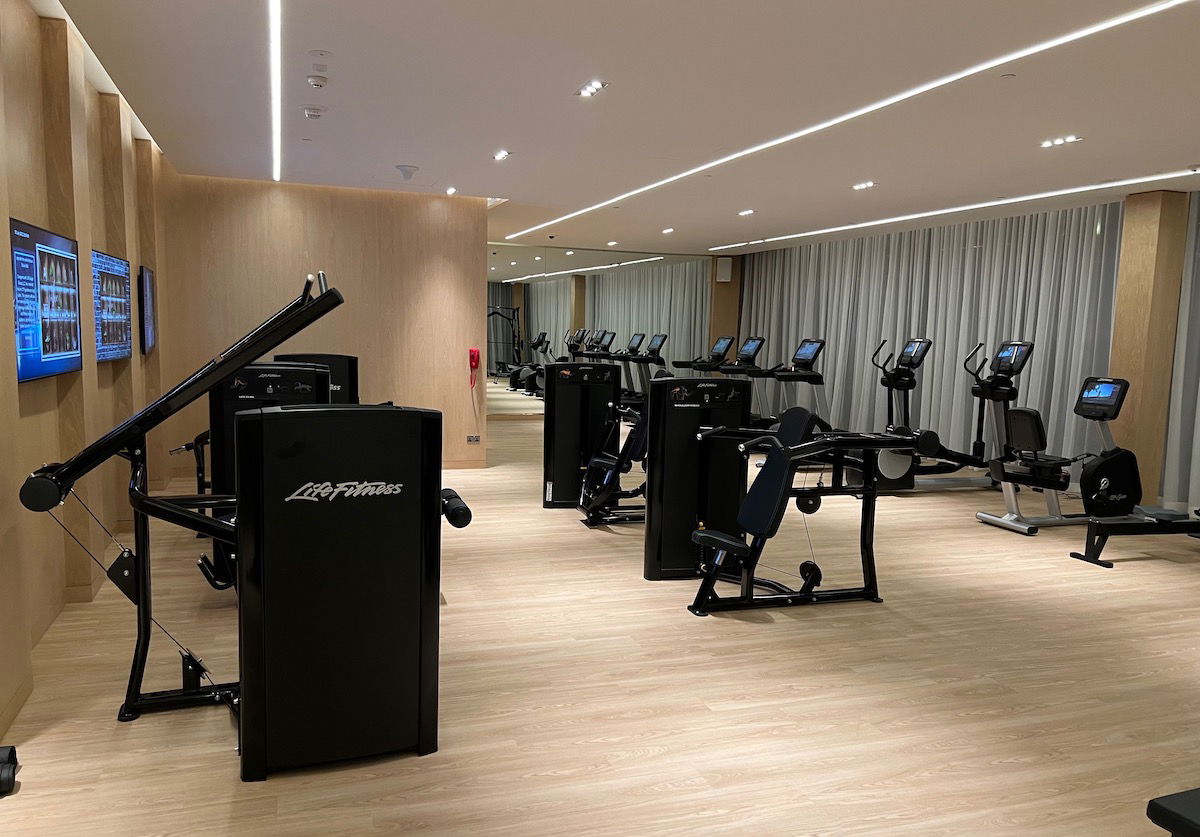 Dubai EDITION pool
The Dubai EDITION's pool is on the second floor as well. As mentioned above, this isn't a hotel I'd stay at if your primary goal is to have a beach or pool vacation. I'd say the EDITION has a decent pool for a city hotel, but that's about it. Note that because of the height of the building, the pool is in the shade most of the day — personally I'd consider that to be a positive, but that's just me. The pool area also has great views.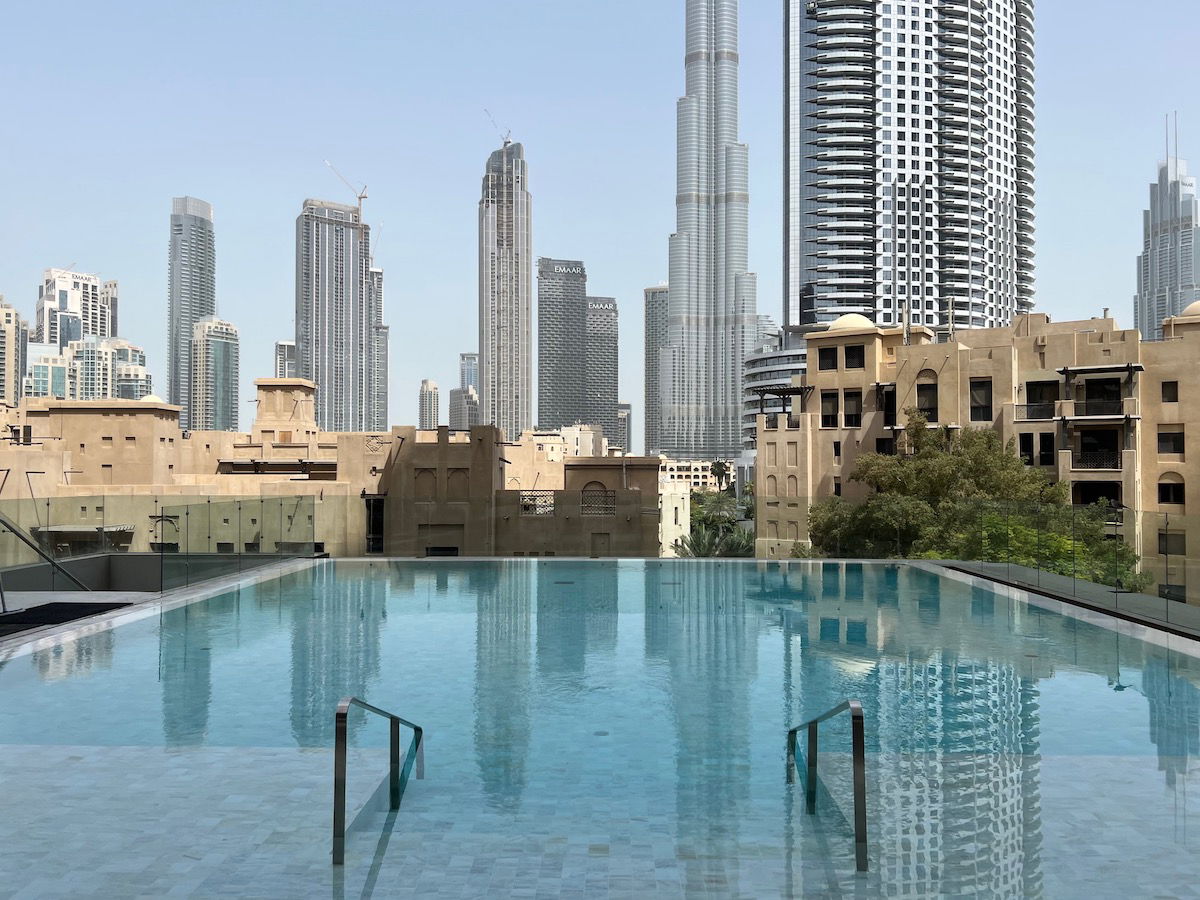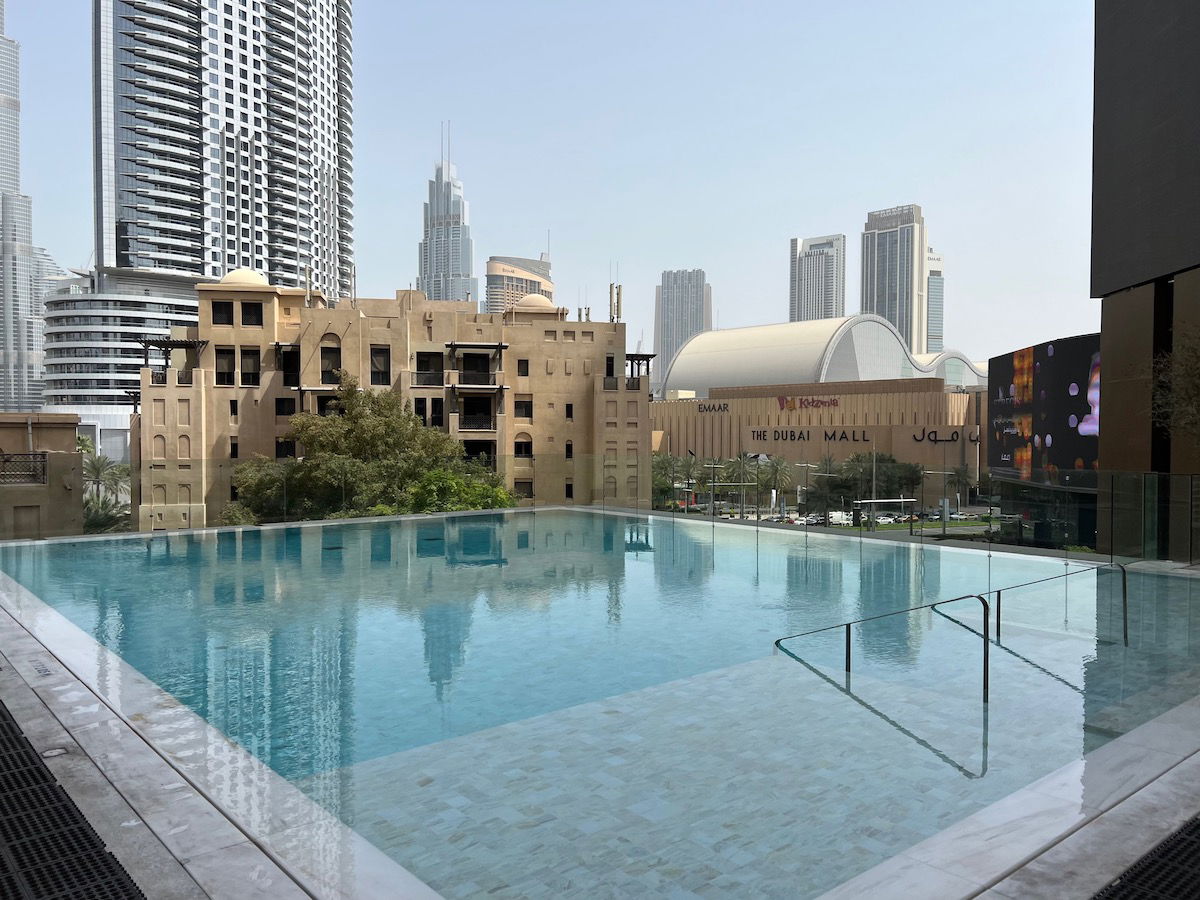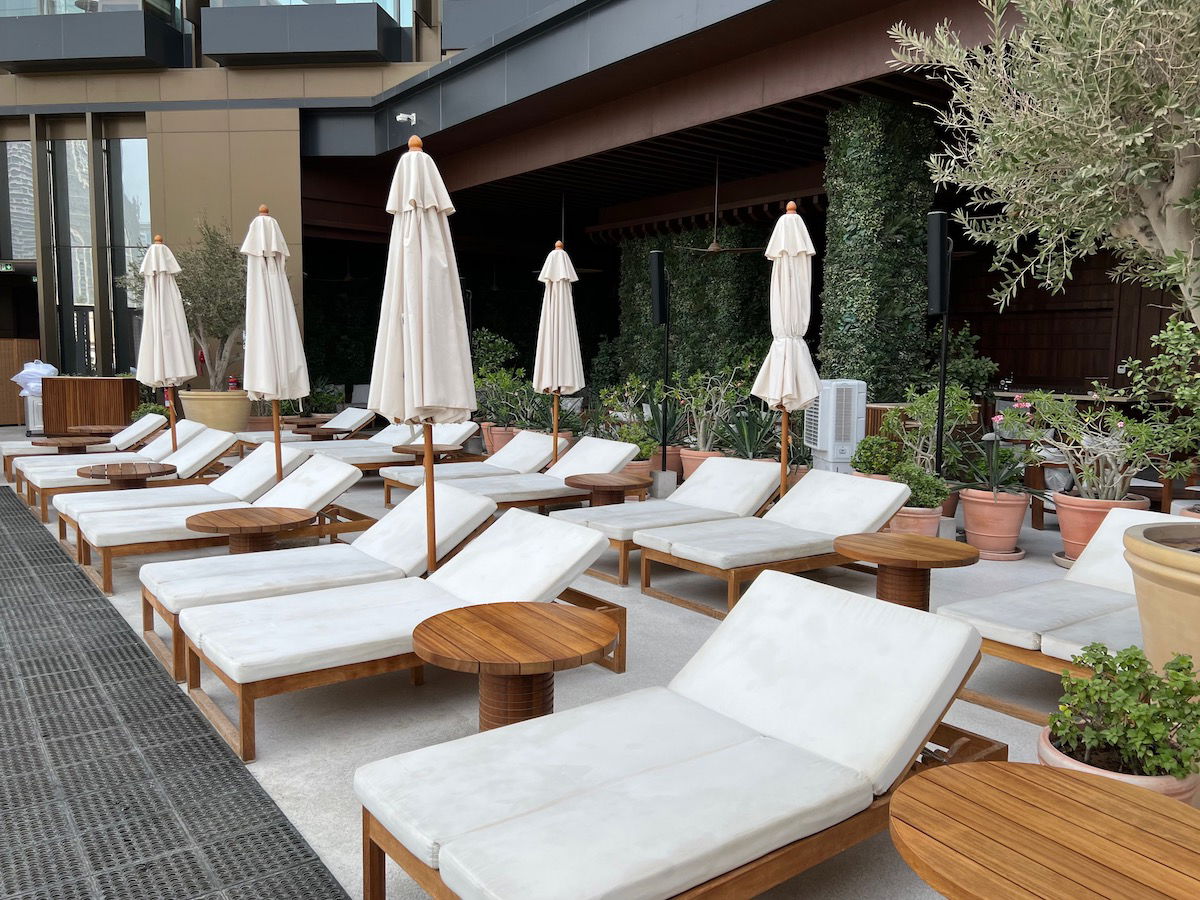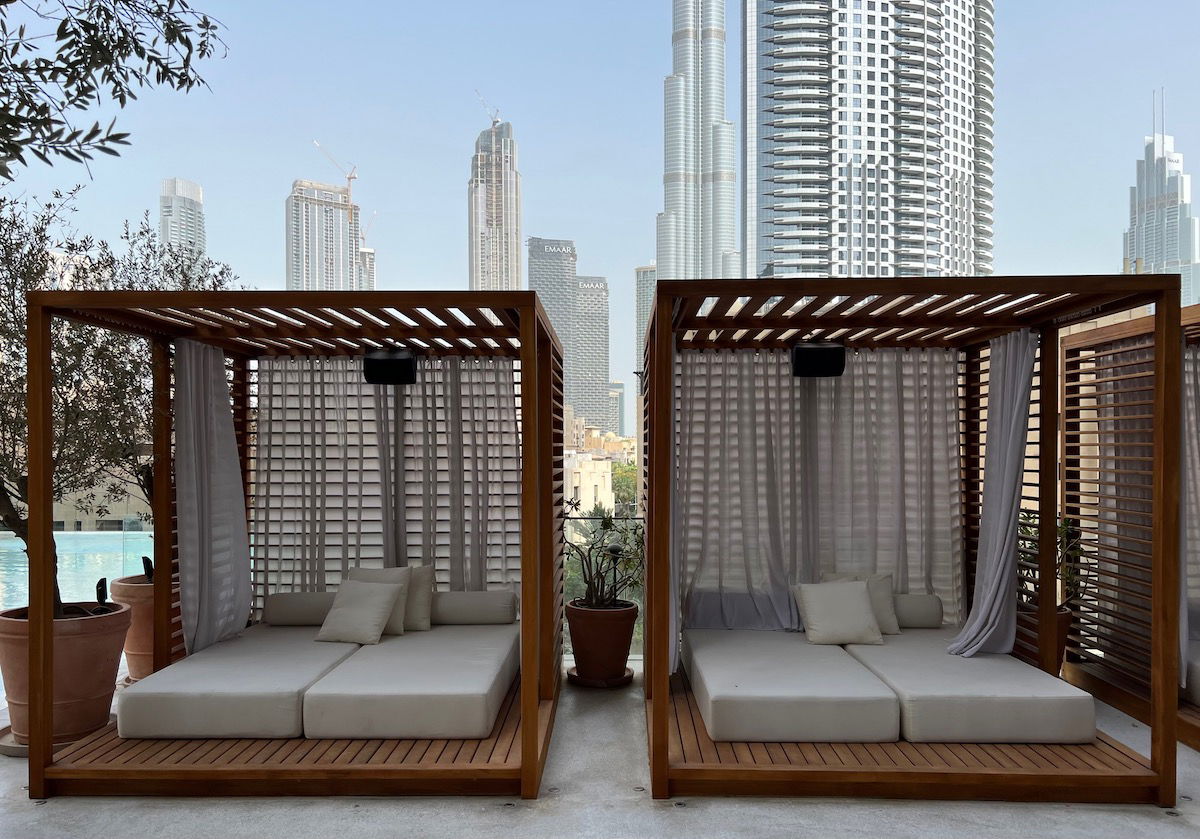 Also on the pool deck is Thia Skylounge, which is essentially the pool bar at the hotel. It's open daily from 11AM until 12AM, so it's also intended to be a place you go even when you're not swimming. There's even a DJ in the evenings, though when I checked it out at around 8PM, there were no guests there. You can find the menu here and the beverage list here.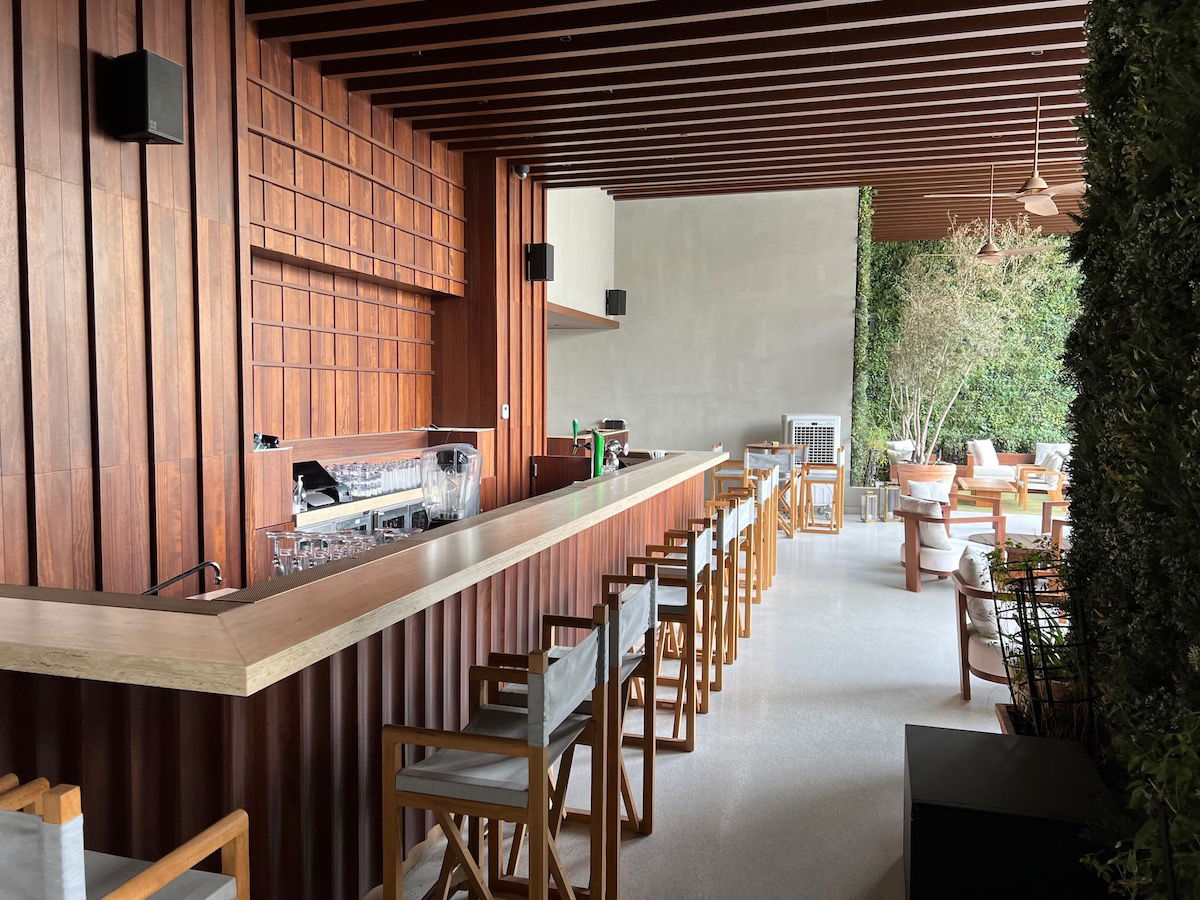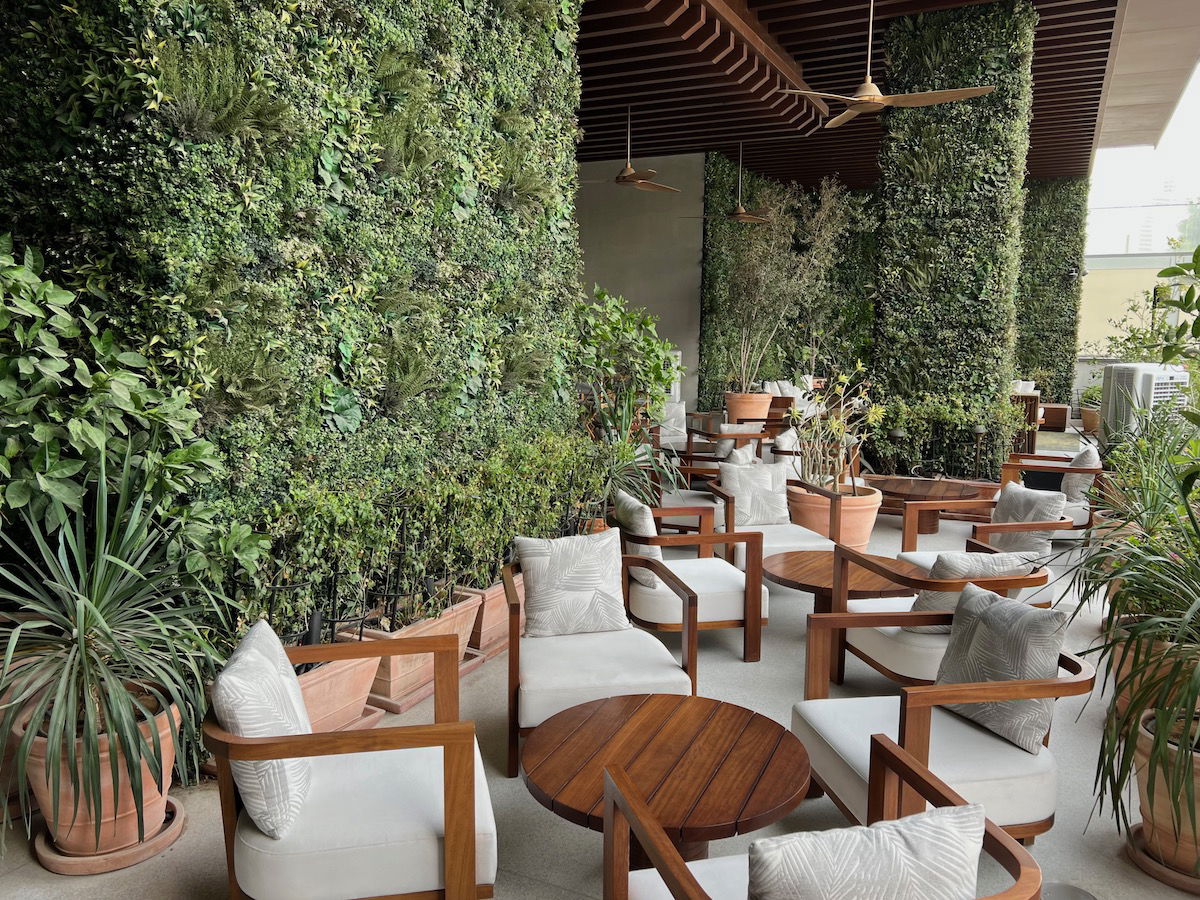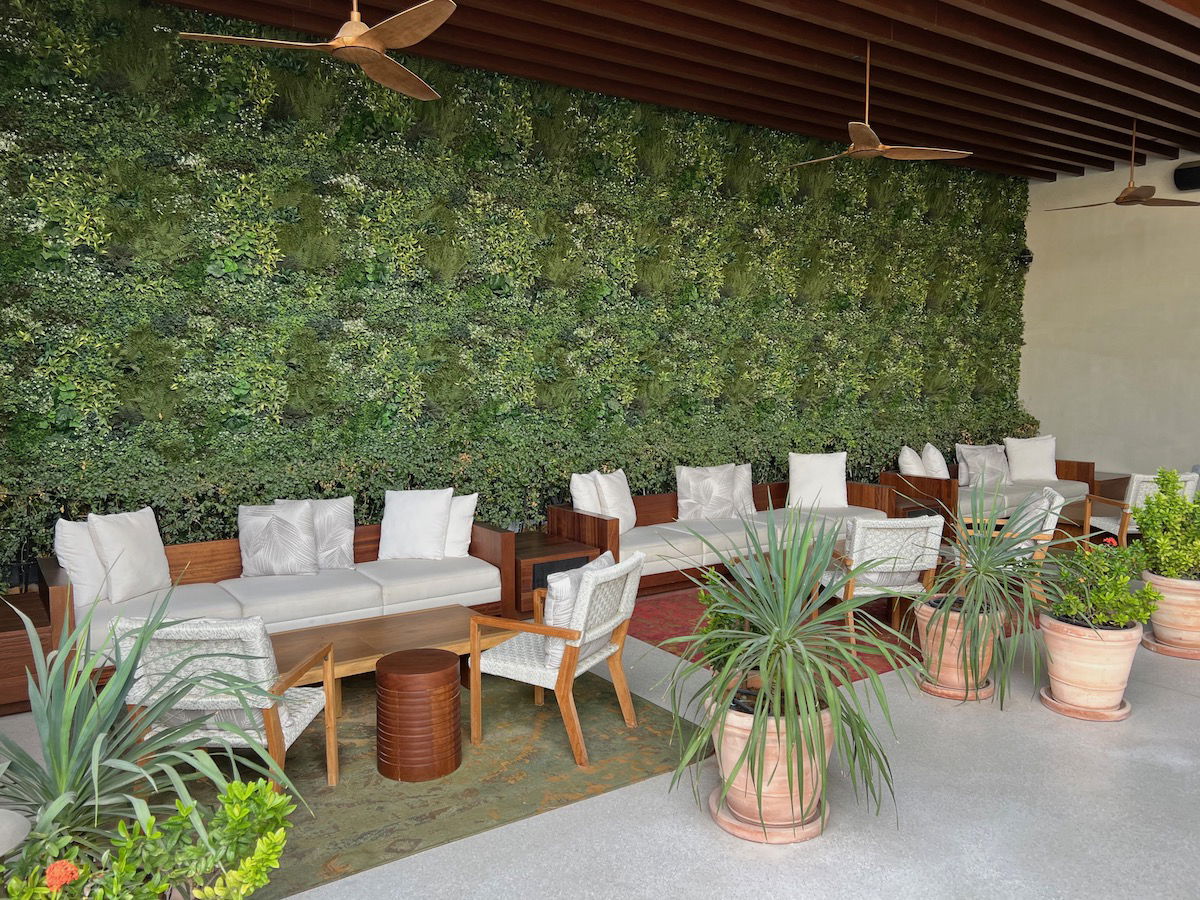 Dubai EDITION DUOMO Restaurant (dinner)
DUOMO is the Dubai EDITION's Italian restaurant, open daily for lunch and dinner. It's located just off the lobby, and the interior is inspired by Piazza Del Duomo in Milan.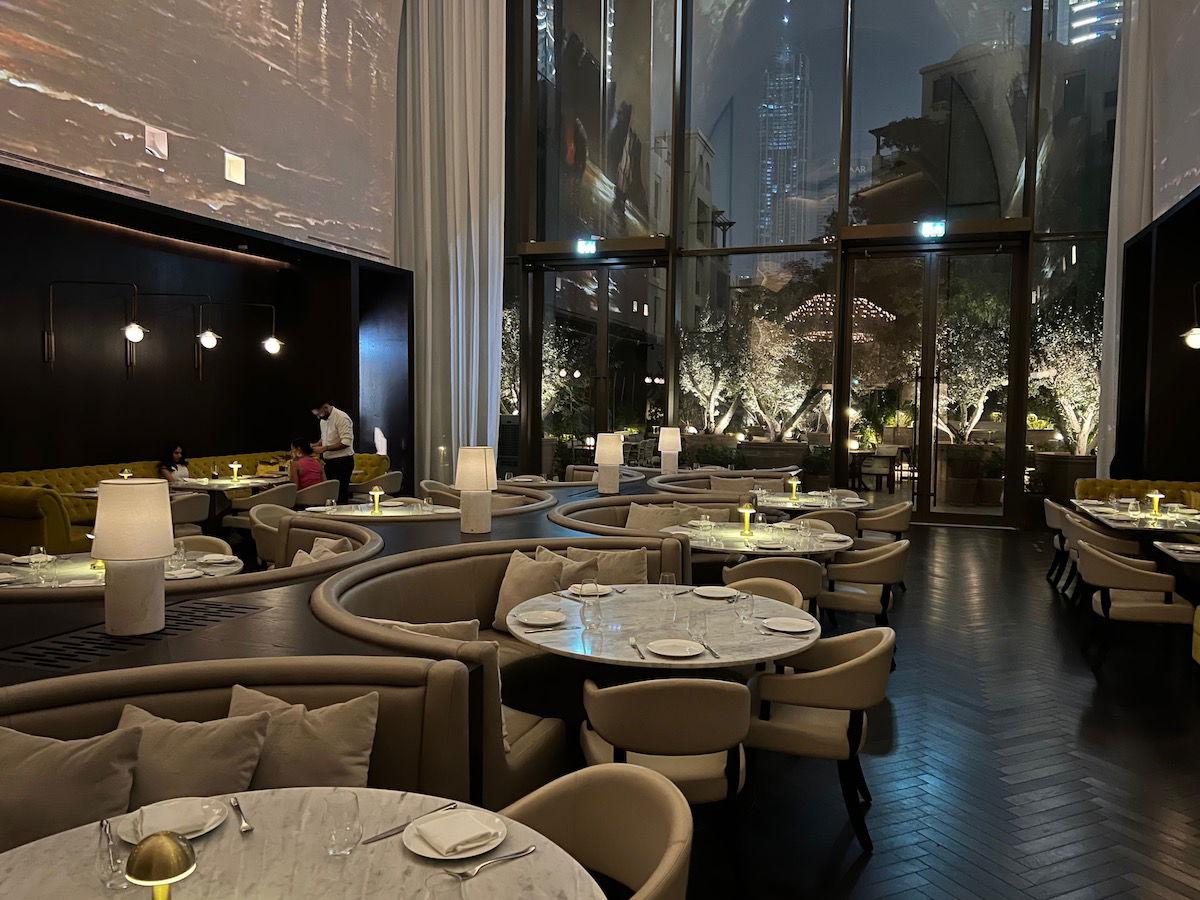 Now this is where the hotel starts to feel like a W to me. The restaurant is described as bringing "palatial luxury and timeless Italian sophistication to the heart of Dubai," but also promises a "multi-sensory realm of grandeur, elegance, and delight."
Long story short, the ceiling of the restaurant is constantly showing different artistic displays. Don't get me wrong, it's a really cool concept, but my gosh, I was getting a headache after like 20 minutes. The difference in lighting intensity was huge, and the restaurant also had loud music. I almost felt like I was eating in a nightclub rather than a restaurant.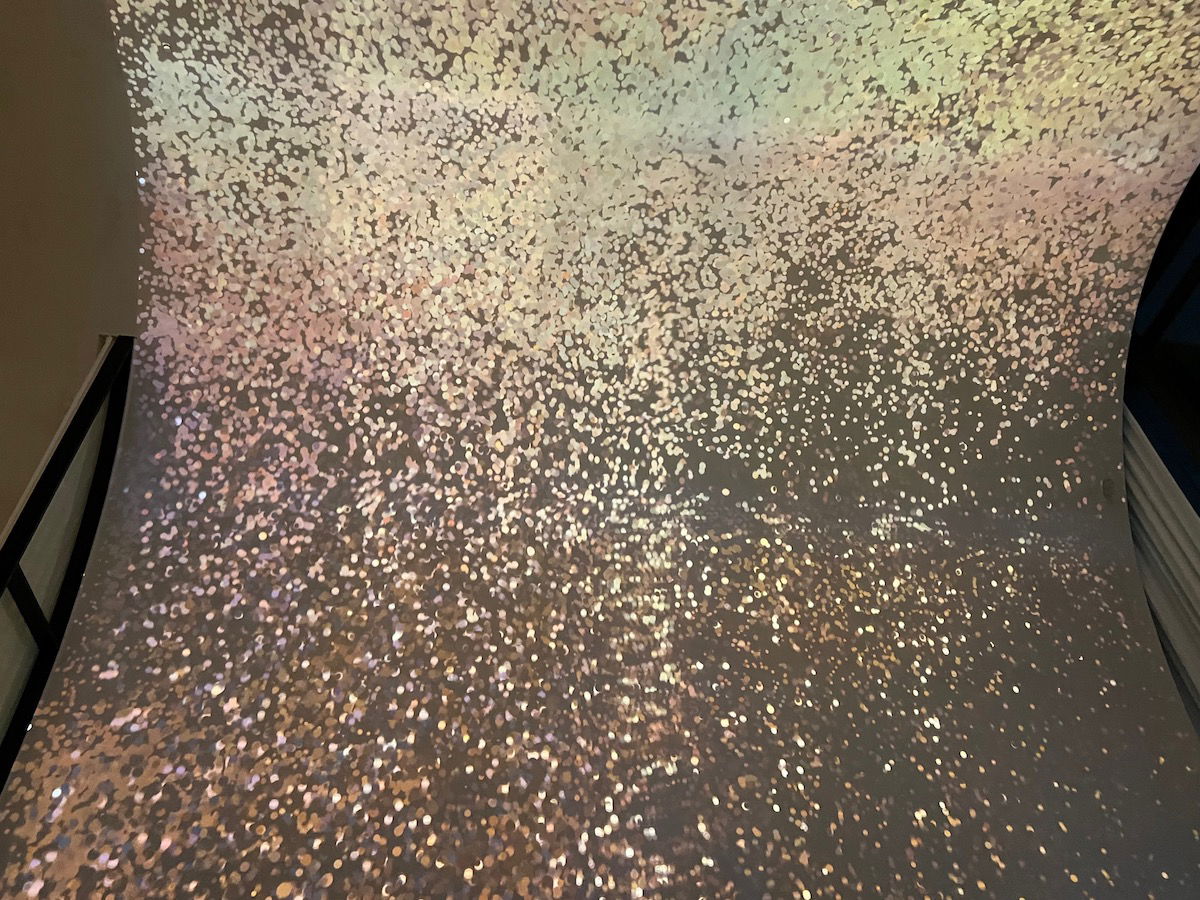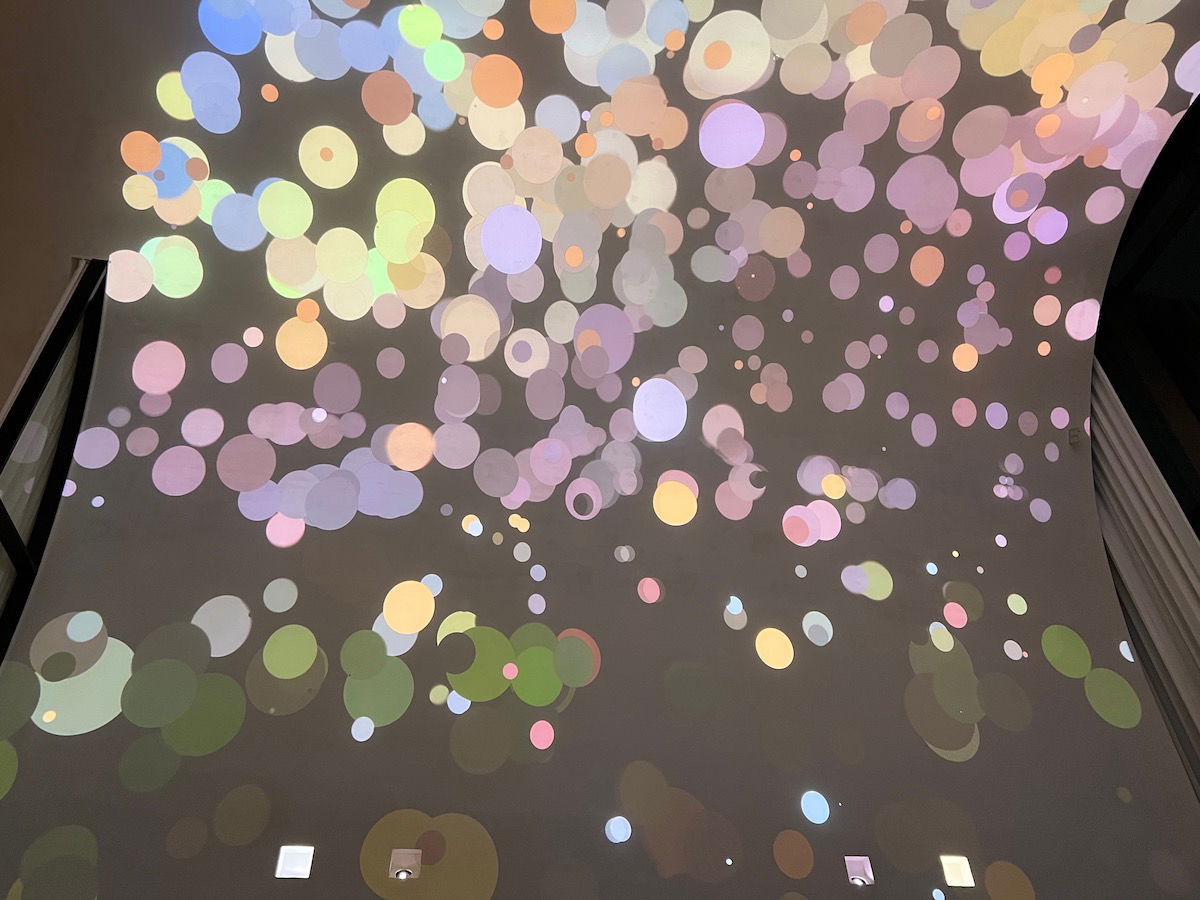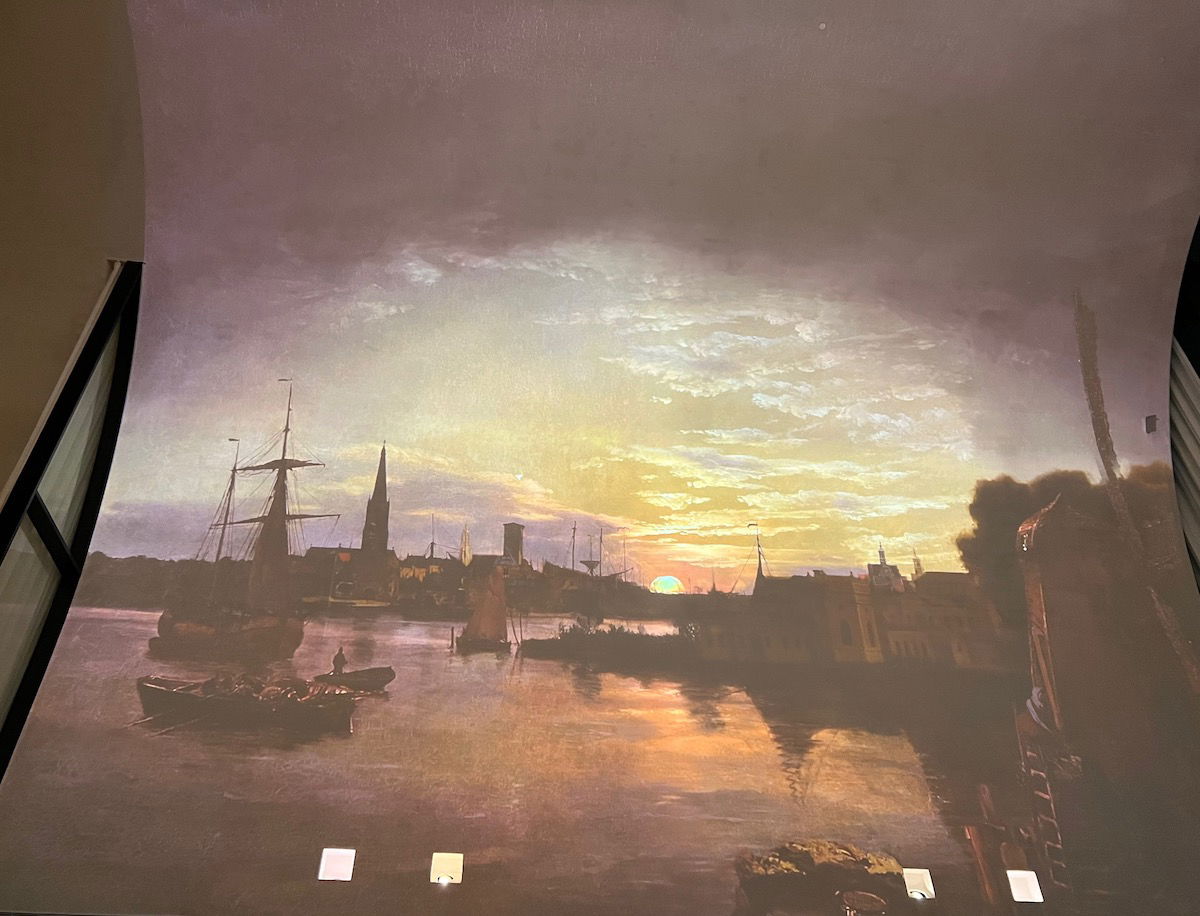 On the plus side, I'm happy to report that the food in the restaurant was excellent. We were served some bread at the start of our meal, along with olive oil and balsamic vinaigrette.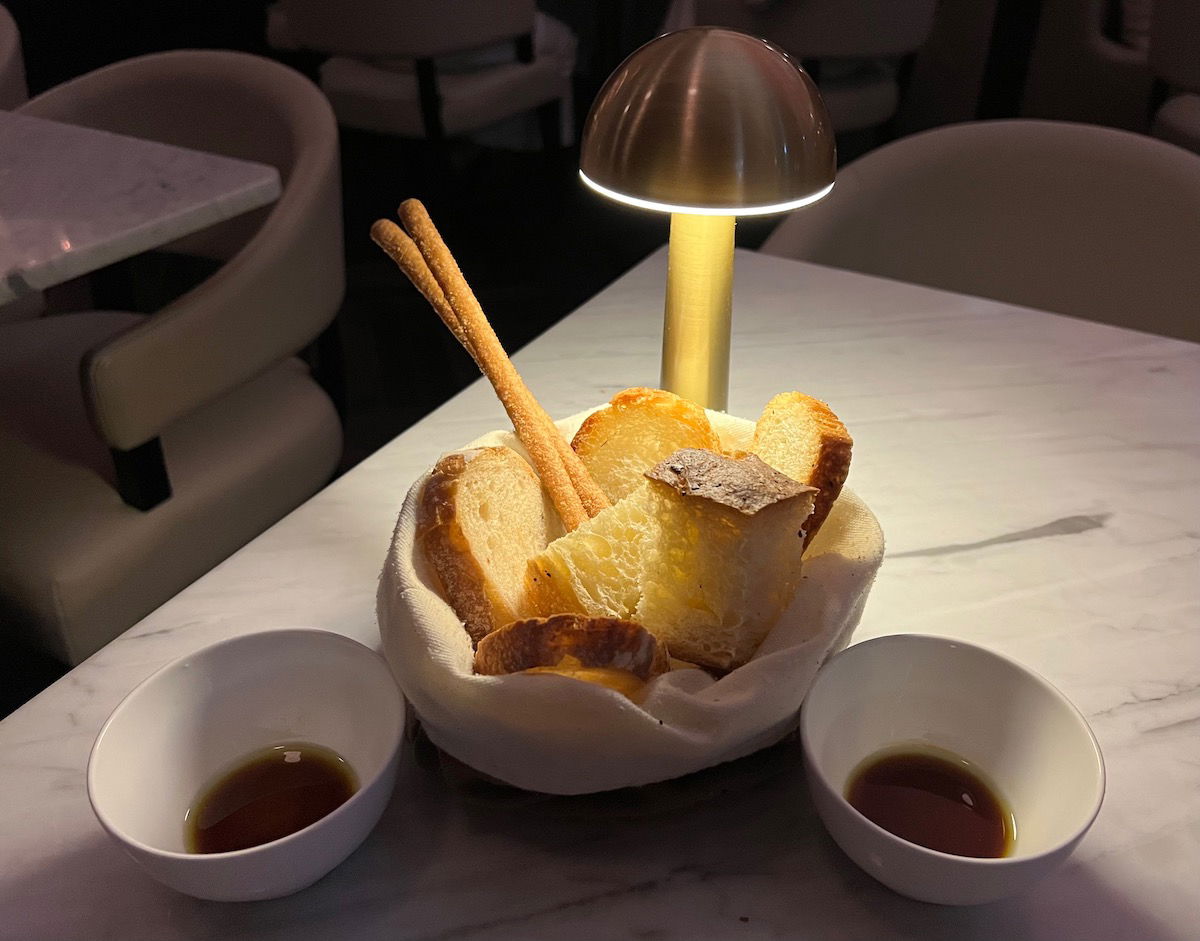 Toby and I each ordered a drink from the cocktail list, which we enjoyed.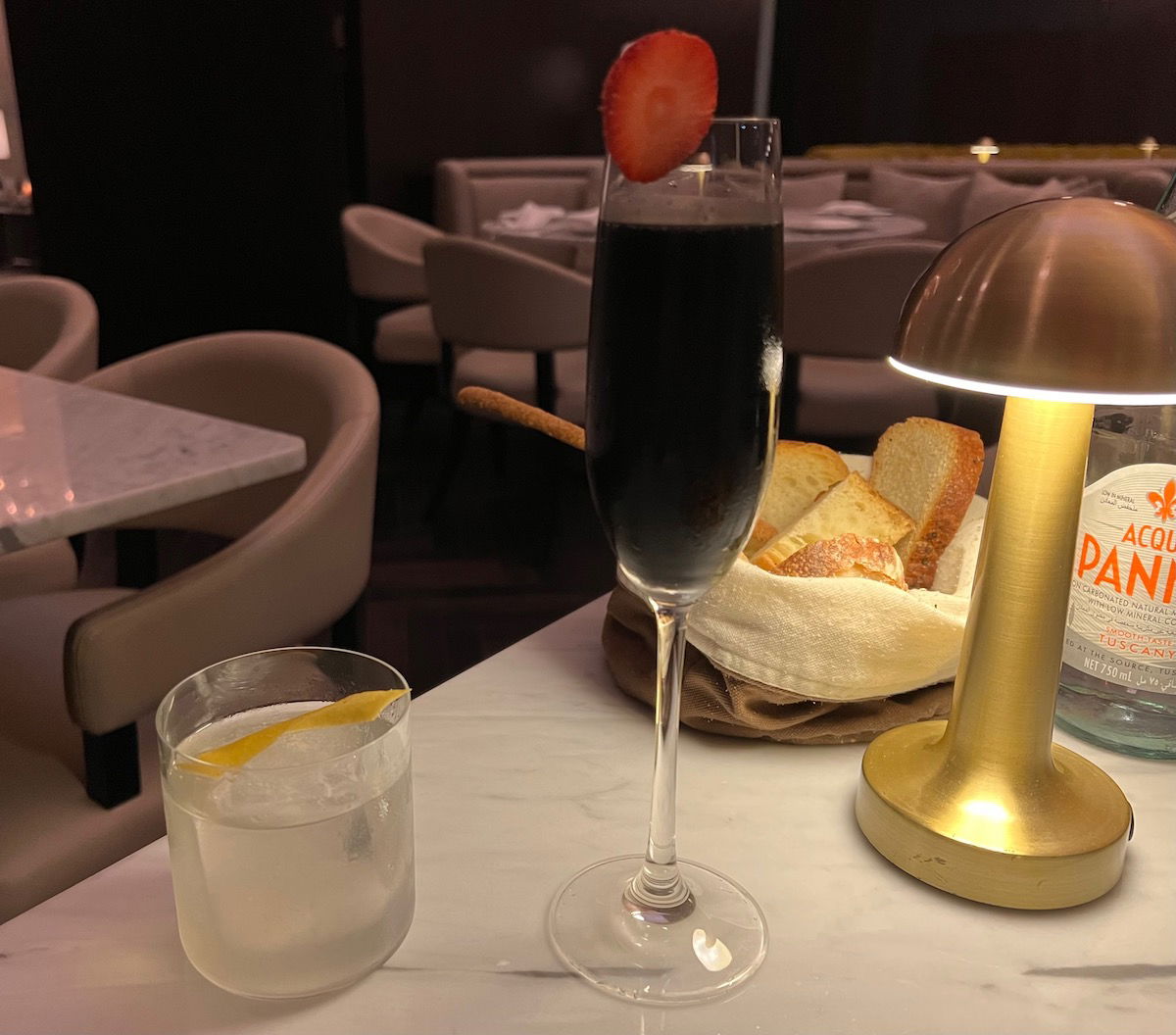 As far as good goes, you can find the menu here. To start we ordered a margherita pizza to share, which was among the best pizzas I've had in Dubai.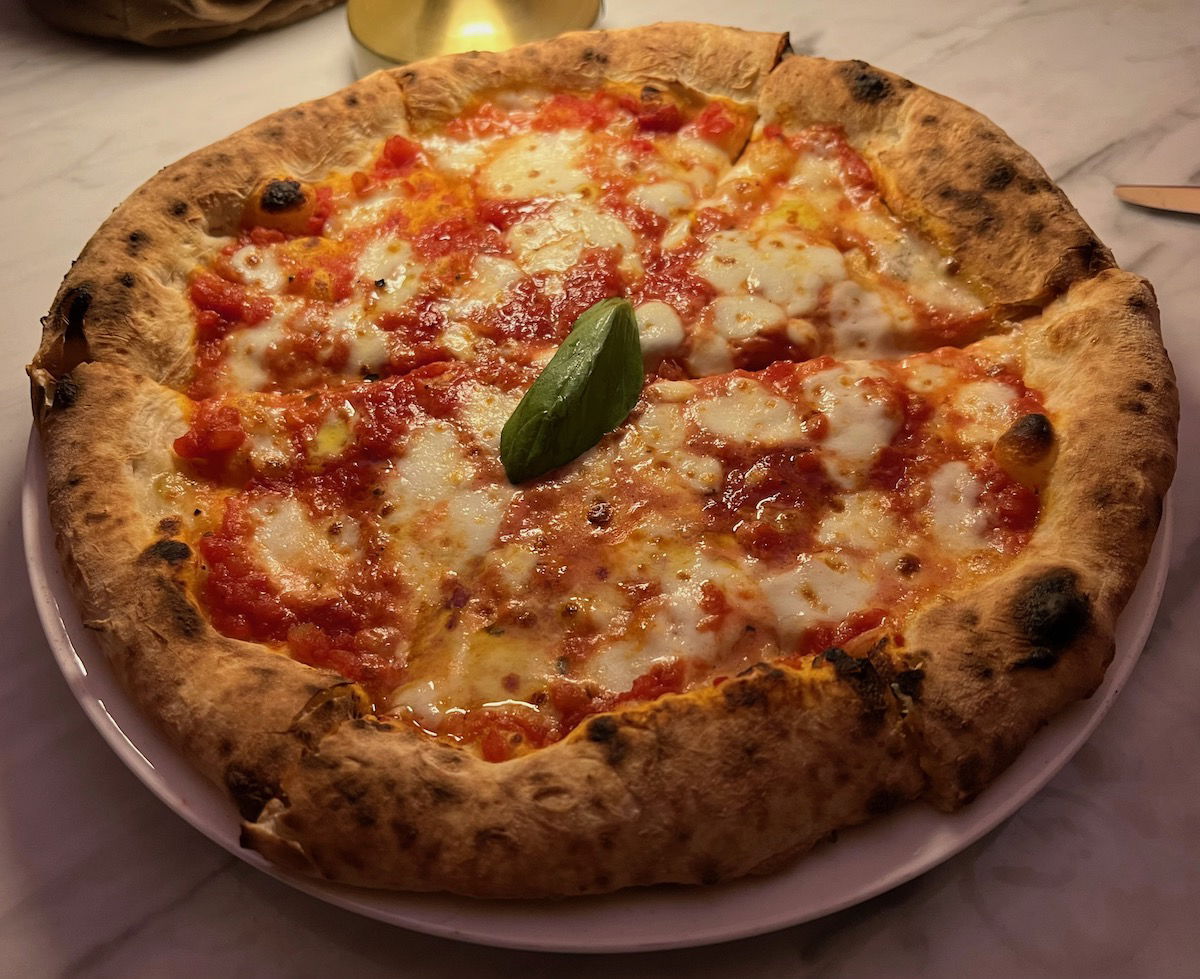 Then we decided to split two mains — we had the salmon and the gnocchi, both of which we enjoyed.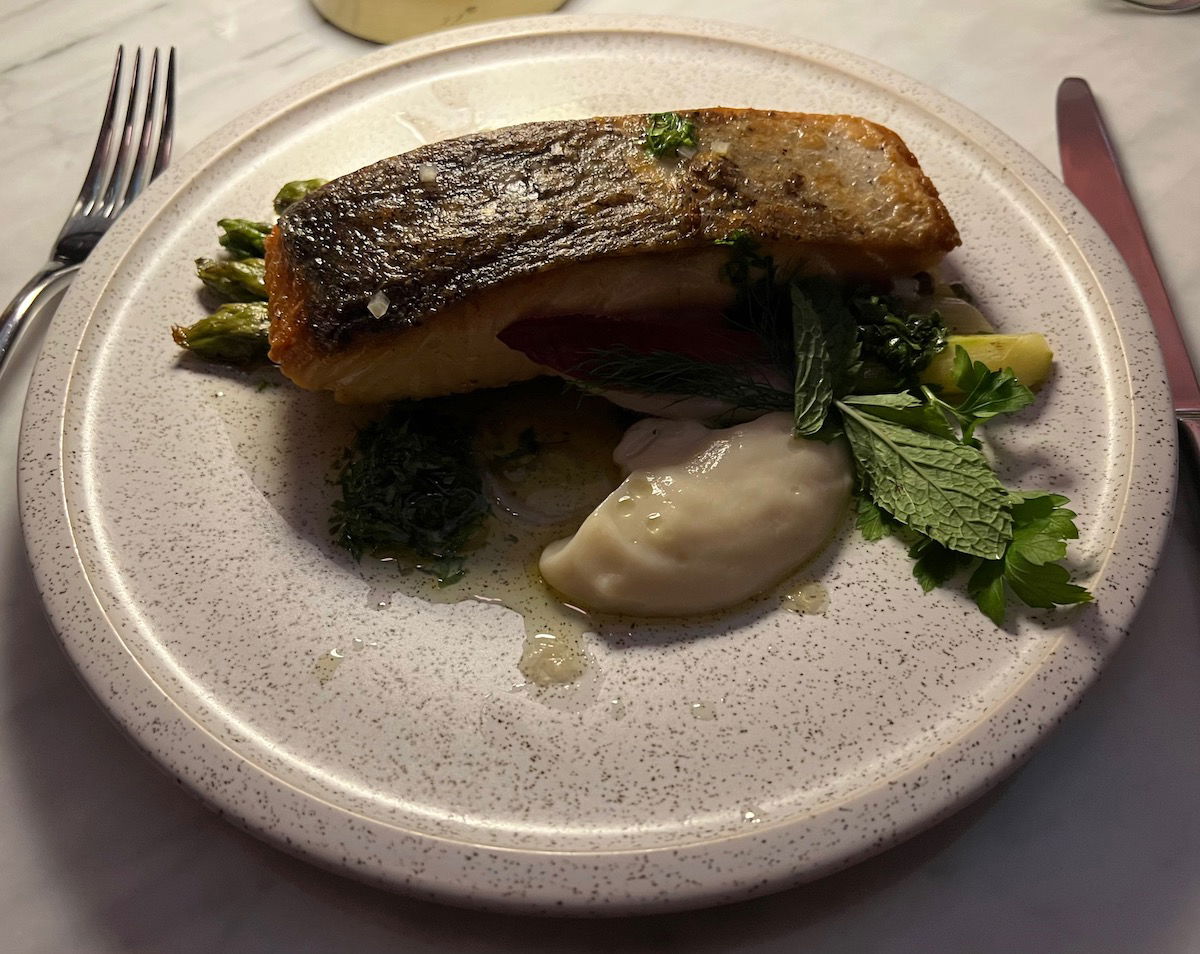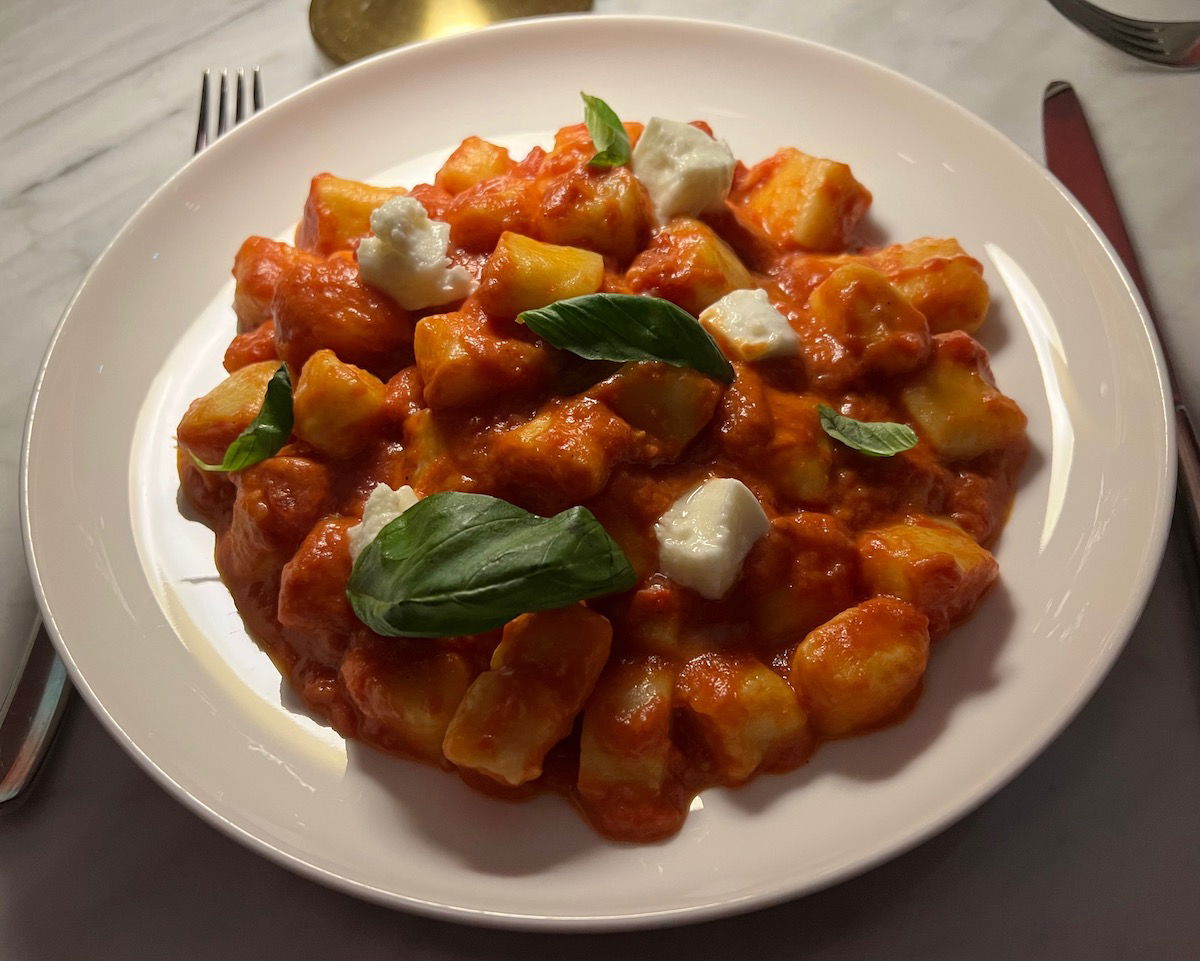 Food aside, as is all too often the case in Dubai, I wouldn't otherwise call this a fine dining experience. The service was not great from start to finish.
First of all, when we showed up at the restaurant they were going back and forth as to whether or not they could accommodate us, and kept us waiting. I had said that we were hotel guests when we arrived, and reiterated that later, at which point the host said "well you should have told me that" (which I did). Never mind that the restaurant was nearly empty while we were eating there.
The service wasn't much better once we were seated. No one came to our table for a long time, then when a server did come to our table he simply asked "are you ready to order?" with no introduction or personality. Then once we ordered, our pizza was brought out before the drinks even arrived. Then we still had to flag down servers for any further requests.
Dubai EDITION Jolie Restaurant (breakfast)
Jolie is the Dubai EDITION's all-day dining restaurant, and it's located on the mezzanine level. It's supposed to be a French-inspired restaurant, and it's also where breakfast is served. Since we booked through Marriott STARS, our rate included breakfast.
The restaurant legitimately has a very cute design, though lacks natural light.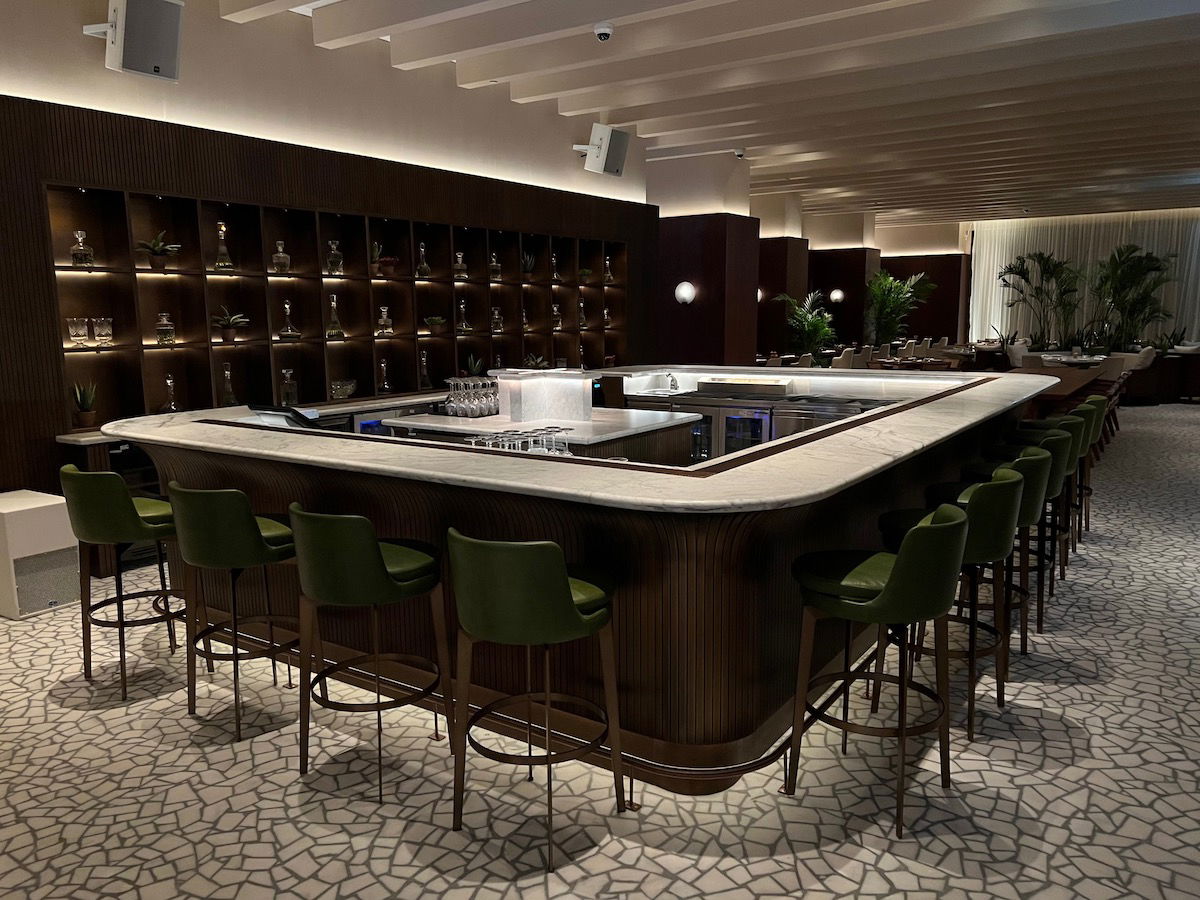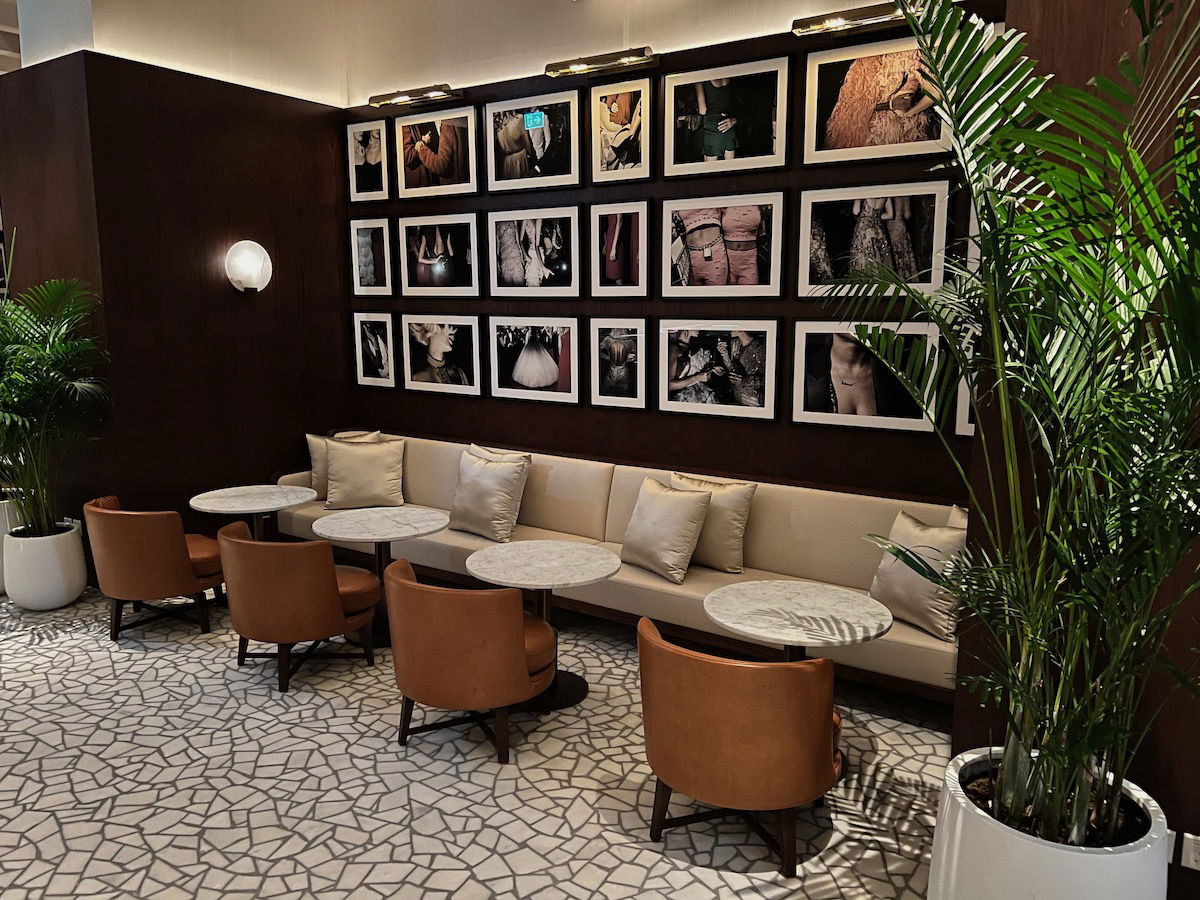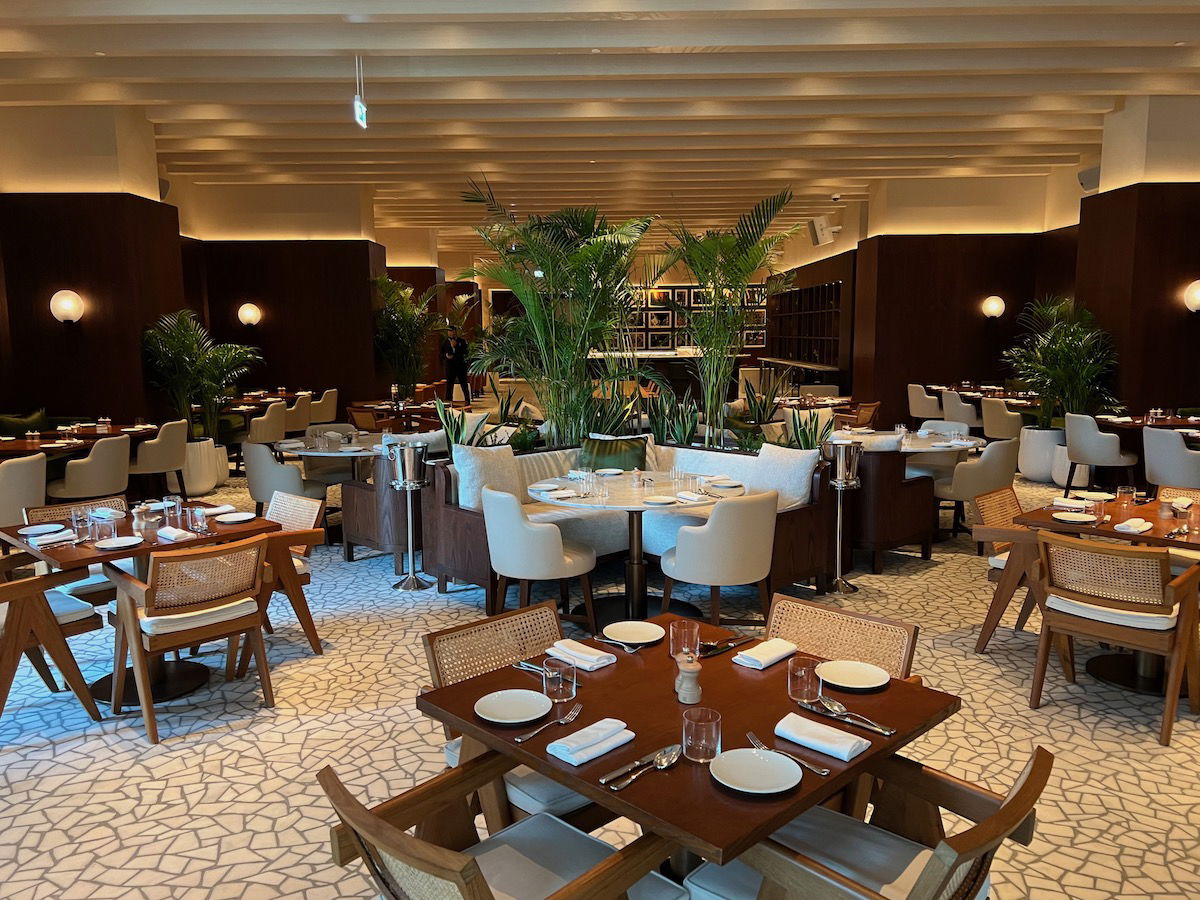 If your rate includes breakfast at the EDITION, there's a special set menu. Usually I prefer the freedom to just order whatever I'd like, but in this case I thought it was a pretty generous setup, so it worked for me.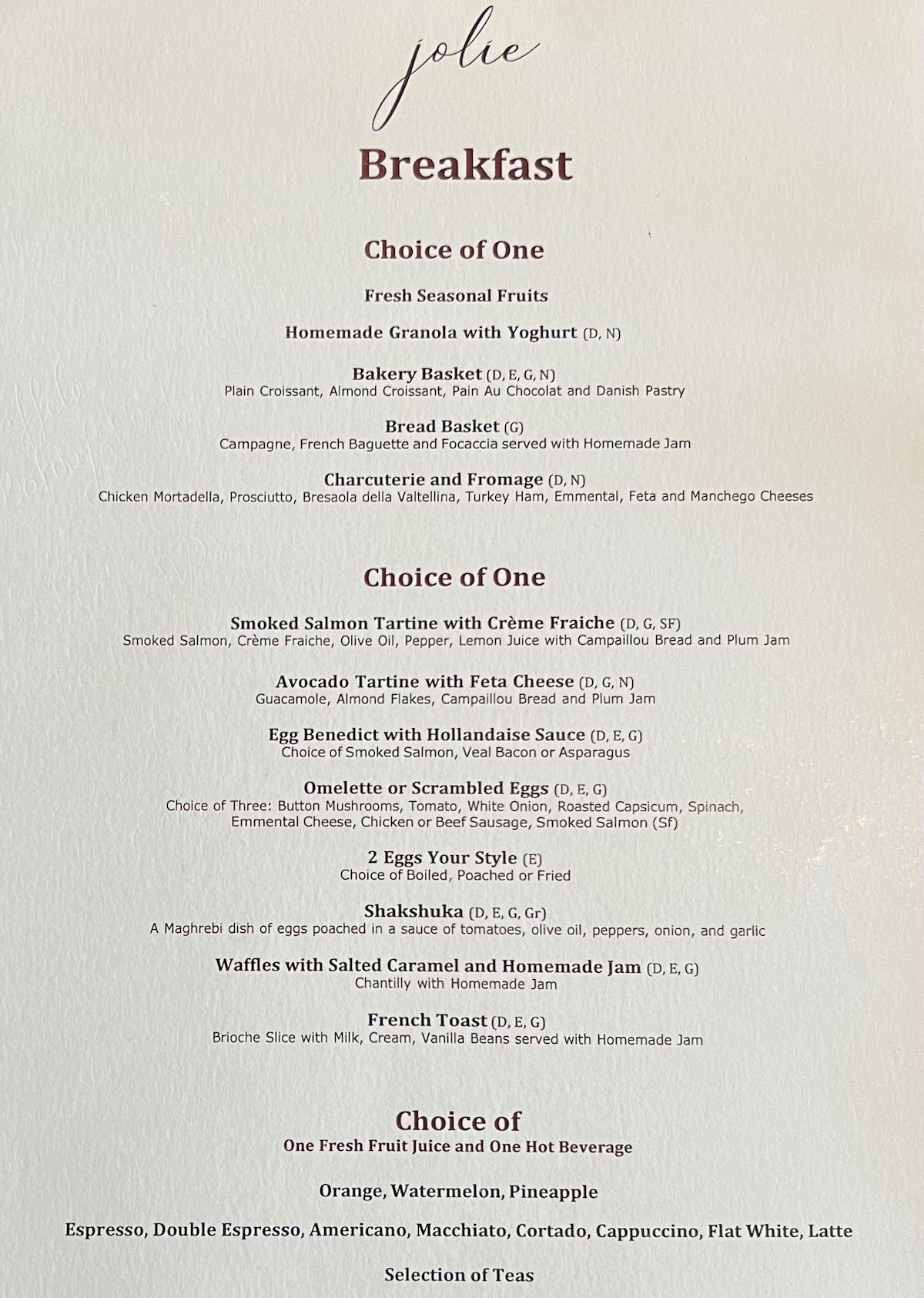 To drink, I had a pineapple juice and americano, while Toby had an orange juice and flat white. I'd note that while the menu says you can get "one" of each, we were offered refills for both (we declined, but I assume they would have been included as well).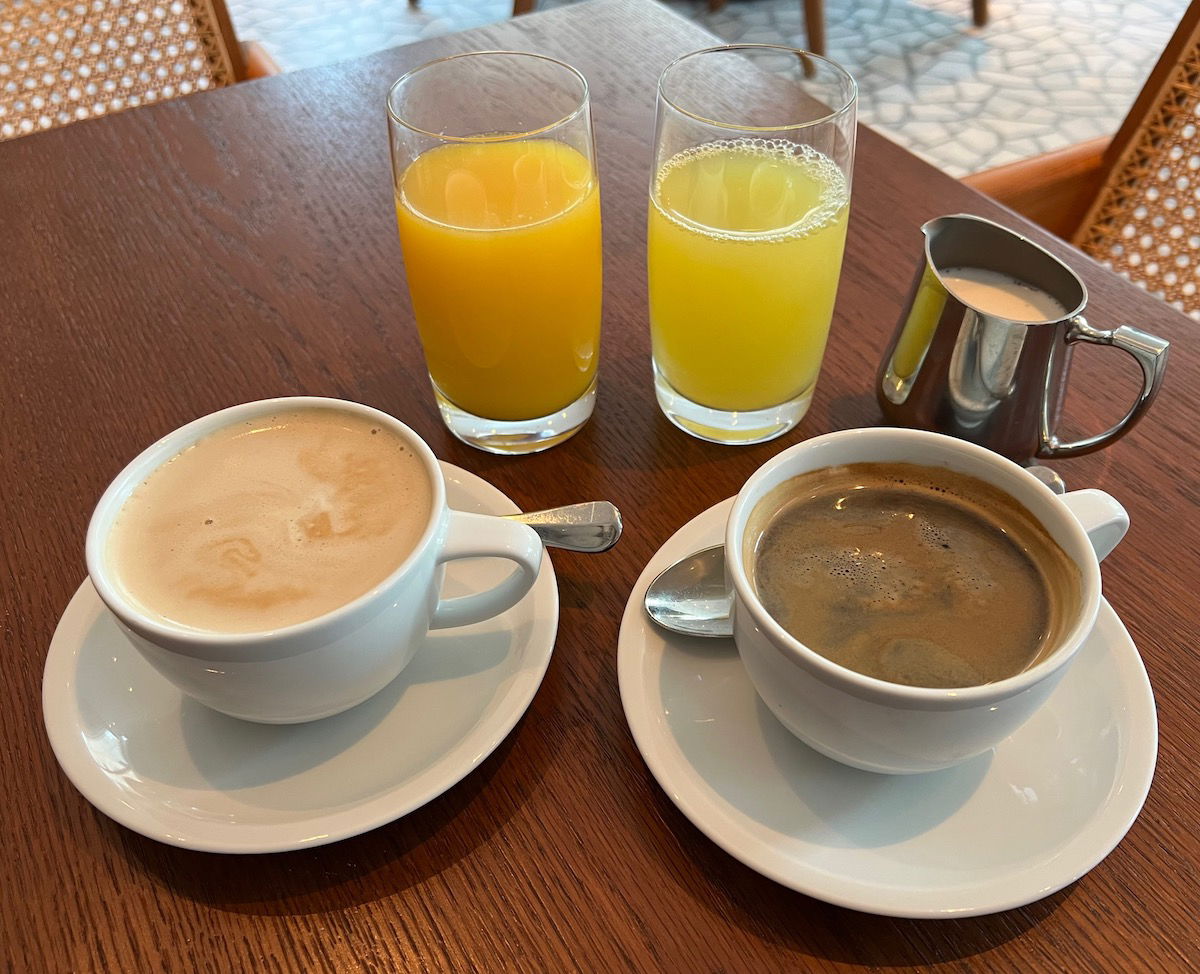 For starters, I selected the homemade granola with yogurt, while Toby had the charcuterie and fromage.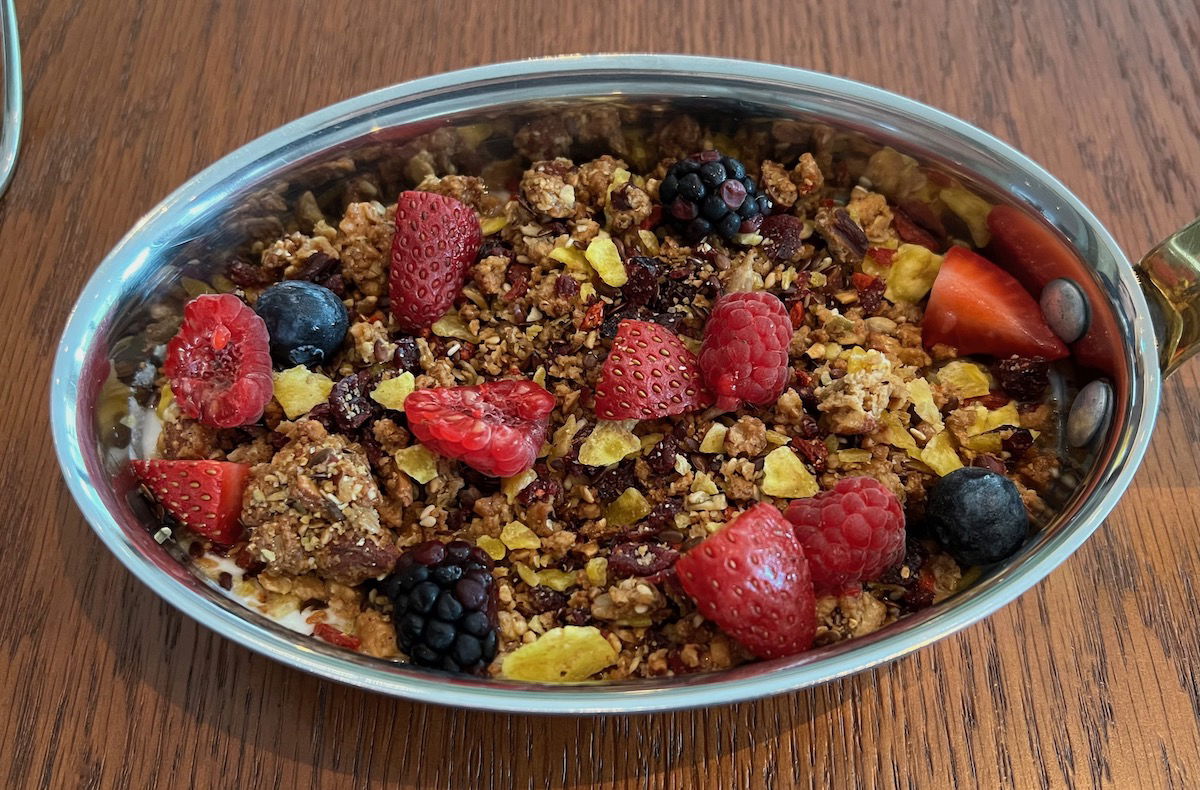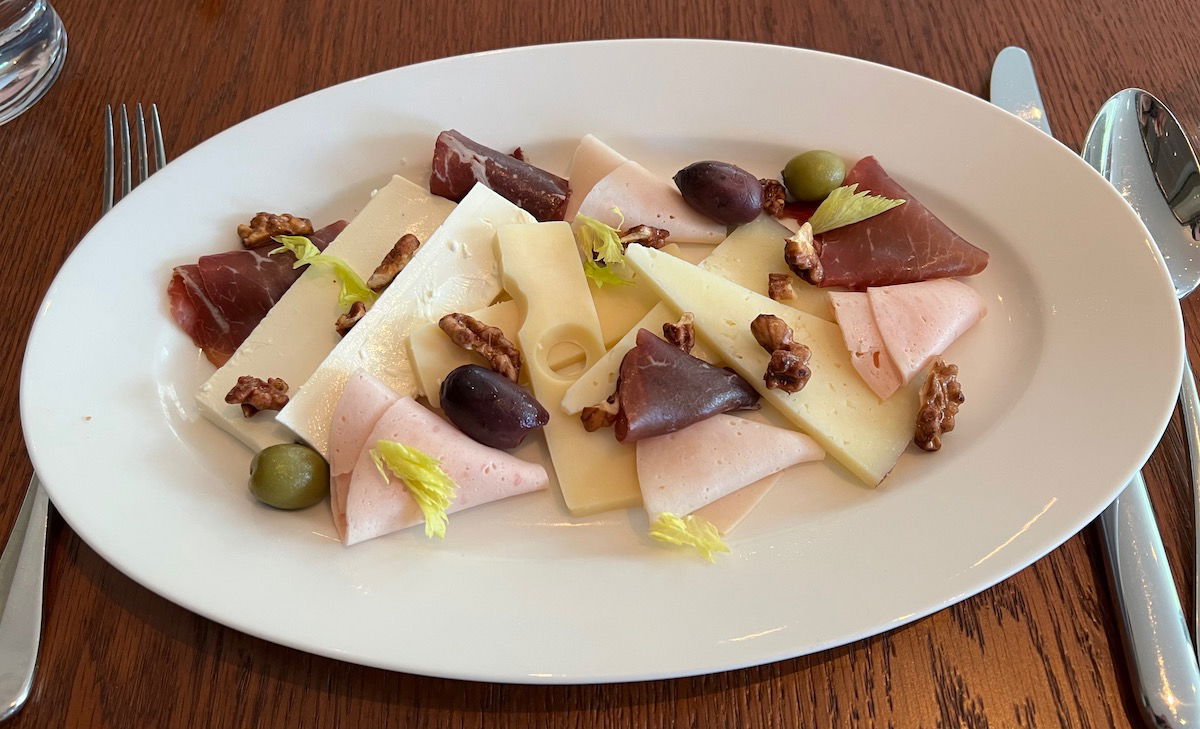 For mains, I selected the shakshuka, while Toby had the avocado tartine with feta cheese.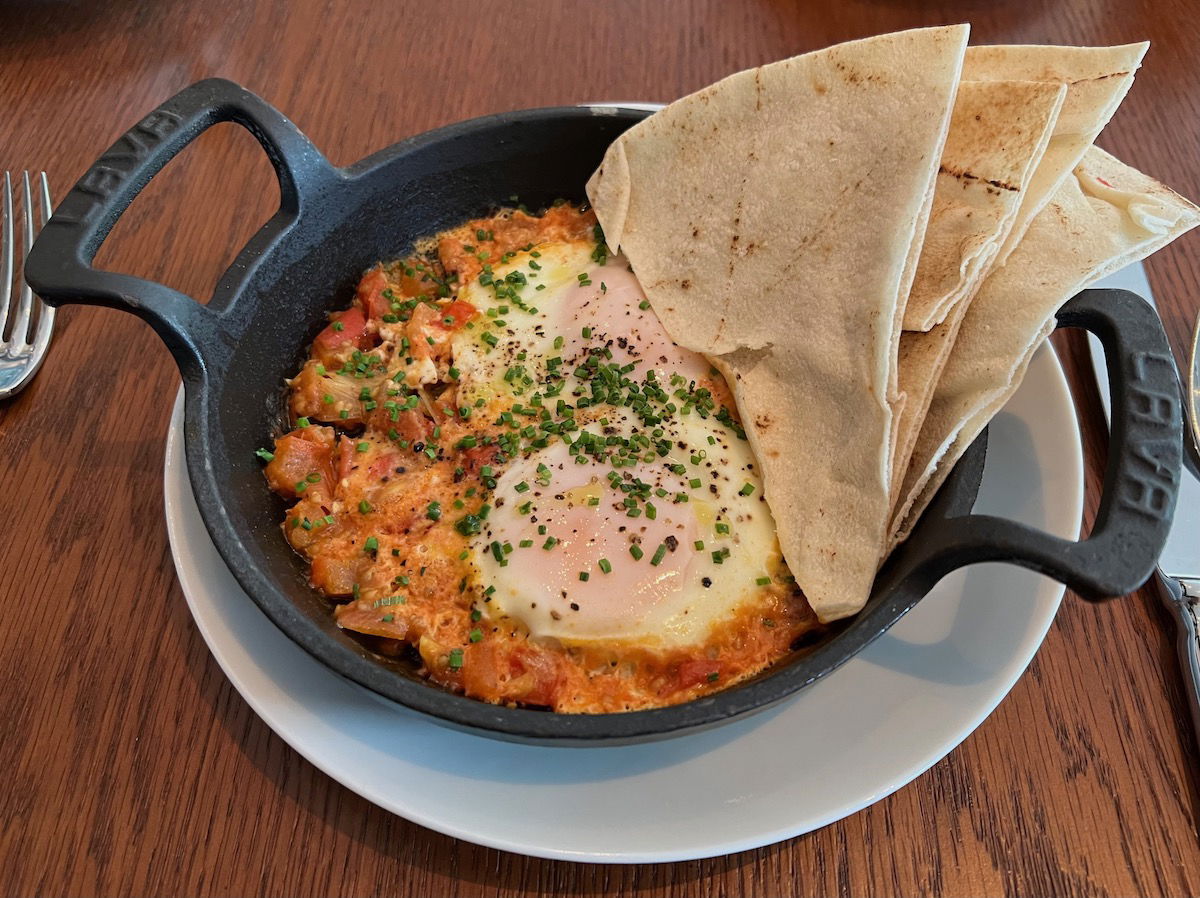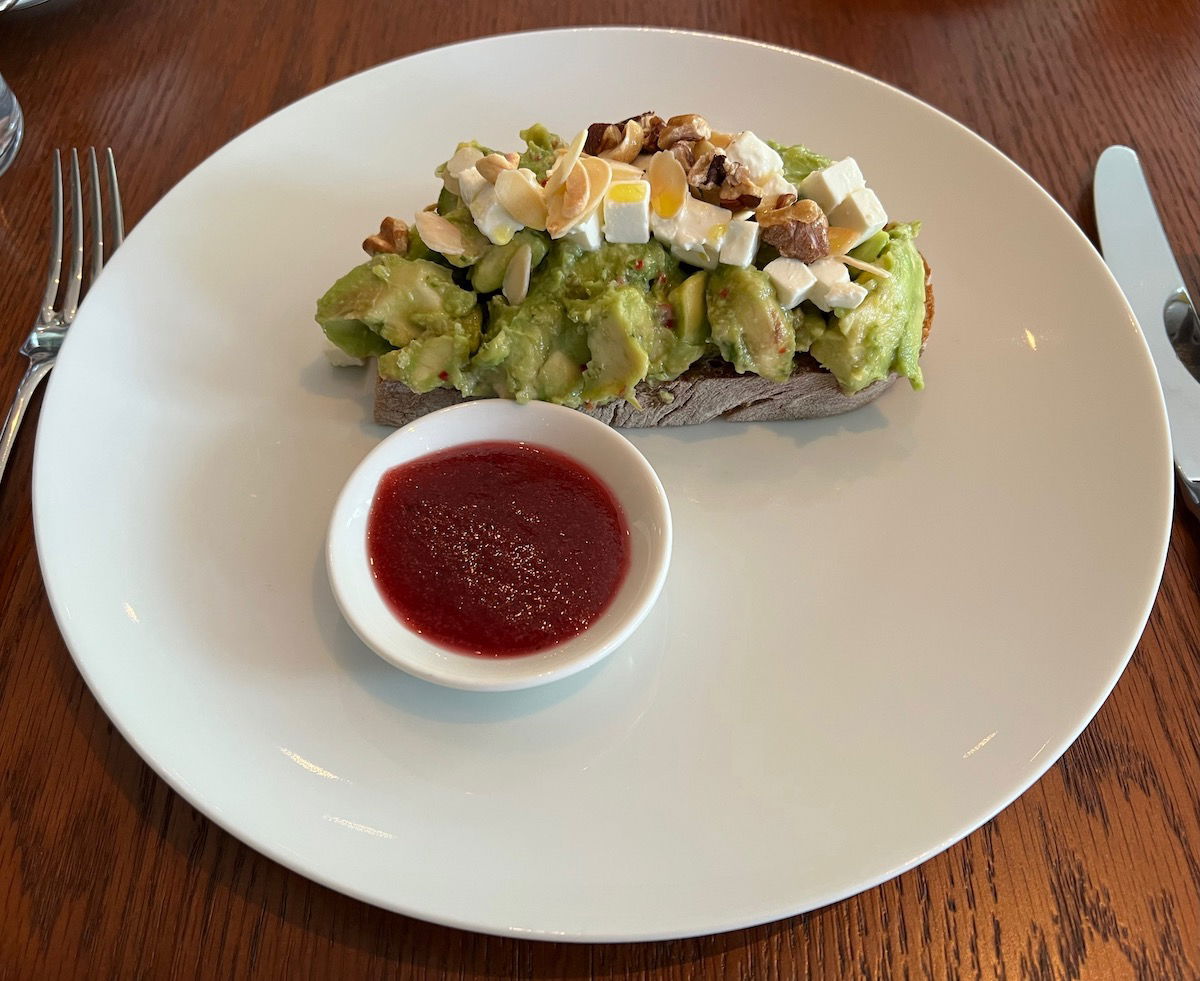 We enjoyed the breakfast, and the service was very friendly as well.
Dubai EDITION service
As is common in Dubai, I found service to be a mixed bag.
The check-in experience was great, with a greeting from the guest relations manager, and general acknowledgment of status. Check out was a different story. Toby and I had asked to have our dinner bill split, since we each had a $100 credit to spend. The server said we should just put both of our room numbers on the check, and he'd spilt them in the system.
Well, the entire charge ended up on my room. So we explained this to the front desk agent — we each had a 375 AED credit, and dinner was 573 AED, so it should be covered between the rooms (minus tip). The associate was friendly and was trying to be helpful. However, it took over 20 minutes for her to sort this out, and I can't even count how often she reprinted the bill, still not solving the issue (which is that there should be no charge on either room for that dinner, minus tip). She basically just kept transferring the charges between rooms.
As far as service otherwise goes, service at dinner wasn't great, while it was friendly at breakfast.
So I would say service was more or less average for Dubai, unfortunately a far cry from the service I had at the Waldorf Astoria DIFC, which is the last place I stayed in Dubai.
Bottom line
I'm happy I had the chance to check out the Dubai EDITION, and the hotel definitely exceeded my expectations. The rooms were beautiful and elite recognition was good. On top of all that, the hotel stay was of course quite a deal, but that's the beauty of Dubai in summer. If you're willing to go, you can stay in some great hotels for next to nothing.
All that being said, I can't help but feel somewhat lukewarm about the hotel. If you want to be downtown and are a Marriott loyalist, I'd recommend this hotel. I didn't enjoy this stay as much as my Waldorf Astoria DIFC stay, though, so I'm not sure I'd return (admittedly that's partly because Dubai has endless hotels, and it's always nice to try something new).
What do you make of the Dubai EDITION?