Vacation Trip Guides oversee the entire trip for clients and help simplify travel for them.

Vacation Trip Guides is gaining popularity for providing amazing deals on various vacation packages and cruises. The Travel Agency  has been in business for the last 3 years and is trusted by clients for their fair and transparent services when it comes to planning a vacation. Recently, they have  launched their free mobile app to make the itinerary more accessible for you while traveling.
The travel agency deals with the smallest to the most complex things related to the vacations of their clients.  The travel advisor oversees the trip for the clients.   The travel advisor helps the client save time and money, recommends great destinations and cruises according to the client's preference, and makes traveling effortless.
The clients can see their itinerary for the trips booked by Vacation Trip Guides. The travel advisor thoroughly explains their services and pricing. This has enabled them to earn a good name among their clients.  
The travel advisor helps the clients book accommodations, including villas, vacation packages, and cruises.   The travel advisor also provides guidance in selecting different tours based on the interests of the clients.
The Vacation Trip Guides also has an app for video games to play on Google Play & Apple App Store when traveling.
Vacation Trip Guides holds certificates with CLIA, ASTA, ARC, IATAN, IATA, TRUE and Travel Agent Campus. They also hold certificates with suppliers for cruise lines and river cruises, Sandals, Backroads, Universal Studios Orlando & Hollywood, and Expedia Taap and more to come. 
For more details, visit :www.vacationtripguides.com 
To contact support, call +1-800-805-7668
For updates, follow @vacationtripguides on Facebook and Instagram.
About Vacation Trip Guides
Vacation Trip Guides has an easy to use and free Trip Guide app for planning every kind of trip, including road trips and group travel, in cities, countries, and around the world. Users can plan a trip itinerary, organize flights and hotel reservations, view places to visit on a map, and collaborate with friends using the mobile app.
Watch Intro videos for Vacation Trip Guides on their official YouTube Channel: https://www.youtube.com/channel/UCAt4xpyFG3WnwQ0DiG0xr8w
Associated With : 

Certifications (see the full image) :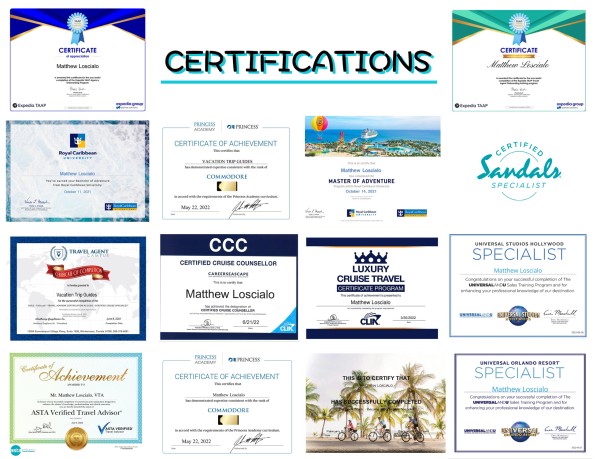 Media Contact
Company Name: Vacation Trip Guides
Contact Person: Matthew Loscialo
Email: Send Email
Phone: 1-800-805-7668
City: Tallahassee
State: Florida
Country: United States
Website: VacationTripGuides.com